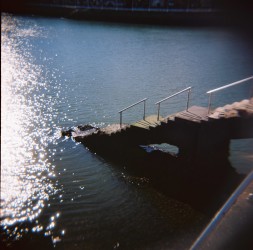 A Weekend in Bilbao, Spain
I went with two friends to Bilbao last weekend. It was a four day weekend due to the many holidays celebrated by the Spanish. It provided a much needed escape from Madrid. We traveled four hours to the city in the North of Spain where we met two more friends I know from college who were doing a European tour. We spent the afternoon walking about, ogling at the architecture, and exploring the Guggenheim museum. The Guggenheim's architectural feat is impressive in and of itself, but the art of Andy Warhol and Picasso, as well as permanent modern art exhibits inside made the trip even more worth while. Whenever and wherever I am traveling I always love to go to the art museums. It's generally my first stop on the itinerary. I feel like I could spend hours staring at the art inside, and admiring the buildings that they're protected by. Fine art varies so much from region to region. You can learn a lot about history and culture through it.
Bilbao is an interesting city because of the juxtaposition of the modern architecture in contrast with the old classical Spanish buildings. The following day we went to the city of San Sebestian. Stay tuned!