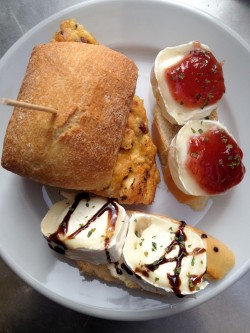 San Sebastian, Spain
On Sunday we took a lovely day trip to the city of San Sebastian. It's only an hour and a half from Bilbao. The city located on the coast is known for having the best tapas, and has an endless amount of fresh sea food. Many of the restaurants there have earned multiple Michelin Stars. To some, San Sebestian has the reputation of having the best food in the world (especially when you ask the Spanish). We walked the city in 6 hours stopping at different bars and restaurants trying mushroom and brie, blue, goat, and tortilla de patata tapas.
The food is exquisite in presentation and taste. I fell in love with the small city near the sea, from the food, to the architecture and the atmosphere. It started to rain in the afternoon but we continued meandering and watching people surfing in the cove. I was so content to be near the ocean again. I will admit, I've been feeling a little homesick for Miami, but being close to the ocean aided that. San Sebestian is a place I would go back to time and time again. If you have the chance to visit San Sebastian I definitely recommend it.