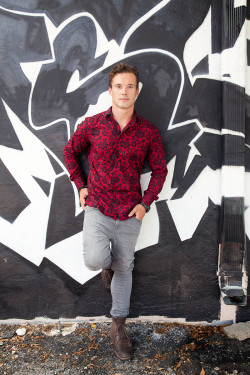 Emile Kotze
Photographing Emile Kotze was a lot of fun. He has a lively personality and was great at adding ideas to the shoot. We shot three outfits that he chose in two locations. First we started near the beach and then headed over to Wynwood.
Wynwood is always a fun place to shoot because it provides so many diverse and colorful backdrops. It's the heart of the arts community in Miami so it's fun to portray creative people in this environment. It's the hub where new ideas are formed.
Emile is originally from South Africa and has a marvelous accent. He's been working on yachts North of Miami, allowing him to travel extensively. He recently finished the filming in a season of reality TV show "Below Deck" that follows the charter yacht crew. The show airs on August 25th on Bravo. Can't wait to watch!
He also is owner of African Travel Kid, an Eco Tour agency. It's so cool how much he's been able to do and see in his young life! Emile is certainly a dreamer. I'm looking forward to seeing what more Emile accomplishes.
If you like this shoot be sure to check out my photography portfolio website for more of my work!