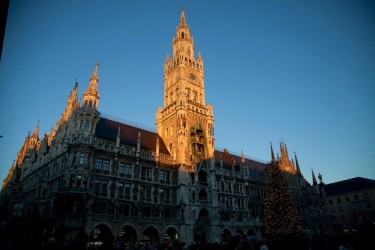 Munich, Germany
On December 29th, I left my comfortable space in Chicago, Illinois to fly to Madrid, Spain. I stopped overnight in Munich, Germany. I walked around the city visiting churches and the English Gardens. With only 19 hours there, most were spent in the cold and dark hours. I didn't have much time to explore before waking up at 5 am to catch the next flight. Though the visit in Munich was short, it was sweet. I met a fellow traveler from Greece and we explored together walking around the city at sunset.
Here are some pictures of my journey thus far, and I will be posting more soon now that I am settled and comfortable in Madrid. I arrived in the Spanish city just in time to ring in the New Year, with friends who were already living in the beautiful cultural metropolis. We had a lovely dinner and went to Sol (the center of the city) to hear the clock ring 12 times while eating a grape for each bell toll, a tradition in Spain that is said to bring good luck for the rest of the year. So far the prediction is true!
Looking back on 2013, I realize how incredibly blessed I am. I've met many amazing people, and have learned so much. Already a month into the new year I have had a multitude of different experiences here in Madrid. I am looking forward to creating the best year yet by further pursuing my photography, blogging, and writing. As always, thank you for your continued support. The blog wouldn't be nearly as fun to update if it weren't for the responses that I receive and the dialogue that has formed from it. I hope that your new year is off to a fantastic beginning!