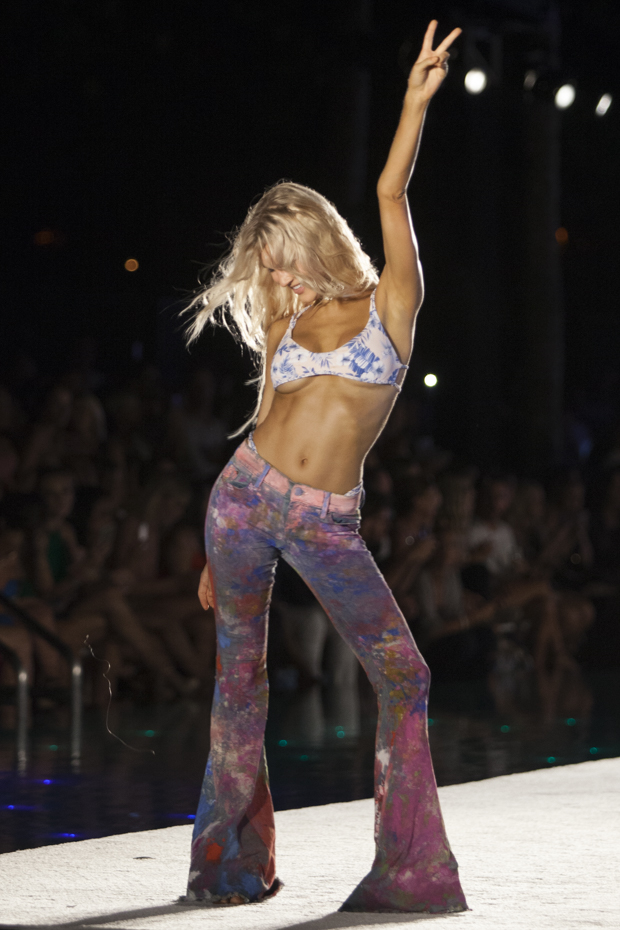 Miami Swim Week: Frankie's Bikinis
Frankie's Bikinis had a runway show on the Friday night of Swim Week at the W Hotel in South Beach. Frankie's Bikinis is one of my favorite runway shows purely because the models look like they are having such a fun time. They came down the runway with flowers, signs, and bell bottom jeans, and the whole vibe was 60's inspired. The suits were really cute too, of course, they always are!
I think the blue and white suit paired with the bell bottoms is my favorite look. I have a confession. I've always missed bell bottom jeans! I remember they were a trend when i was in middle school. It was almost a competition of who could wear the biggest bell without tripping over themselves. I could wear that all summer long. Which is your favorite? Did you wear bell bottoms?
Models such as Sofia Jamora and Ashley Moore walked the runway along with many more.
I was at the Frankie's Bikinis show last summer and it's great to see how designers find new inspiration but keep with the theme of their brand. Frankie is a young designer so it'll be really cool to see how her company progresses throughout the years. She's already made such a strong name for herself and impact on the swim industry as a whole. I anticipate the malibu based designer will have a lot more success in the years to come.
If you like these images be sure to check out my photography portfolio website!