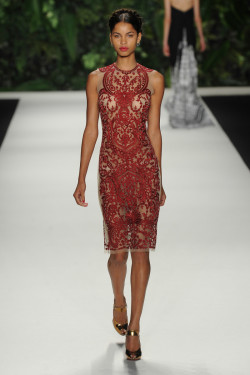 Naeem Khan Spring 2014
The spring ready to wear collection by Naeem Khan is absolutely stunning. I love the lace and flower embroidery on the floor length gowns. The 1st photo is my favorite dress in the collection because of the beautiful red embroidery and the nude color. I don't often wear floor length skirts or dresses but it's really nice to get all slammed up sometimes. Although the first dress is my favorite, each dress is something I would love to add to my closet. Who said a girl can't dream big?!
Naeem Khan's feminine style and presentation I find so awe inspiring.