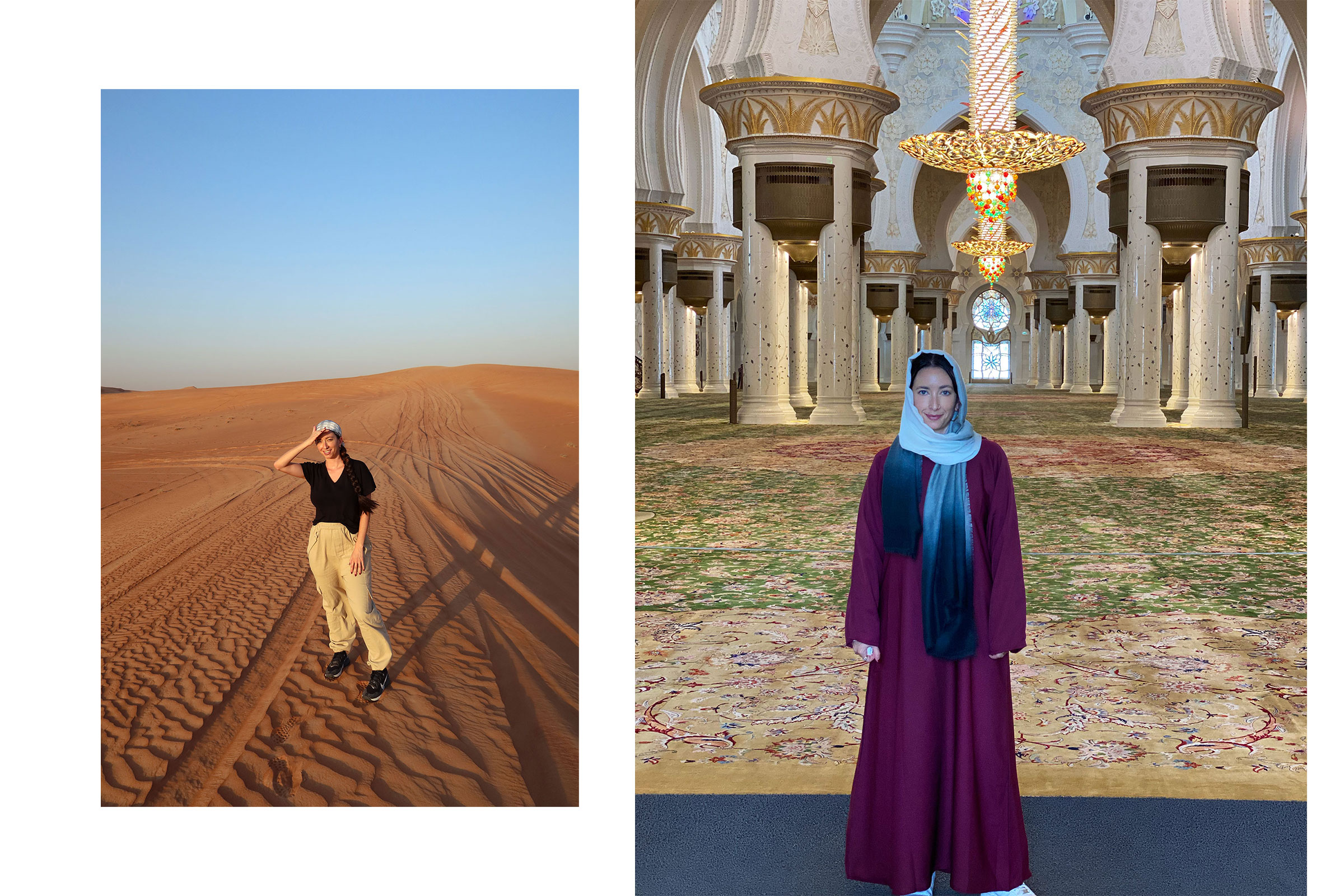 Dubai Travel Guide – Solo Female Travel
I feel so grateful that I was able to travel to Dubai last week. I originally planned my trip for 5 days and extended for another three because I loved the city so much. I feel like I got a great sense in that week for what to see and explore there and I'm here to share it with you.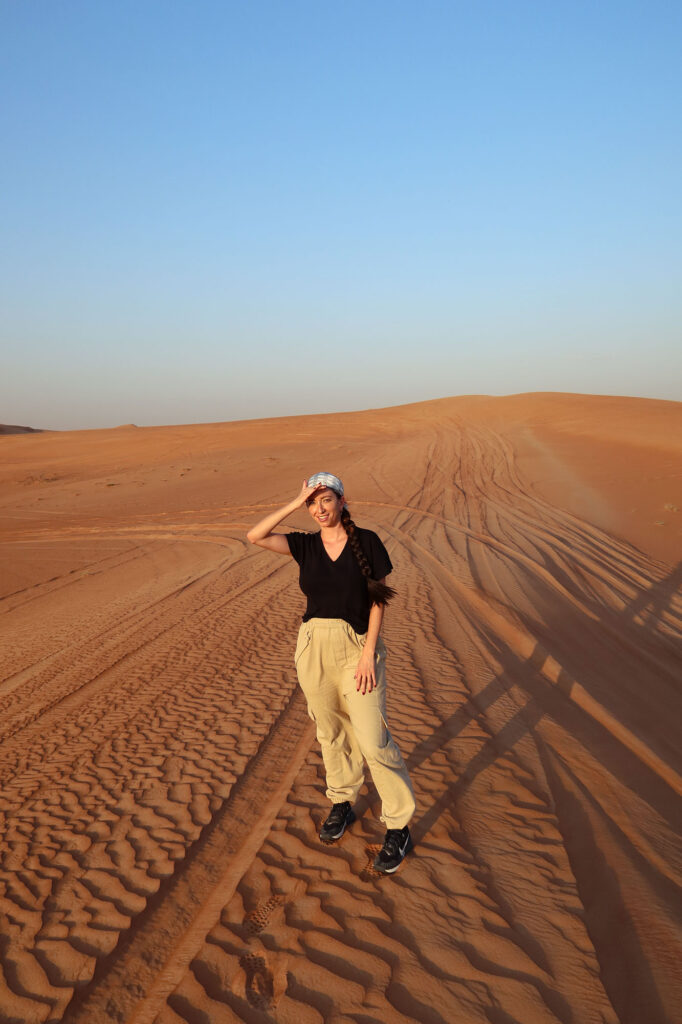 What to Wear in Dubai
Dubai is 80% expat so although the Emiratis dress conservatively and a lot wear traditional dress most people wear modern clothing in Dubai. Bikinis are worn at the beach and shorts can be seen around the city. The temperatures vary from 120 degrees in the summer to around 70 degrees in the winter. While I was there it was around 100 degrees fahrenheit. What you wear depends on the excursion that you're doing. If you go in the fall and warmer months to Dubai I suggest wearing looser clothing. It's inevitable that you're going to sweat so wear lighter fabrics.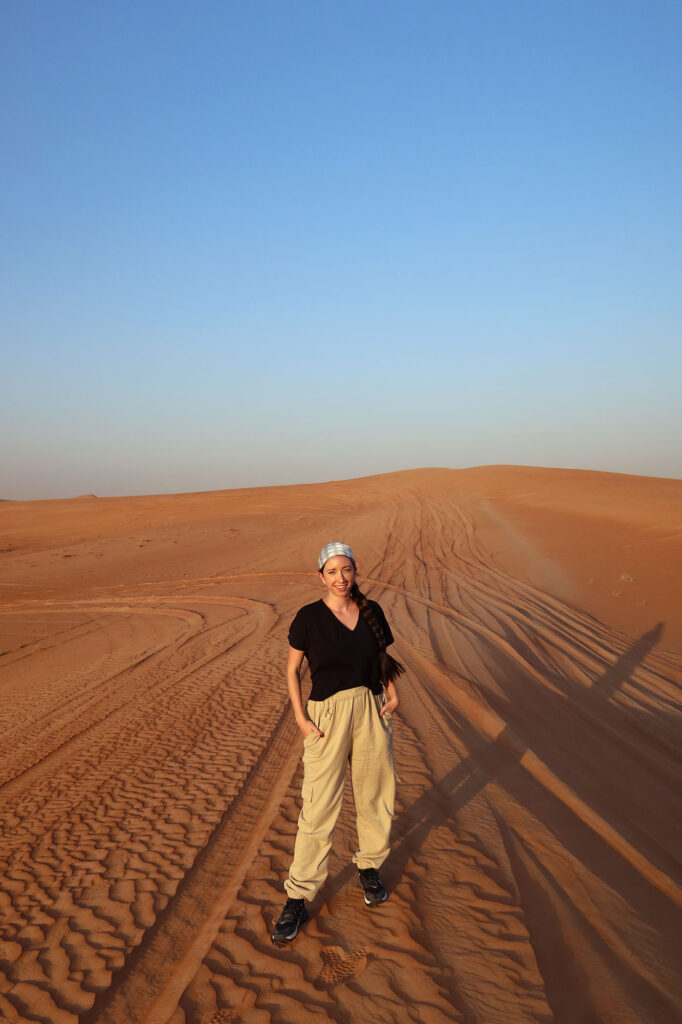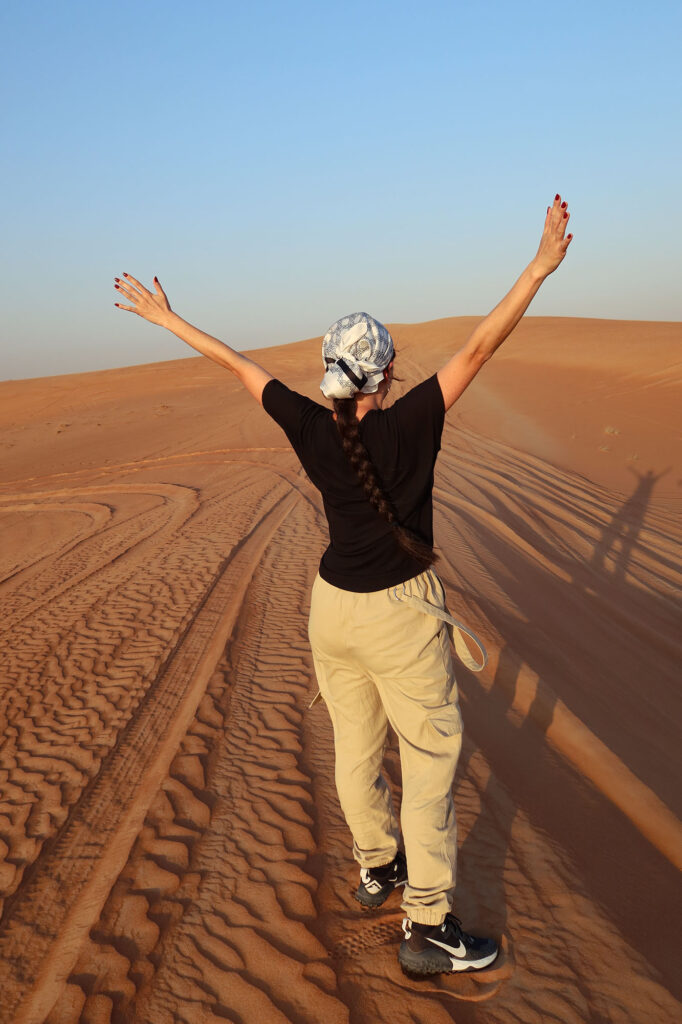 What to Wear to the Desert
For the desert I wore cargo pants, a black shirt, and a headscarf. I wanted to be comfortable. However I saw plenty of women wearing dresses. If you're not riding a camel or ATV (4-wheeler) you'll probably be okay in a dress. Wear what you feel comfortable in for this excursion.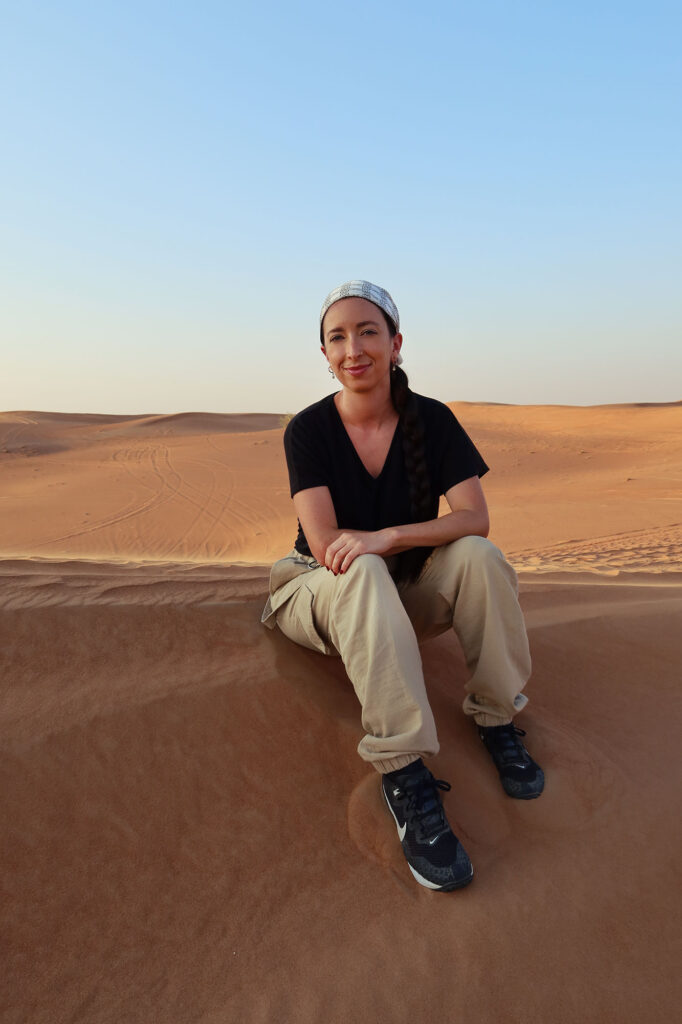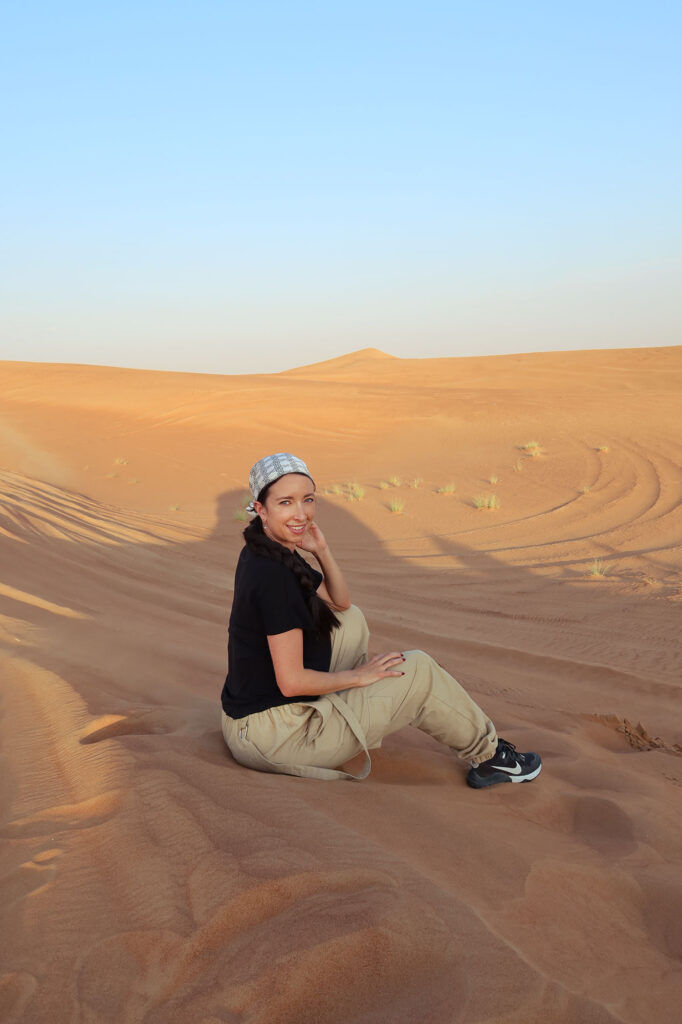 What to Wear to a Mosque
When going into a mosque you will have to wear modest clothing and cover yourself pretty much head to toe. There are often places around the mosques where you can purchase or borrow appropriate wear. That is what I did on my tour. However, it was very nice that I had my own headscarf to wrap around my hair and neck.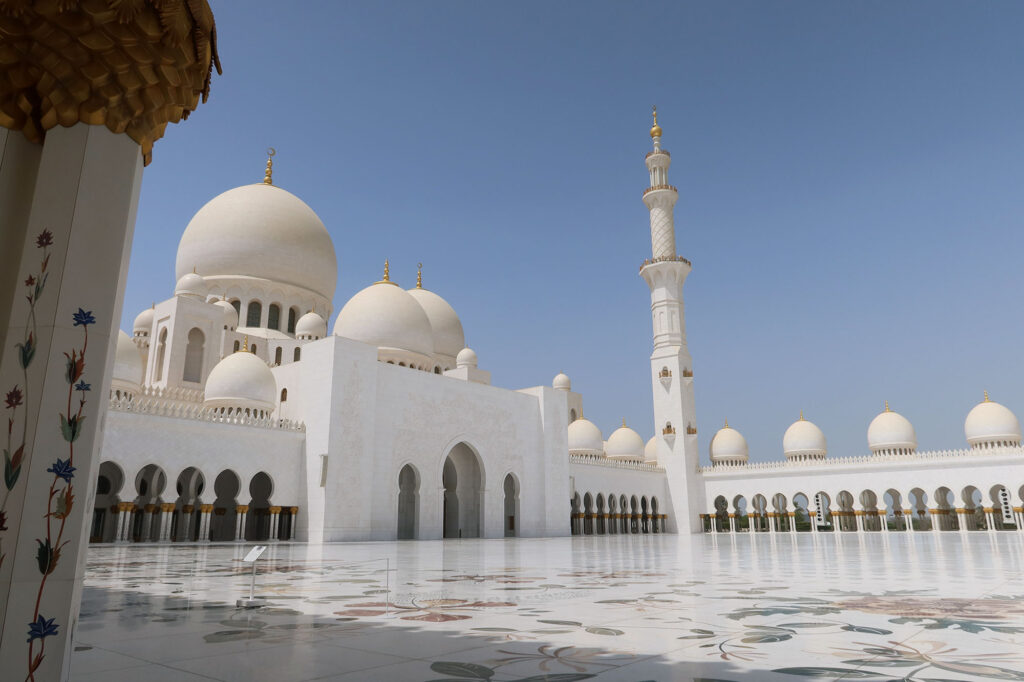 What to Wear Out at Night
Alhtough it's often said people don't drink much in Dubai I really didn't find that to be the case. At any restaurant I went to they were serving alcohol. At some restaurants they do a brunch. However, in Dubai that doesn't just mean a meal between breakfast and lunch. Brunch can be anytime but is often on weekend nights and it means that you are paying a higher fee for bottomless drinks at a restaurant. It's not something I did, because I'm not a huge drinker but it is very common. When you're going out for the Dubai night life scene people often dress up. This means nice outfits, fine jewelry and sometimes heels depending on the location. In Dubai they also start their work week on Sunday so the nights to go out are Thursday and Friday night. Saturday in Dubai is like Sunday in the States, a day of rest.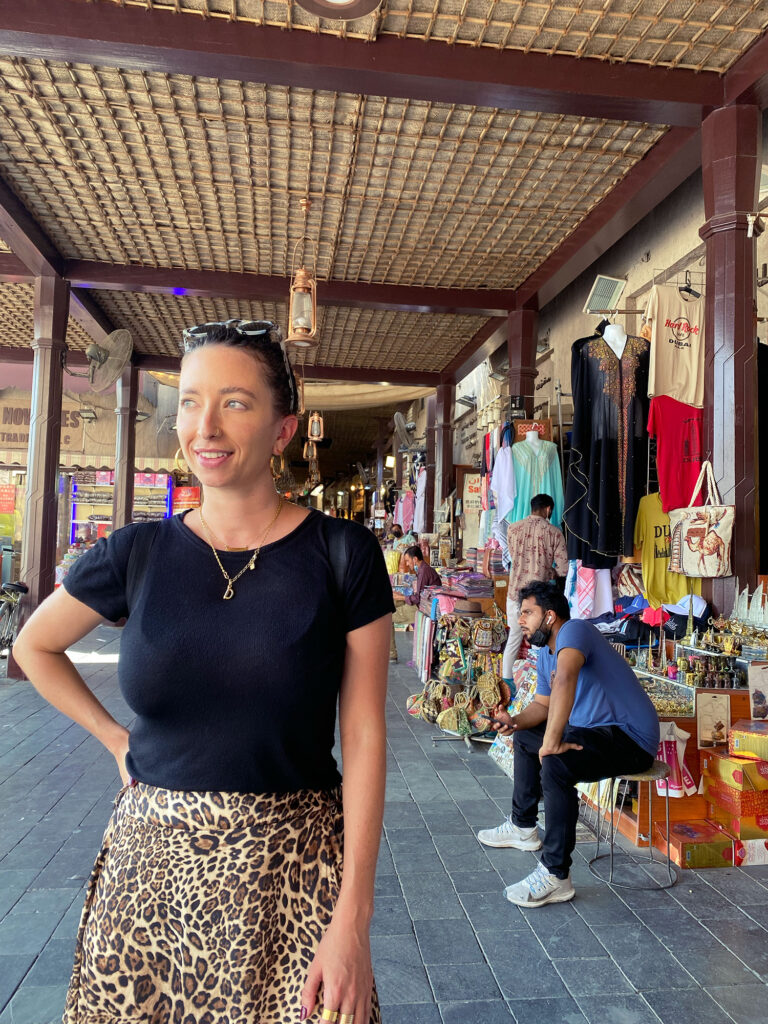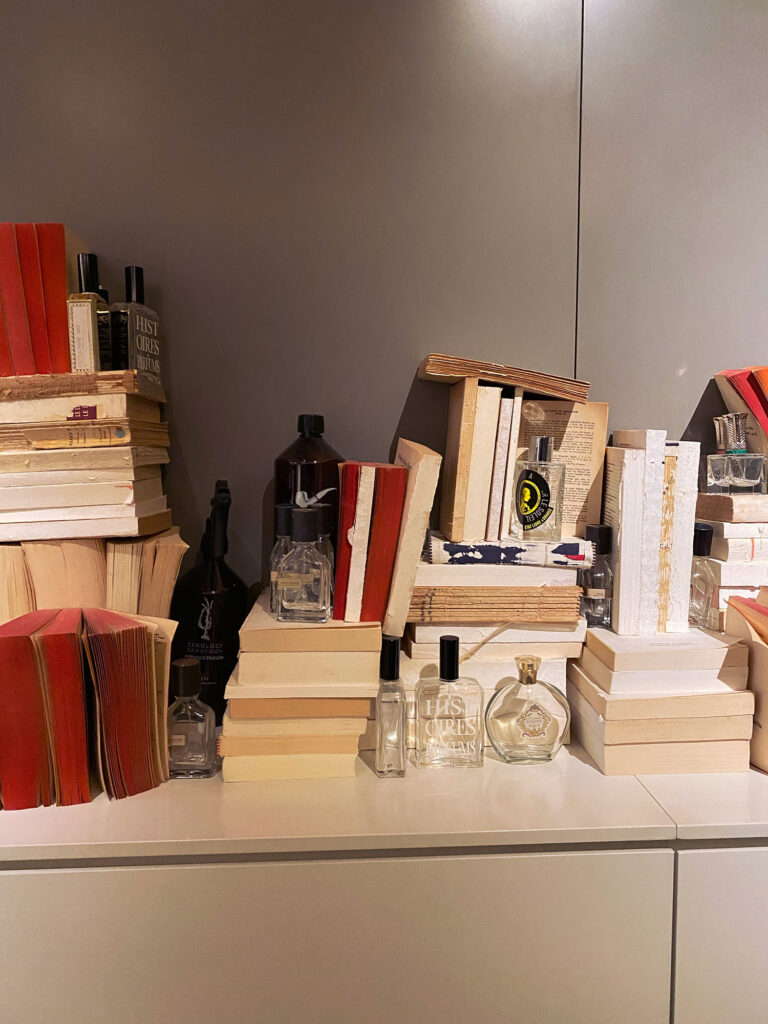 Dining
There are so many options for cuisine in Dubai from Asian to British, to Italian, to Egyptian. Those are just a few of the cuisines I had. I only had one bad meal in Dubai. There is a lot of wealth in the city so it's easy to find delicious 5 star restaurants with some of the best ingredients and dishes from around the world because of this.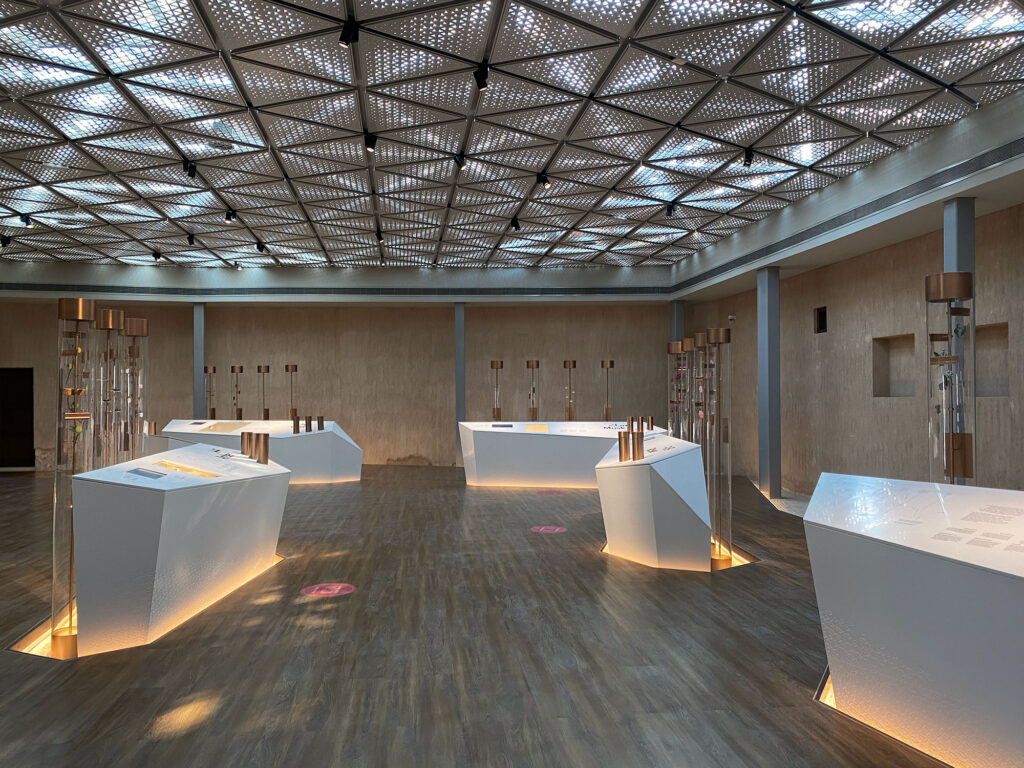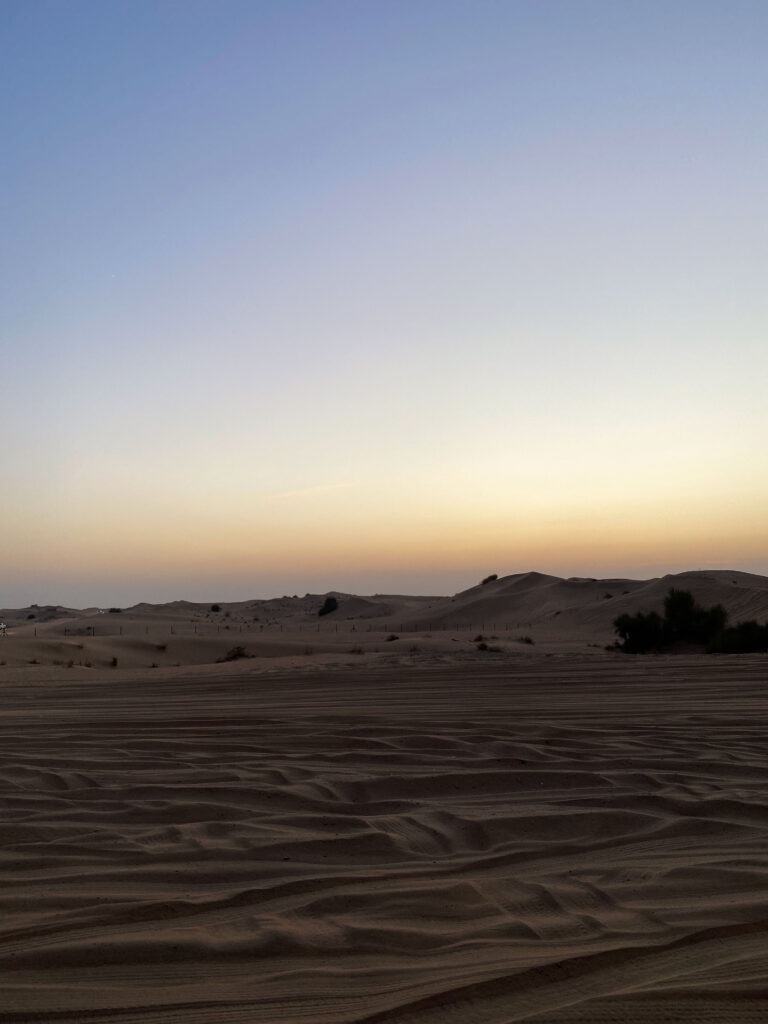 What to Do in Dubai
There is so much to do and explore in Dubai. While I was there I felt like every day was better than the previous. Each day I was so happy to be exploring a new area of the city or a new site. The architecture is incredible.
Architecture
You can check out Burj Khalifa (which is the tallest building in the world) and Burj Al Arab which is the building shaped like a ship. Both of these can be seen by taking an on/off bus tour. I did Big Bus Tour Dubai and the tickets are good for 24 hours, so I was able to use it the next day as well. If you time this well and know which places you want to stop I think it's well worth it.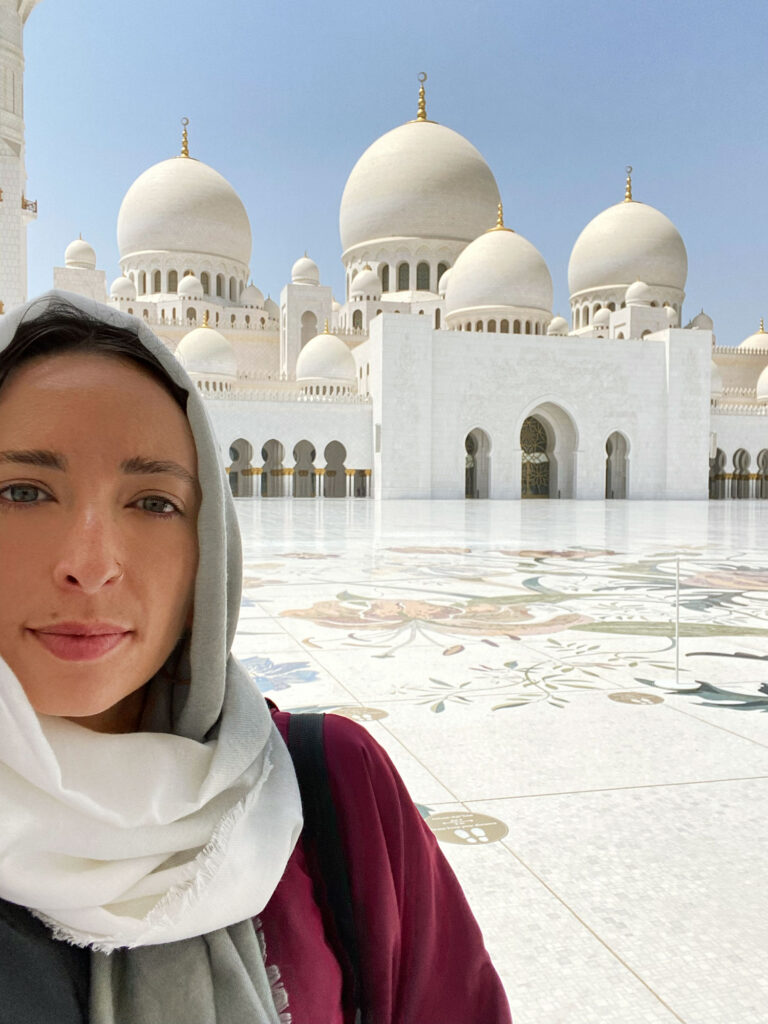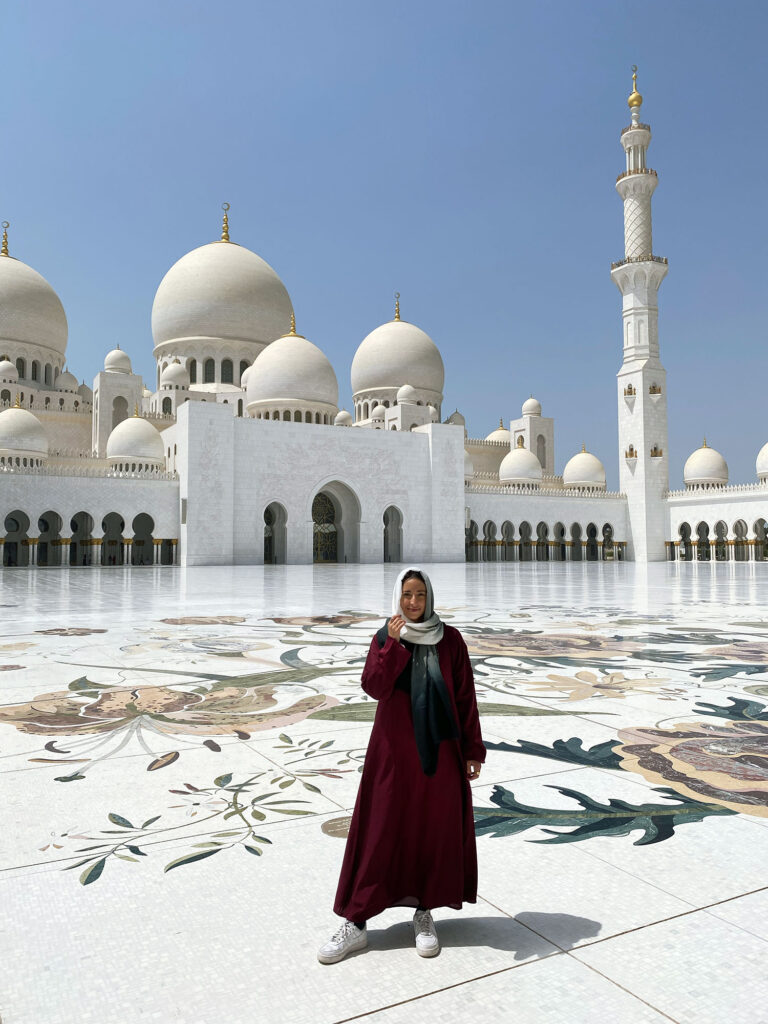 Souqs
Souq (or souk) means market. There are many souqs in Dubai. My favorite was the gold souq where you can find 14k, 18k, 22k, and 24k gold jewelry and even get pieces custom made. The prices are incredible and you'll find very intricate designs in the shop windows enticing you to step into the air conditioned stores. There is also the spice souq and the textile souq. The Souq Madinat is a new modern souq with clothing and souvenir shops modeled from the souqs in the old city area.
Abu Dhabi Day Trip
I highly recommend taking at least a day trip from Dubai to Abu Dhabi. It's about a two hour drive and you can visit the Grand Mosque, the Palace of the Emirates, and many other important landmarks in the city. Seeing the Grand Mosque in Abu Dhabi was a highlight of my trip. It was also nearly empty. I'm not sure if that's due to covid, going during the weekday (it was a Monday) or because of the time I was there (mid morning). However, it's one of the most beautiful places I've ever been and definitely worth the trip. I booked my day trip through this site.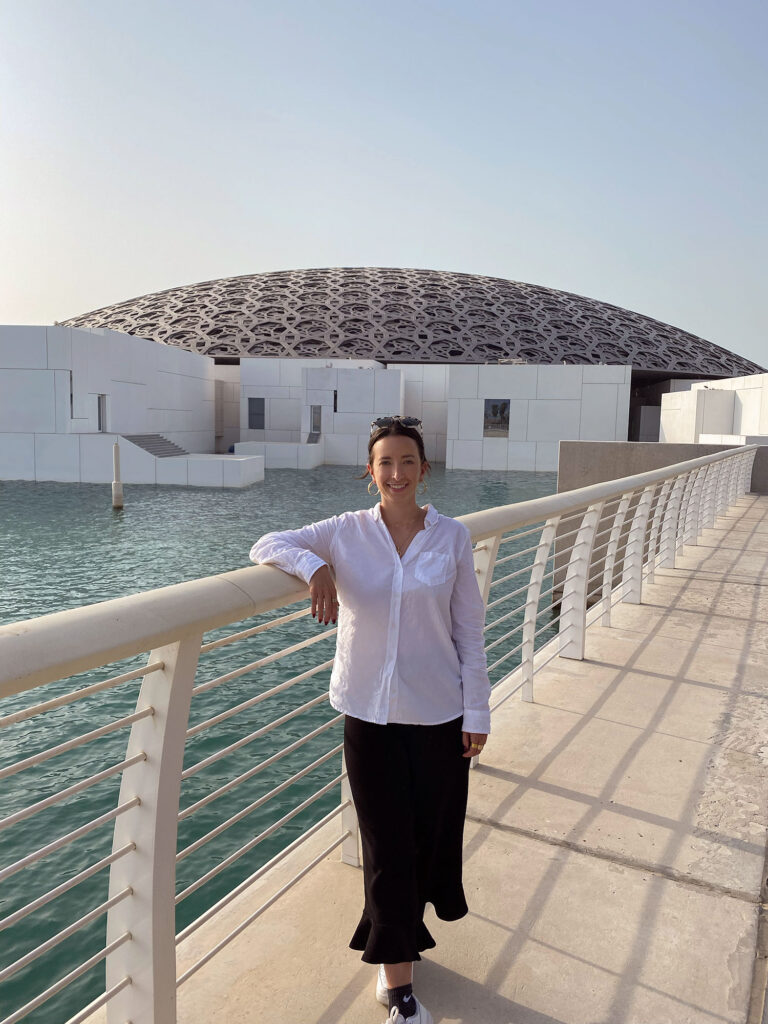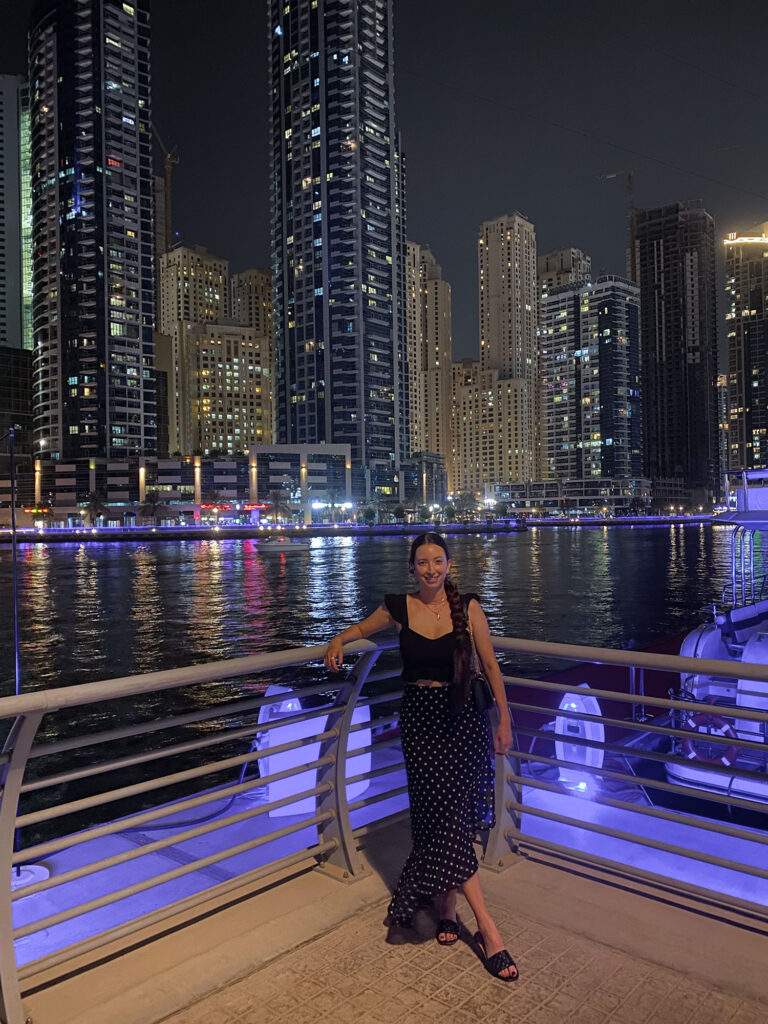 Desert Safari
Go on a desert safari and experience what the Dubai desert has to offer. There are plenty of companies that do desert safari tours where they pick you up and drop you back off at your hotel. They will take you over the sand dunes, you can ride ATV's, camels, and have dinner, a show, and smoke hookah. This was a really fun and adventurous aspect of my trip.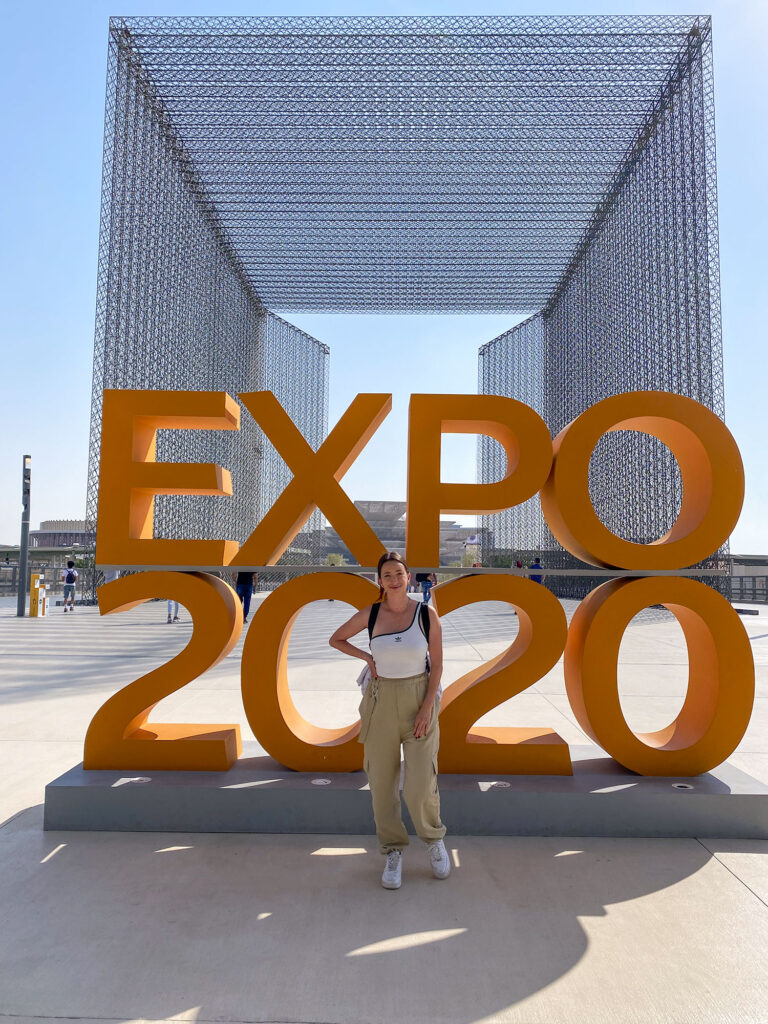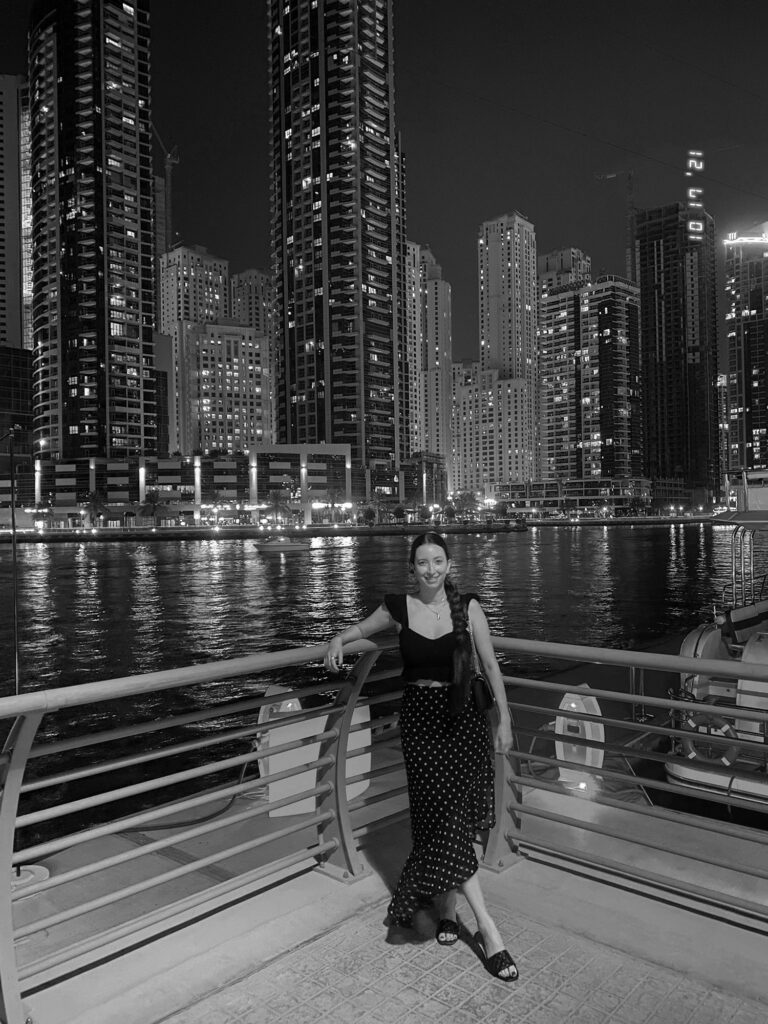 Beach
There are plenty of beaches around Dubai to explore. Be aware of extreme heat. Bring your sunscreen and water and know that the water there is unlike the pacific coast. It feels like warm soup when you go in the ocean.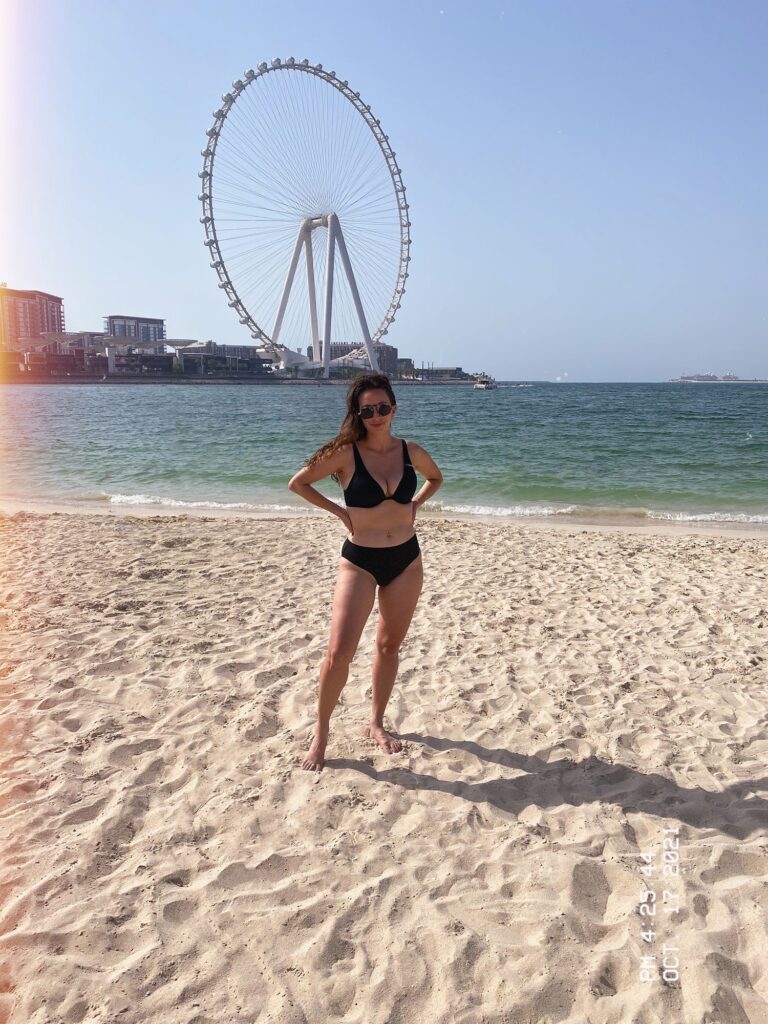 Museums
I love going to museums to learn abut the culture of a new place. One of my favorites museums in Dubai was the perfume house. It's a modern museum that shares about the history of perfume making in the United Arab Emirates. They share about the different ingredients that were used in the past, what they are using now as replacements (as some of the ingredients were from endangered species or plants), and the uses of fragrance and importance of scents in their traditions and in the home.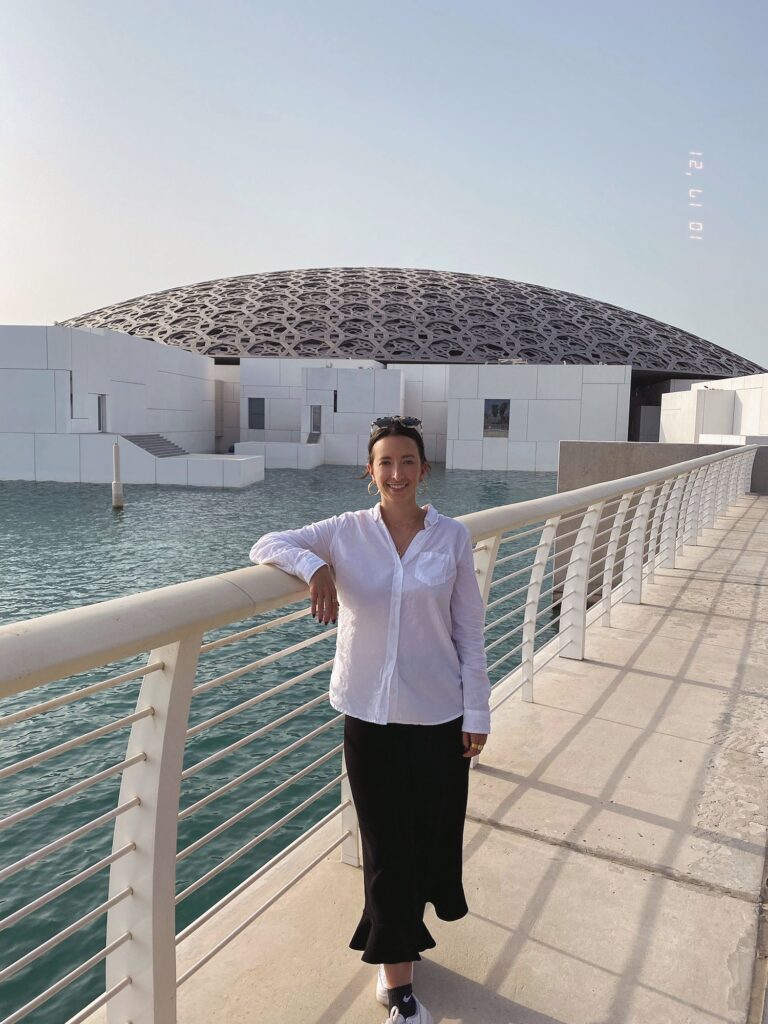 Dubai Expo 2020
Right now the Dubai expo 2020 is going on until the end of March. They are expecting 25 million visitors for the 6 month long event. It was meant to happen in 2020 but because of Covid it is happening in 2021 and 2022. It's an event to share cultures from around the world. Each country has a pavilion where they showcase aspects and traditions from their own county. They touch on agriculture, sustainability, and future technology. If you're in Dubai while the expo is going on it is so worth the $30 day ticket. I was lucky to be able to go for a day because I extended my trip. I explored the pavilions from Austria, Switzerland, Singapore, U.S.A., and Kazakhstan. I ate at the Japan pavilion and it was so delicious!
Traveling to Dubai Solo
It wasn't my plan to go to Dubai solo. A friend was meant to come with me but she had to cancel a week before. At first I didn't want to go to Dubai alone. I was nervous. I'd traveled quite a bit through the U.S.A. and Europe alone but never a trip like this. I didn't know what to expect. I had been wanting to go to Dubai for years so when I asked every other traveler friend I had if they could go and they all said no, I decided to just go by myself. For me it was the absolute right decision. It was a trip of a lifetime. One of the best yet. When you travel alone you are not responsible for anyone but yourself, you can wake up when you want, plan your day however you feel, eat wherever suits your fancy. It's liberating.
Dubai is such an easy city to navigate on your own, especially if you speak English. Dubai is 80% expat so almost everyone speaks English and that was one of the aspects that contributed to me feeling so comfortable in Dubai. I felt very safe most of the time. Whenever you're traveling alone you have to be extra aware. This goes for anywhere you're going. A good idea is to check in with a friend or family member each day and let them know you're okay. Make sure they know where you're staying. Dubai had wifi in the hotels, malls, and even some taxis so this was very easy for me to do. If you're thinking about going to Dubai alone, do it.
If you want to see more about my trip, and the different places that I visited be sure to check out my YouTube video!
I hope this inspires you to travel more. I can't wait for my next trip! This trip to Dubai and especially the last day at the world expo ignited the travel bug in me again and now there are so many more places I plan to visit. Colombia and Japan are on the bucket list. What places are on yours?