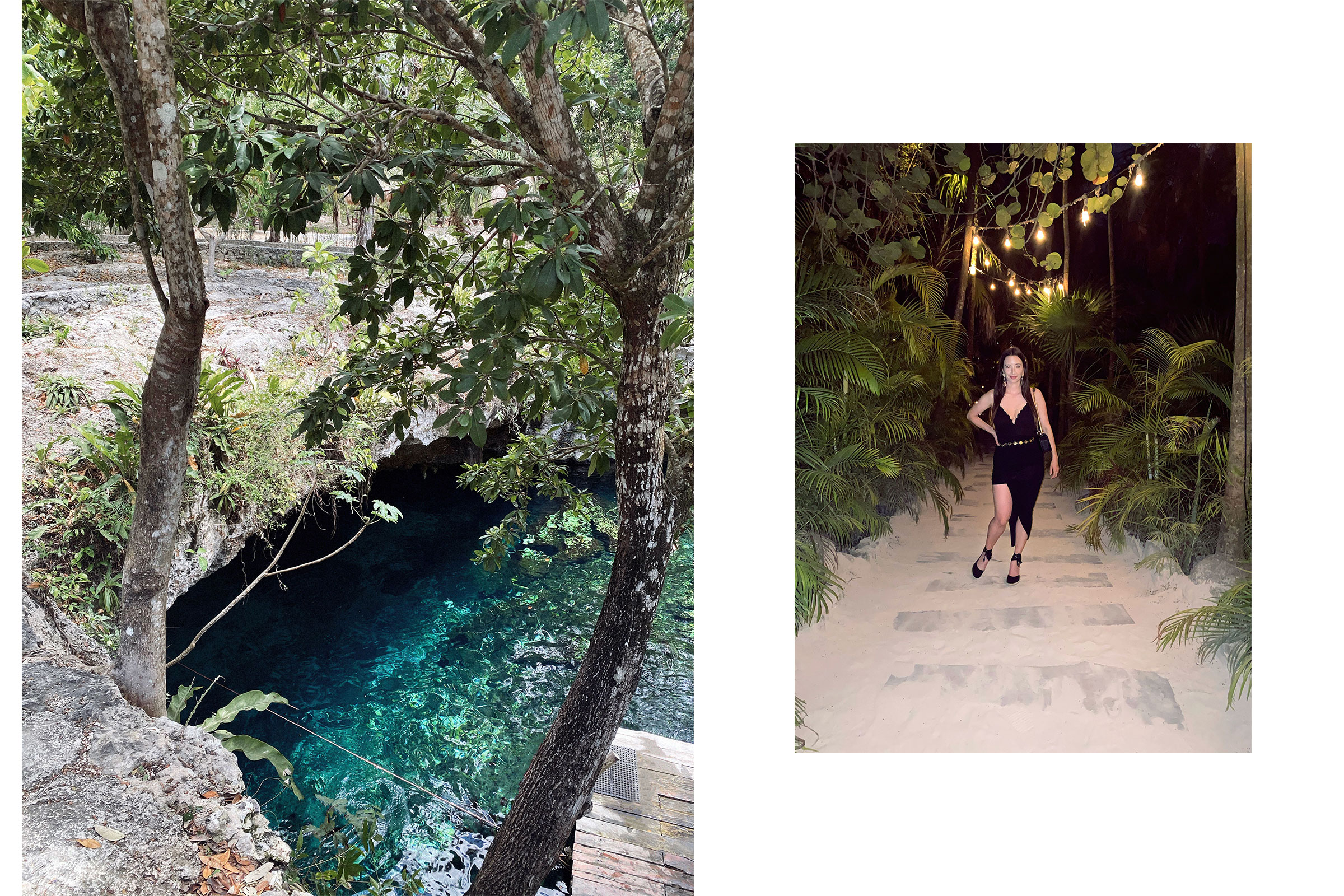 Tulum, Mexico
Are you planning on traveling to Tulum? I just got back so I have some tips for you. I went there for 5 days with friends from Miami, FL and we celebrated our birthdays. There were 3 Taurus babies (including myself) in the group. It was so nice to be with friends that I hadn't seen in a long time and an amazing way to celebrate my 30th!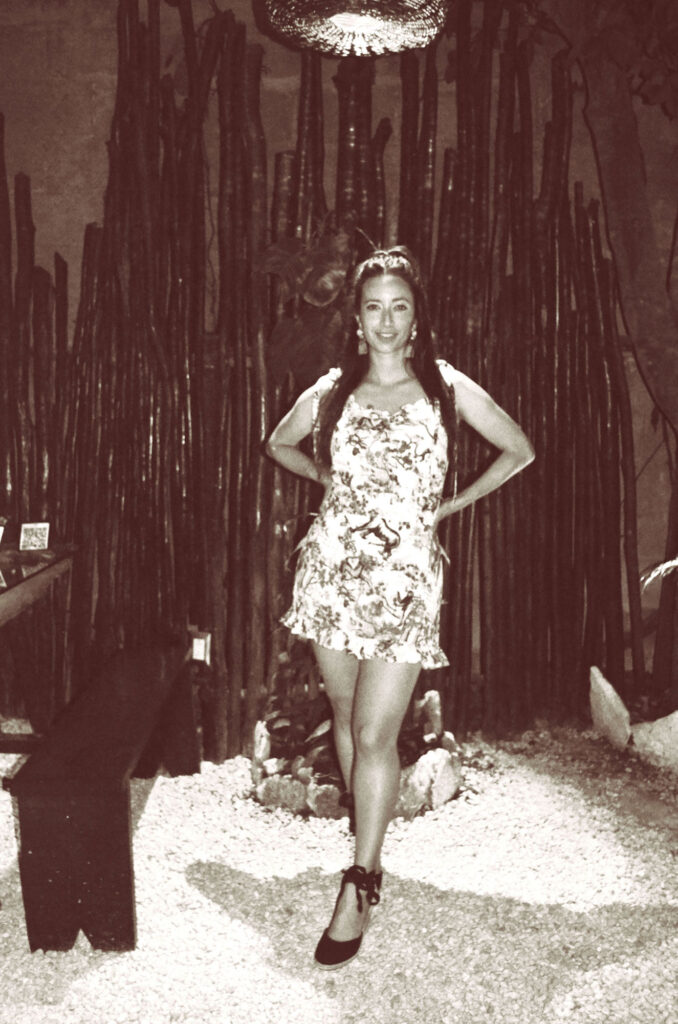 Passport
For this trip I had to expedite my passport. I wasn't sure if it would arrive in time. I had about 5 weeks before my flight when I sent in the application. The expedition process said it would take 4-6 weeks so I definitely cut it close. While planning this trip I realized I hadn't been out of the country in almost 4 years! Part of that is due to covid. If you're expediting your passport be sure to provide your flight information. I think that the government does their best to take people's travel plans into consideration and get their passports to them in time for their trips. I actually got my passport two weeks before the trip so was able to continue planning without stress.
Logistics
I was a little nervous leaving the country after not having been out of the U.S.A. in so long. The only other place that I've been in Mexico was Mexico City a few years ago. I was expecting Tulum to be more similar to Mexico City and was surprised as to how touristy it was, and how high the prices were. A drink on the main strip is about $20, and dinner will be around the same depending on where you go. In the town it is much less expensive. Something to know before you go!
Many places also took USD, which was a surprise to me. I don't know that I've ever been out of the country and had U.S. dollars accepted. Regardless, you should always have local currency when you're traveling. My flight was from Los Angeles to Cancun. I had a layover in Mexico City. As we had a big group traveling together we all arrived to the airport around the same time and went in on renting a mini van that we drove from Cancun to Tulum (about a two hour drive).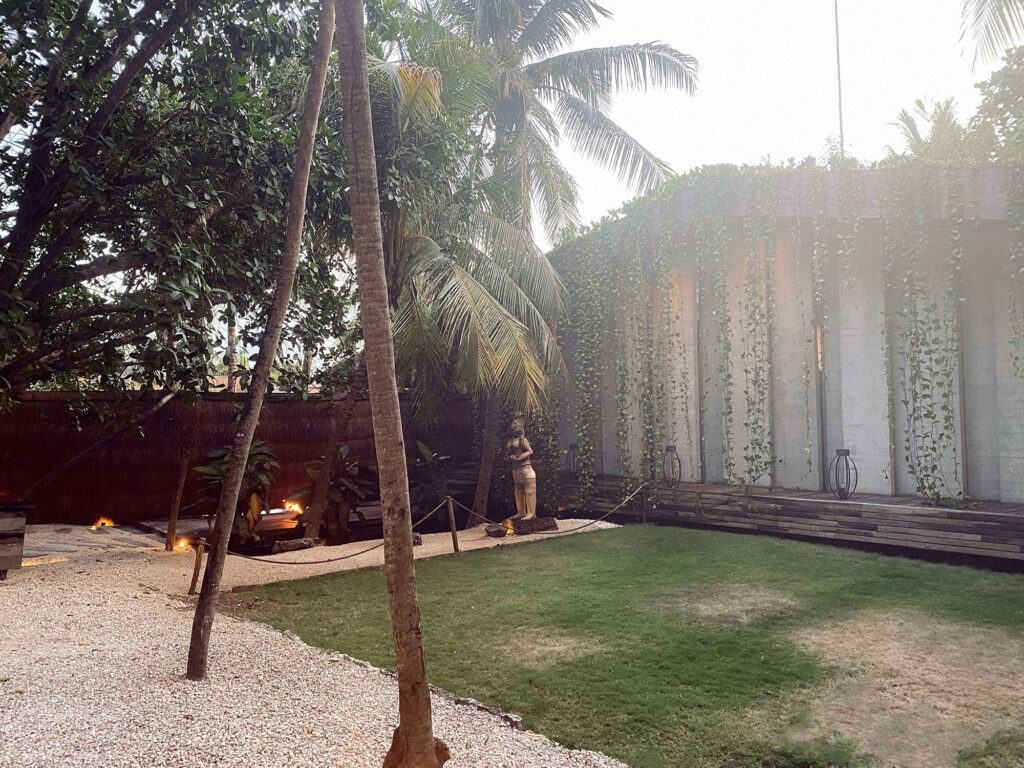 Covid
I had gotten the second dose of my vaccine 2 weeks before I went so felt much more at ease going on the trip. I'm so glad that I was able to receive the vaccine before traveling because Tulum was much more open than I was expecting. Before coming back into the United States you must have negative results from a covid test which you've taken within 3 days of your return flight. There were plenty of places in Tulum to do this.
The test was very quick and the results were returned in 20 minutes. It was about $30 USD for the test. Of course, you also want to take precautions when traveling and minimize your risk and the risk to others around you. Right now the laws around traveling change constantly so if you're planning to take an international trip be sure to check on the CDC website and travel advisories.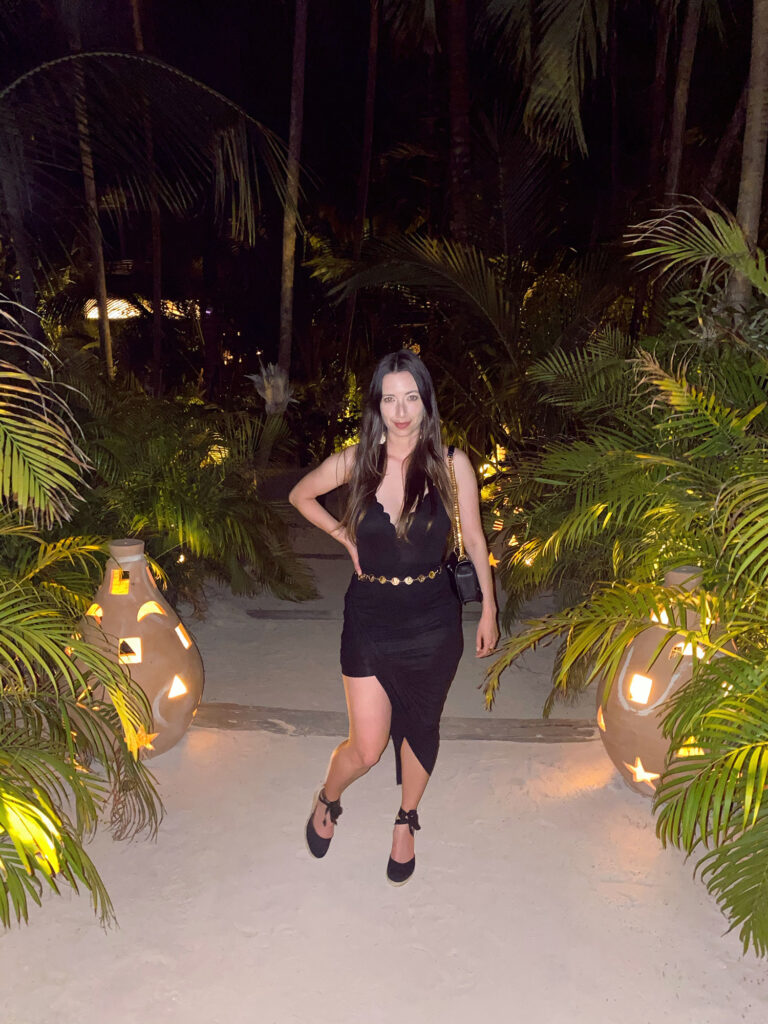 Food and Night Life
Most of our trip was based around spending time together and catching up so we had lunch and dinner plans together everyday. We drove from our airbnb to the strip and ate at a beach club most days. Some of them had a minimum which was around $120/person. If that was the case for a place we stepped into we'd go find another (there are plenty). We did a lot of eating drinking and lounging around. Overall it was a pretty relaxed vacation.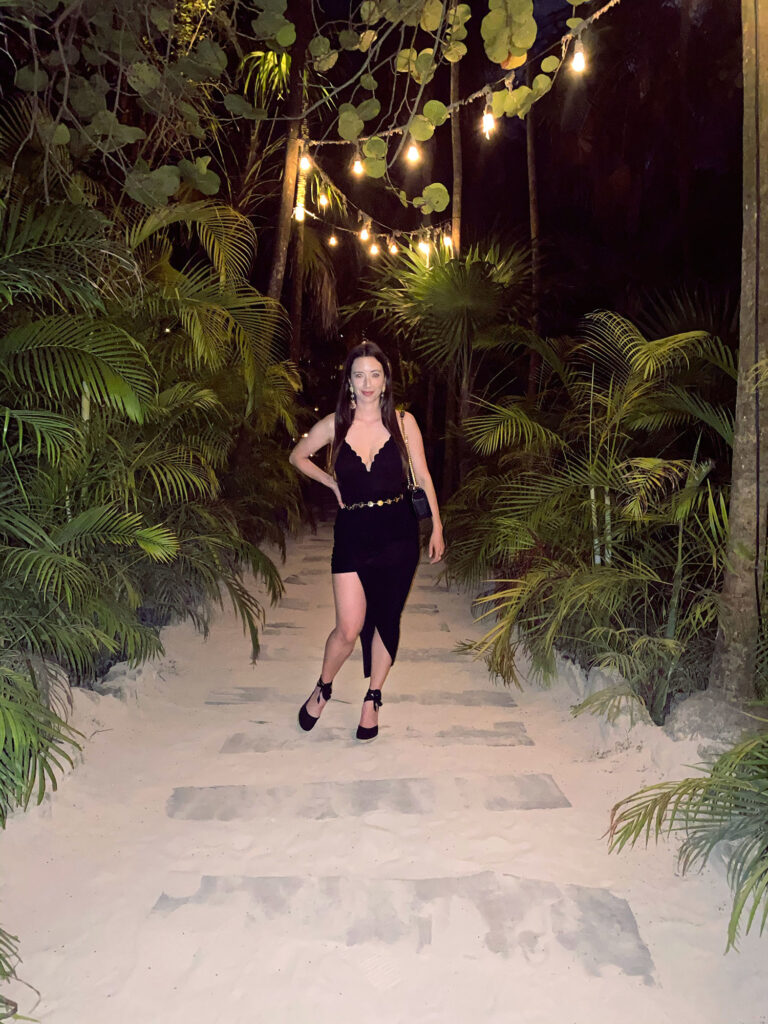 Nomade
My birthday dinner was celebrated on a Wednesday night at Nomade, Tulum which is very fitting (my friend picked it out and did an absolutely fabulous job of organizing our trip itinerary). It's a boho restaurant with Mediterranean food. It's tapas style. I really enjoyed my falafel and cauliflower plates but my friends weren't too impressed with what they ordered. The ambiance and decor was charming.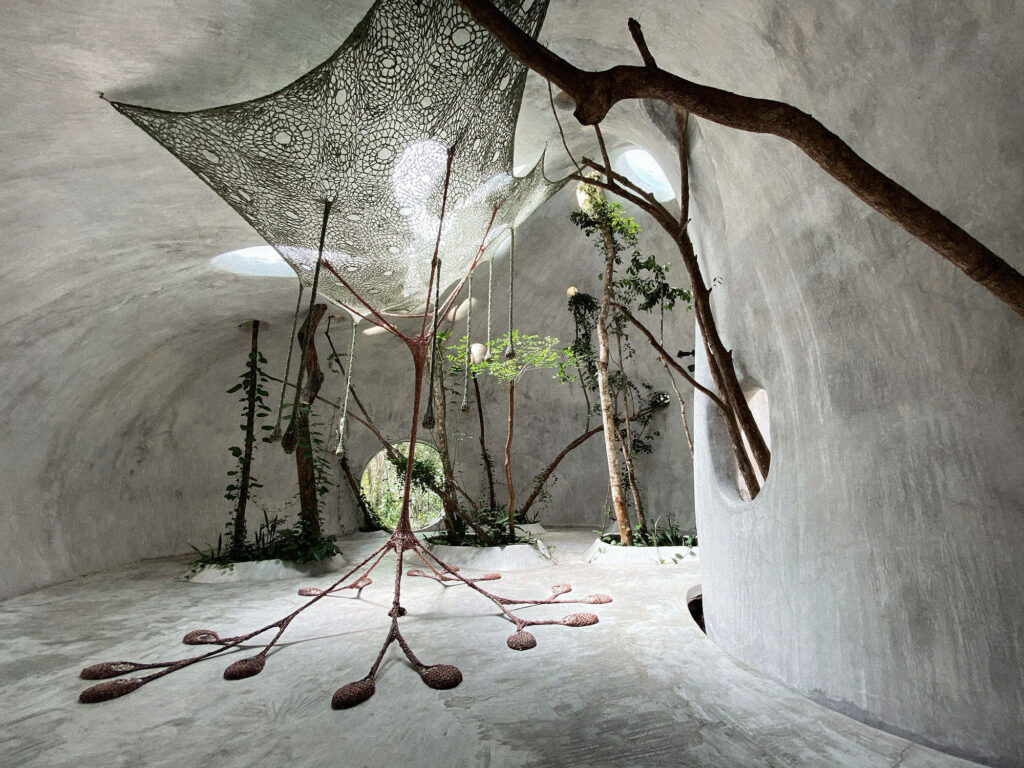 Taboo
We went to Taboo for lunch and few drinks on Thursday. It's a restaurant and beach club, and to me that was the most fun one that we went to. I got the beet salad, and unfortunately can't recommend that because it was really only beets, but my friend's food looked delicious. After we ate, we went on their beach front and danced to some great tunes.
Tantra
We celebrated another birthday on Thursday at Tantra, Tulum which was a bit too loud for dinner in my opinion but would probably be a fun place if you just wanted to dance and party. They had a pretty good veggie burger.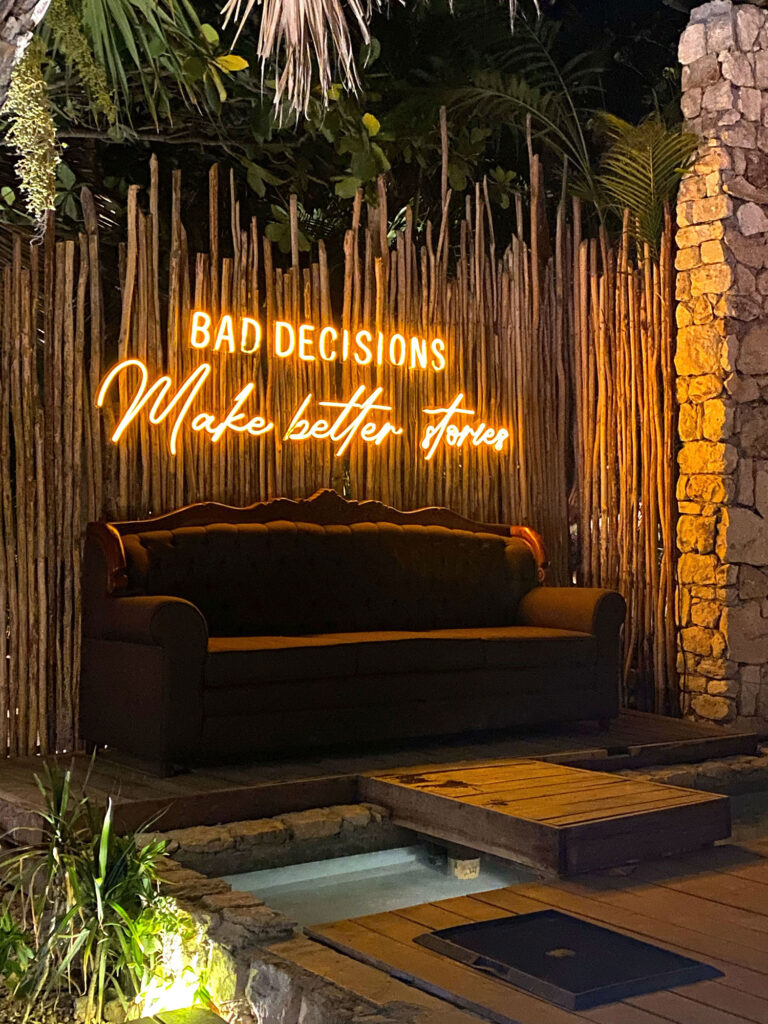 Rosa Negra
Rosa Negra on Friday night was delicious. I got the mushroom risotto, a margarita, and we smoked hookah. If you want a place for dinner, drinks, and dancing all in one, this is it. I've never seen anything quite like it. We sat down for dinner and then shortly after people were up dancing on tables. We should have stayed longer, but we left trying to find another place to go to on a Friday night around 11 p.m. which was a mistake, because everywhere was charging a cover.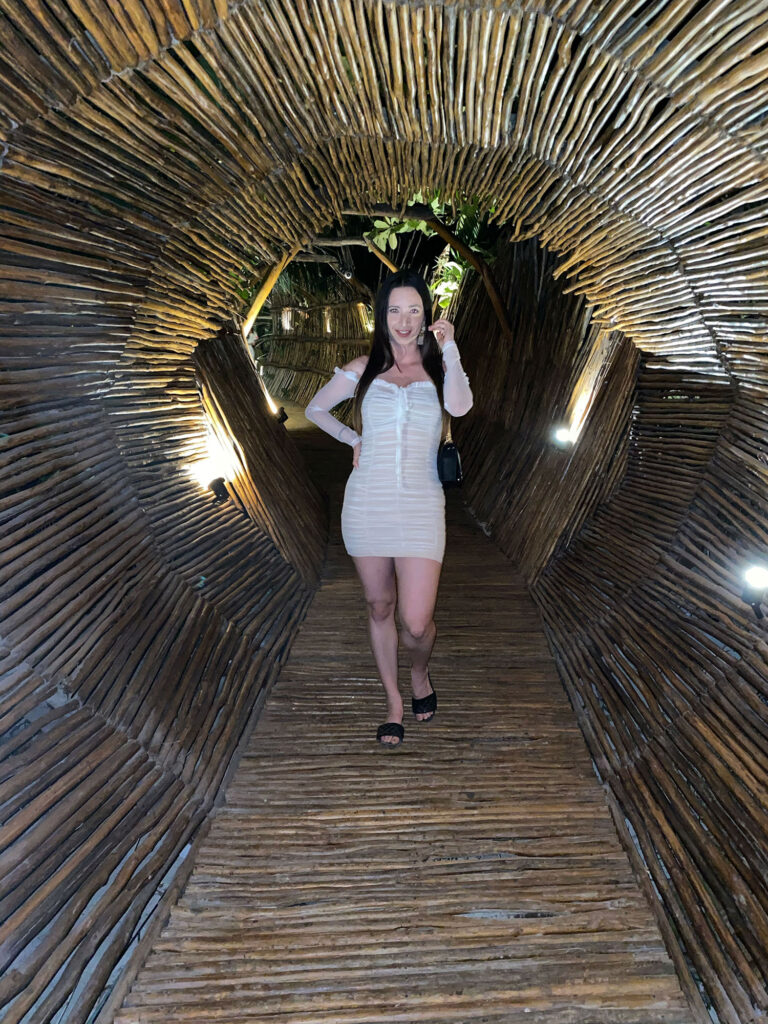 Burrito Amor
On Saturday we had lunch at Burrito Amor which was amazing because they had so many options including vegetarian and vegan. They had great burritos, margaritas, and smoothies. It was a cute little restaurant with an outdoor patio in the back. It added variety and a change of pace to our experience so it deserves it's own section in the post. I recommend checking this place out and wish we had found it sooner!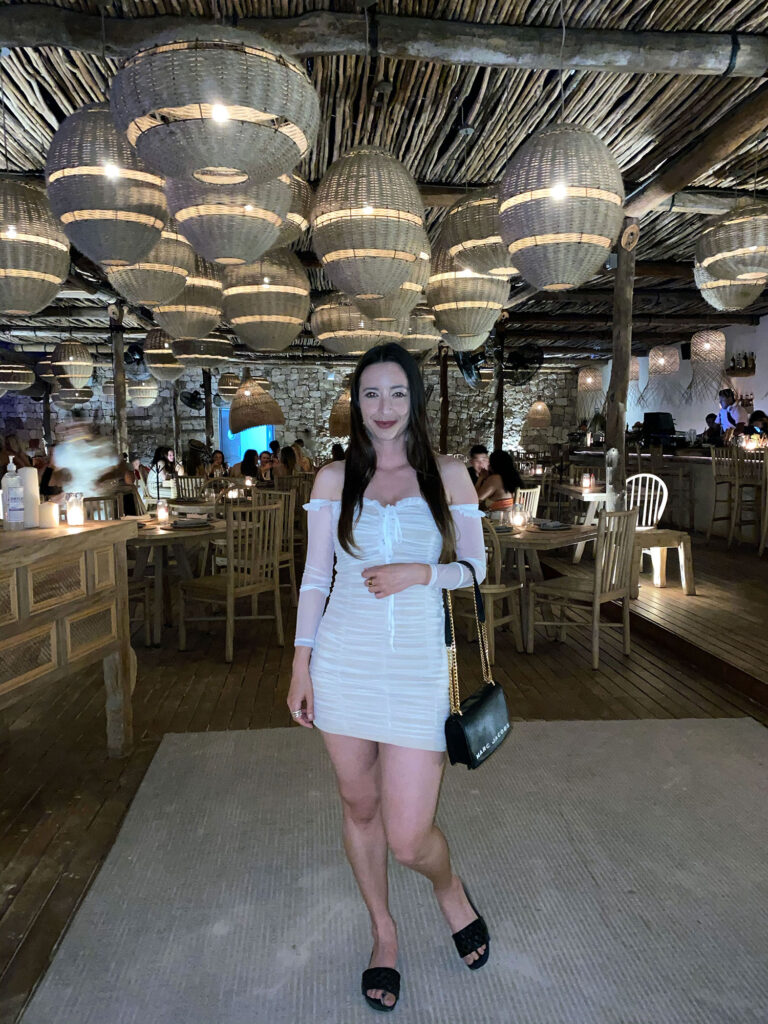 Sites to See
Go to the Mayan Ruins for some culture. We went on Saturday morning quite early. It wasn't too crowded, but if you can go during the week that's probably a better experience.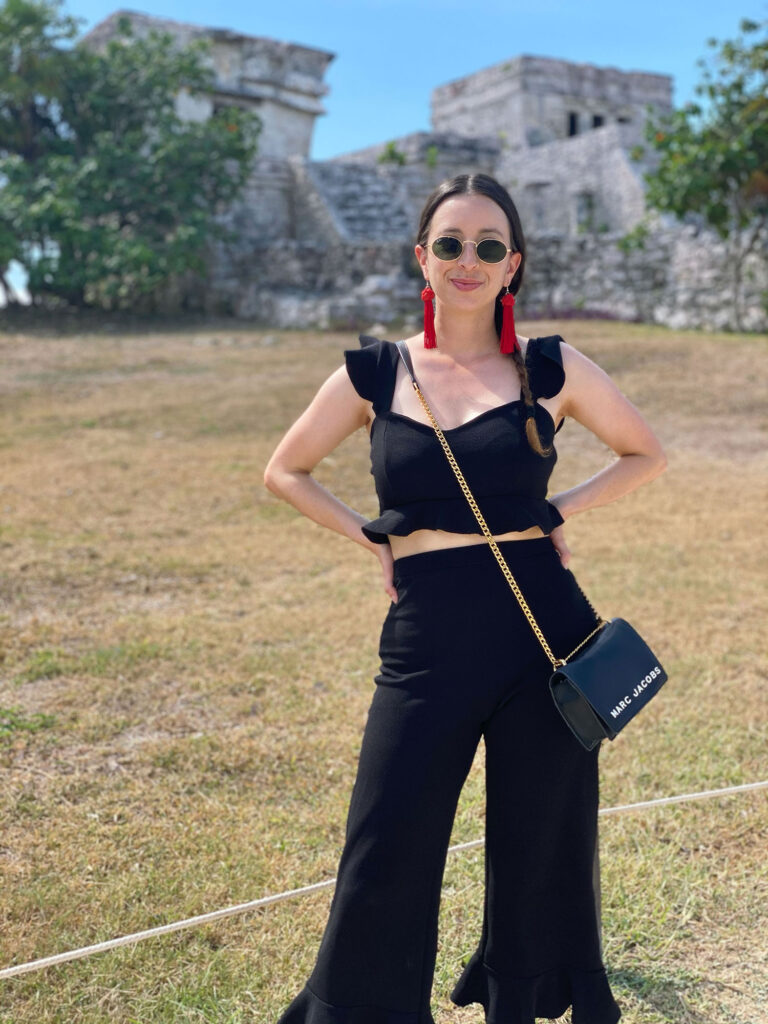 Gran Cenote
We then went to the Gran Cenote. A cenote is a natural pit, or sinkhole, resulting from the collapse of bedrock that exposes groundwater. The term is specifically associated with the Yucatán Peninsula of Mexico. After walking around the Mayan ruins in the heat it was refreshing going to the cenote for a dip. In the Gran Cenote you can swim a little bit into the cavern which is eerie but an unusual experience that you wouldn't want to pass up if you go to Tulum.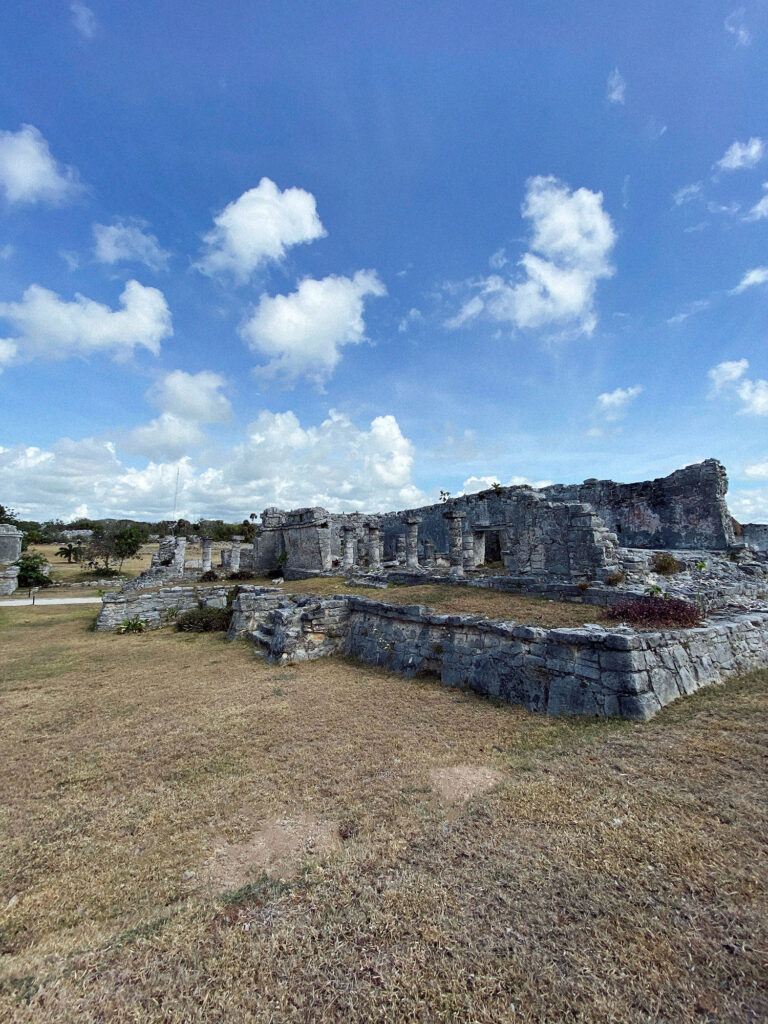 Azulik Uh May
One of the mornings in Tulum we took a drive out to Azulik Uh May, which is not to be confused with Azulik, Tulum (a resort). Azulik Uh May is an eco project in the jungle. "In this contemporary art museum, the centerpiece of AZULIK Uh May, some of the world's finest visual artists gather to find innovative ways of experiencing and creating art." – Azulik
It's unusual architecture lead you through a relaxing journey where there are great photo ops and a meditation room. 10/10 would recommend.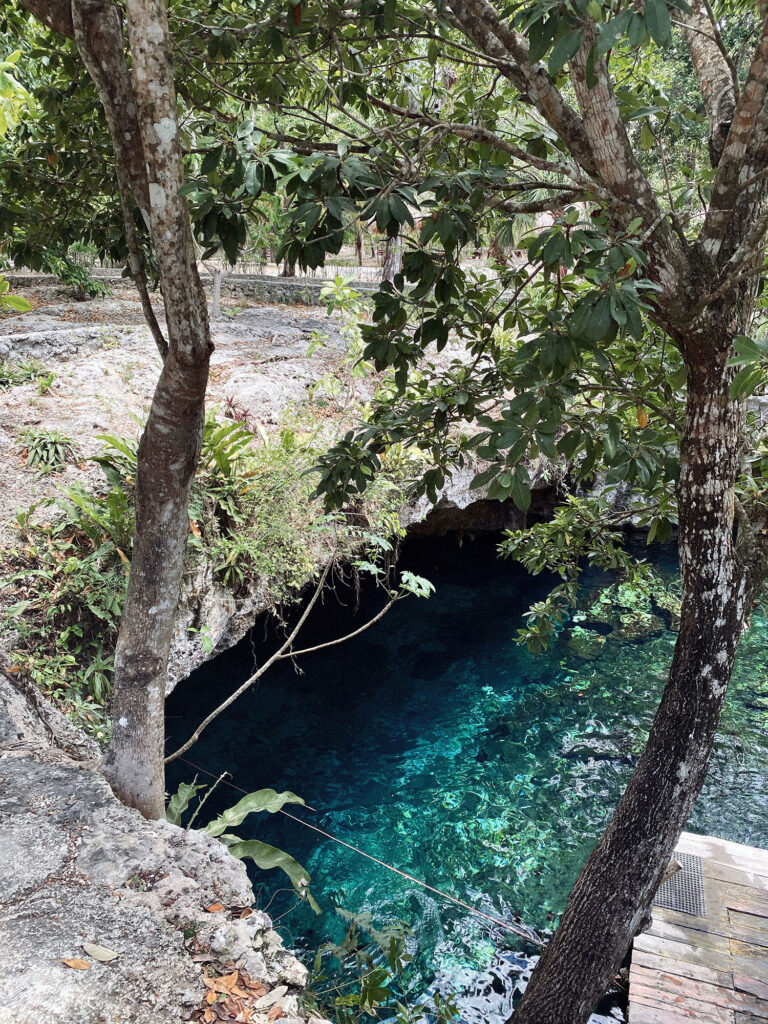 Sound Therapy
Sound therapy at Sanara was a highlight of my trip. It was something that my friend suggested so we booked in advance. The session was $25. I've done yoga, and some similar classes, but I'd never done sound therapy so didn't know what to expect. I sat down on a yoga mat in a circle, closed my eyes, and this beautiful singing started. I was transported. It was surreal. I went in with very little expectation. I'm also a bit of a sceptic with these types of new age things. I can't quite explain the experience, but it was profound. The class was for realignment and I felt like it worked. I wished I had planned to take a few more classes like this. If I go back, that's something I would certainly do again.
Where to Stay
We stayed in a 3 bedroom 2 bathroom airbnb in Zama Gardens. It's off of the main strip, so it wasn't too loud. It worked well for us because we also rented a car and were easily able to get around. I think where to stay depends on the type of experience that you want to have. If you want to be where all the action is then stay on the main drag, if you prefer a quieter area, then where we stayed is nice. If you want something more authentically Mexican then you might prefer to be in the town.
Tulum, Would I Return?
I'm so grateful that I was able to take this trip. After not having been out of the country in 4 years and with everything that's going on with the pandemic this was a nice reintroduction to international travel, and I got to go with some of my closest friends. How lucky am I to celebrate my birthday in such a great way?
However, I expected it to be less of a tourist hot spot. I think that the pandemic has contributed to this because it's one of the few places you can inexpensively travel that is quite open. Although you're in Mexico you don't really feel like it…
I overhead people who lived there for a while complaining how prices have gone up in the last few months because of tourism and how they can't get a decent fair for a cab. There are pros and cons to this, of course. The tourism is a huge industry for the area and if they didn't have any their economy would suffer, but at the same time it can have a devastating affect environmentally and the rising prices in the area make it tougher for locals to get by with the wages they make.
If you want to go somewhere just for a vacation, to enjoy good food, the beach, to relax or delve into spirituality then Tulum is a great destination for that. If you're looking for somewhere to speak a new language, try interesting cuisine, and somewhere that you're going to be pushed out of your comfort zone, this may not be it. Exploring is never a bad idea and it all just depends on the type of experience you're craving for your travels. Let me know any questions you have below and I'll do my best to answer!
Thanks for reading!