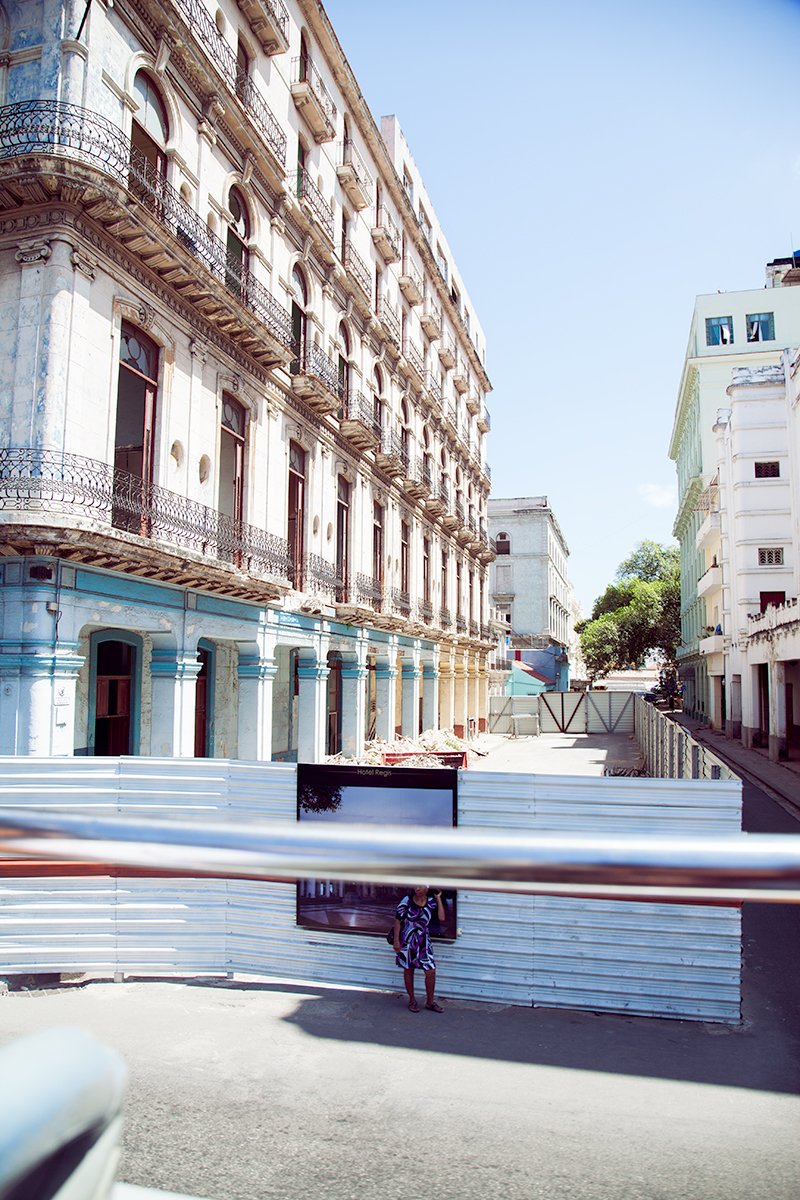 10 Tips for Travel to Havana, Cuba
I was in Havana, Cuba for 5 days last week. The older cars, the architecture, and the lack of internet make you feel as if not only have you traveled to a foreign country, but into the past.
 Needless to say, the trip was incredible. I realized that I hadn't been out of the country in over a year, and was reminded of how important it is to expand my perspective of the world by traveling. Honestly, I feel like I got to see the real Havana. I went with two friends from Miami, and we met Cuban locals on our trip. We were lucky with the friends that we made because they showed us around parts of the city that we wouldn't have seen otherwise. In my opinion, it's always better to explore with a native of the area. It gives you the opportunity to experience the city as if you were living there, you can understand the daily life, routines, and the culture. On our own we took a tour bus, and saw some sites, but with our new found friends we were exposed to the underground EDM scene, restaurants on the cheap, and taught to dance and skateboard in the streets of Havana. If that alone doesn't describe the importance of talking to locals while traveling, I don't know what will! Whether you have local guides in Cuba or not, there are some helpful things you should know before you go. They are detailed below!
Booking your flight

We flew with Spirit Airlines, because it was the most economical option from Ft. Lauderdale directly to Havana. Check the best fares. I recommend looking on kayak.com. If you fly Spirit, be aware that you can only bring one personal item and nothing else without being charged extra. I was able to stuff everything into one tote bag. If I can do it including my camera gear, you can travel light too!

Health Insurance

This is something that was included in our ticket price. It's mandatory to have health insurance when traveling to Cuba as a foreigner. This being said, you should bring the proof around with you while you're traveling just in case of emergency. If you don't have it, you will not be seen in Cuba. It was $25 USD which was included in the Spirit airfare. I believe most airlines include it when traveling to Cuba, but double check.

Visa 

When traveling as a US citizen to Cuba you must pay for a visa. This is NOT included in the airfare price. With Spirit you choose from a dropdown menu the type of visa that you would like at online checkout. Some of the options are "supporting the cuban people", "education", and "journalism". I chose "journalism" and my friends chose "supporting the cuban people".

The visa is $50 upon entry to the country, and $50 upon leaving. Visas can be purchased at the U.S.A. airport. The visa is two small pieces of paper. This paper is not attached to your passport. This makes it easy to lose. I lost mine while in Havana (Parents, if you're reading, I'm sorry). Do as I say, not as I do. Obviously, you want to hold on to that paper, but if you do happen to lose it while in Cuba, do not fear. Your passport should already be stamped from when you entered the country. With this stamp, and a receipt for the visa from Spirit airlines, I didn't have any issues. I assure you, I'm writing you this from the USA.

Internet

It is minimal in Cuba. If you are in dire need of the internet there are some cafes, restaurants, and hotels that offer wifi as pay by the hour. You will see little hotspots across the city where people are gathered with their cellphones using the internet.There was no wifi where we stayed, and so I just took it as an opportunity to disconnect. I always find it so helpful to take a couple days or a week without internet and social media.

Airbnb 

We stayed in an Airbnb. Although, we had issues with our hostess in Cuba I doubt this is the norm. I've stayed in Airbnb before when in Paris with no problem so still vote this as the best option. It's cheaper than a hotel, and nicer than a hostel.

Food

Cuban food really lacks flavor. There is very little spice available and the food tastes rather bland. As a vegetarian it is incredibly difficult to find healthy options. You are presented with rice, a couple beans, minimal salads, some vegetables, pasta, and pizza. Be very careful to drink only bottled water! When drinking alcohol we stuck to beer and rum because it's bottled. Any alcoholic drinks, sodas, etc. with ice in them is putting you at risk for traveler's illness.

Taxis

The city is very walkable. We stayed near the center so only needed taxis to and from the airport. As a tourist, you will stick out like a sore thumb, in the way you dress, walk, talk, and oggle at your new surroundings. Taxis are relatively cheap but it's easy to get ripped off, and so I would recommend bargaining with your taxi driver. It's likely that the rate they are suggesting should be 5-10 pesos lower. This goes for buying souvenirs as well.

Sites 

There are many great places to see in Havana. We took a bus tour, which I had never done before but it's a good way to see most of the city, and get great pictures. We went to Museo Nacional de Bellas Artes, Castillo de San Salvador de la Punta, Museo de Chocolate, Museo del Ron Havana Club, walked around the old city and "Plaza Vieja" and went to a little rooftop bar called Roma where we met the Cuban friends I mentioned earlier.

What You Can Take Back 

Not much. I didn't have much room in my tote to begin with, but I'm not one for buying souvenirs. I have my photos for that. If you're interested in purchasing something in Cuba and taking it back with you to your country, you must have a receipt otherwise you will most likely be charged. Cuban rum and cigars will be confiscated when going through airport security. After you go through, you can buy them at the airport duty free. Then, you can bring back as much as you like.

Currency

Bring enough cash to last your entire trip! Credit/debit card(s) will not work in Cuba except for MAYBE at an ATM. There is CUC (Cuban Convertible Peso) and CUP (Cuban Peso). If you are traveling from the USA and converting from USD to CUC the exchange rate is about equal. You WILL be charged 10% when converting from USD to CUC (and back). Often travelers will convert USD to Euros and then to CUC to avoid the 10% charge. You can generally use CUC for everything, although some stores will only accept CUP. Be aware that you cannot convert CUP back to USD.
Any more questions about Cuba that I can answer? Drop them below and I'll do my best to respond promptly! Happy and safe travels!