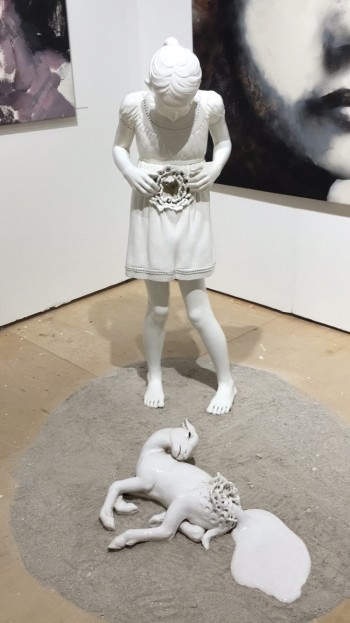 Art Basel 2015
Art Basel has become the country's biggest art show exposition and event holder. The premiere show holds over 15 thousand gallery presentations from across the globe and attracts over 300 thousand visitors for a week throughout Miami and Miami Beach.
The 3 day event in Miami was officially Dec 3-6th but let me tell you, from living here right outside of the art district, that the mayhem began long before that. Tents were constructed in Wynwood (what is known as the original art and graffiti district of Miami) and South Beach and sculptures were being erected a month or so before.
I attended a few events throughout the week. Wednesday I explored Wynwood galleries and listened to live music in open spaces turned venues. There were pop up food trucks serving sushi and tacos and I sat on the lawn and talked and danced with friends.
Friday
Friday I attended the Art Miami tent. Walking around for a couple hours was sufficient but I could have spent the entire day in one tent viewing the works. I went for the art, and ended up observing the people because the outfits and characters were just as interesting as what was displayed on the walls. Often I enter a museum or gallery with a critical eye, and then while observing art, everything around me turns into it. I saw some of the same people multiple times on different days in different outfits, each equally as enticing.
Some of my favorites from Art Miami were the contemporary paintings of the women (shown above). After art Miami I viewed a friend's video in Wynwood and wandered through Pinta.
Sunday
Sunday I walked around one of the Scope tents set up on South Beach with a couple friends. I spoke with some of the gallerists. They told me about their experiences at Basel and the art work that they were displaying. Nearly everyone agrees that Art Basel is incredible and exhausting. The most moving piece to me, was the sculpture of a young girl. She seemingly had a deer jump through her torso. I was almost moved to tears.
Environment
To me, it symbolized our relationship with the environment, how we affect it, and in turn it affects us. We don't accept or understand this connection, the amount we have destroyed it, and ourselves, until we have also started a physical decay. I don't know if this was the artist's intent but I received this from an instant viewing of the sculpture. It was incredible to have such an authentic reaction to this powerful piece. There is nothing that parallels Art Basel. I am grateful that I got to be a part of it and look forward to next year. What is your favorite piece? Please share below!