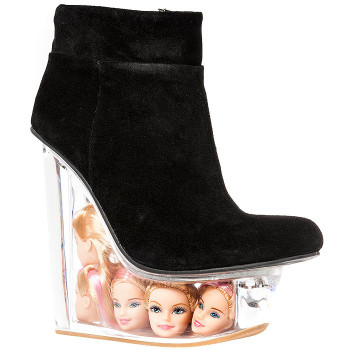 Jeffrey Campbell "Icy"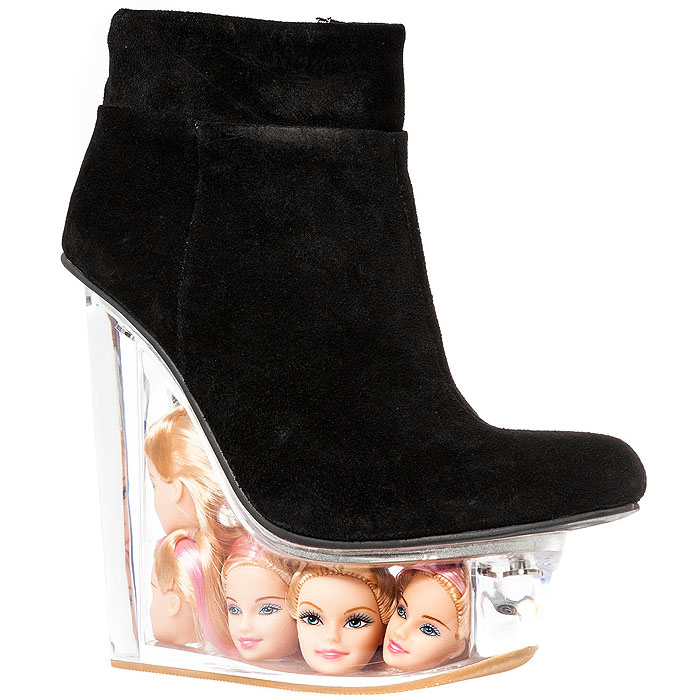 JEFFREY CAMPBELL "ICY" SHOES
Have you seen these? My goodness. When I first laid eyes on these Jeffrey Campbell shoes, I gasped. They are incredible. Firstly the design is sleek, strong, and bold. This Jeffrey Campbell collection is called "Icy" created with a a lucite wedge heel and bootie. You can see how the shoe progressed from the first photo from a simple design, to include different items in the heel, as well as a collaboration with Hello Kitty (the bows).
Secondly, I'm infatuated with the statement that these Jeffrey Campbell shoes present. Barbie is seen as; perfection, the unrealistic ideal standard of beauty that many women are held to, and the male counterpoint Ken holds those same standards. Campbell was quite clever in decapitating them both, putting them in the sole of the shoe, stomping on their faces, and squishing them between this world and the lower. To me it's a metaphor about eliminating unrealistic standards of beauty with unconventional design. The dollar is also symbolic in that way. Did I take it a step too far? (Pun intended).
Of course, Jeffrey Campbell's artistry wouldn't stop at just one design, and the entire line is dedicated to the conceptual juxtaposition of inserting different items into the transparent sole. Though they are all magnificent, by far my favorite is the doll head. First new item on my wish list!
Which Jeffrey Campbell pair would you wear?
xoxo Deena Danielle