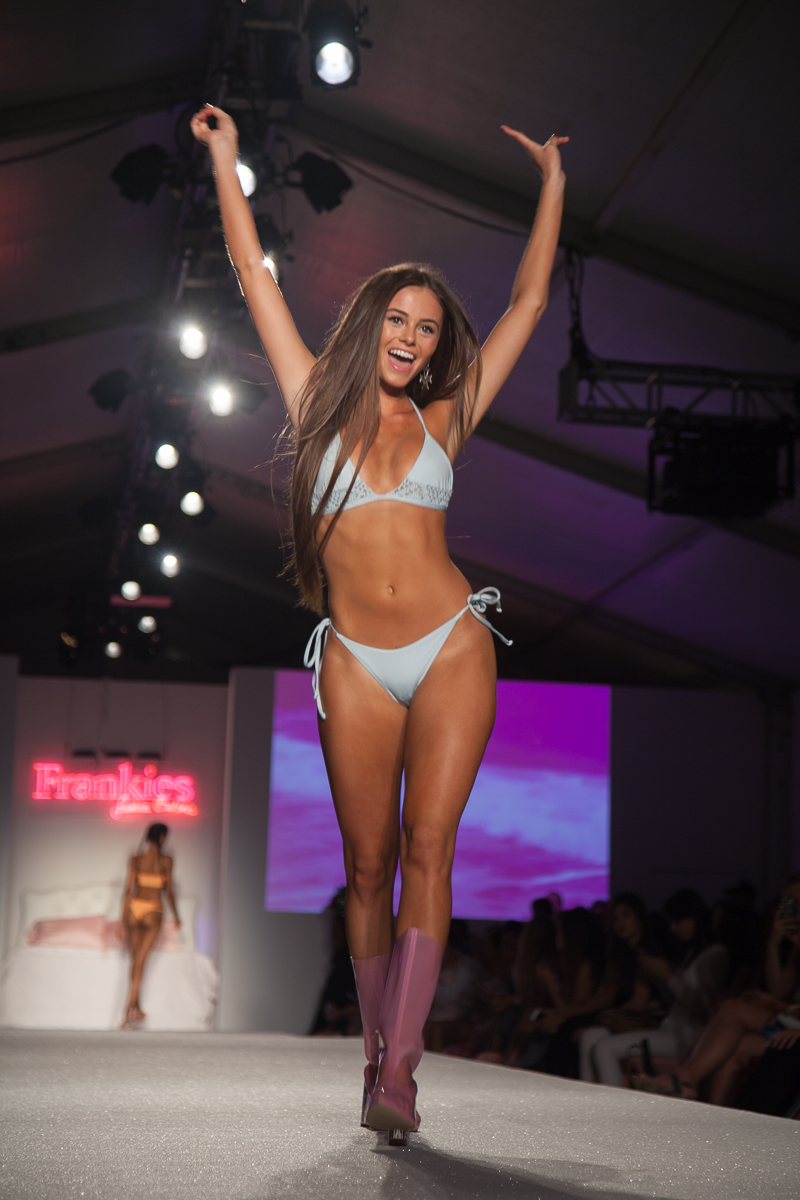 Frankie's Bikinis at Miami Swim Week
Frankie's Bikinis is one of my favorite shows at Miami Swim Week. I always enjoy it because the Malibu based designer consistently provides fresh, flirty, feminine fun. This year was no exception! Just see the photos below for proof.
Frankie's Miami Swim Week show was 90's inspired. Images of Brittney Spears, and Tyra Banks showed up on the screen along with stills from Clueless. 90's babies can definitely appreciate this creative direction. The models walked down the runway holding flip phones, teddy bear backpacks, and walk-men. Personally, I loved the props. That's a great way to bring the theme and all the look together! Now all we need are some chokers and tamagotchis… Models Sofia Jamora, Ashley Moore, Yovanna Ventura, Aline Lima, Faith Schroder and many more walked the runway in floral print, pink plaid, and teddy bear covered suits (say what?!). The best!
The swimwear ranges from one pieces to skimpy bikinis. There is really something for everyone in this line. The pastel color tone is dreamy. If you wear a Frankie's Bikini you can be sure the spotlight is on you! It's the perfect suit for California, or the East coast. Wear it for a summer vacation in Amalfi or a winter in Honolulu. I can't wait to go on vacation and sport one of these great pieces! Tell me which suit you like most in the comments below!
If you like this post, be sure to check out Frankie's Bikinis previous 2016 runway show! I cannot wait for following years of Frankie's to see what she comes up with next. Can you? I'm sure it will be just as consistently creative and fun! Let's guess what the next shows theme will be, shall we? Write your best guess below! Maybe she'll choose another decade?
Shop Frankie's Bikinis: