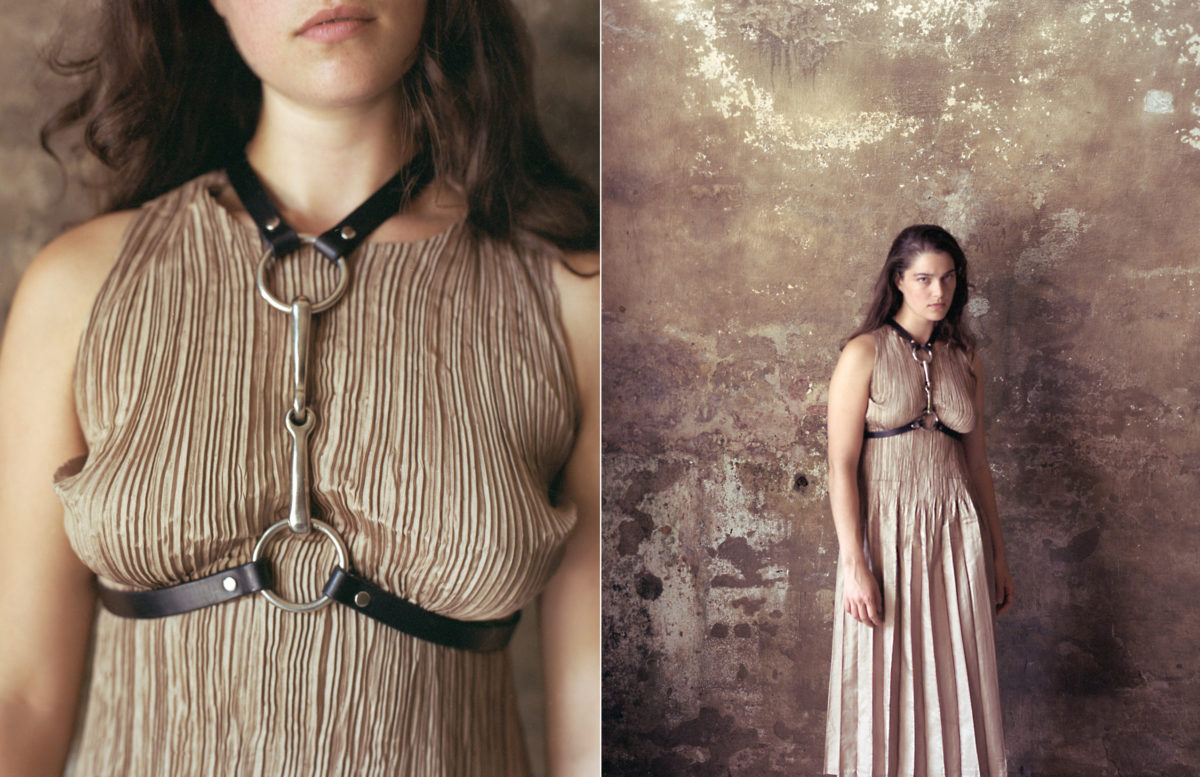 Interview with Mira Moore – Designing Leatherwear Accessories in NYC
I've known Mira Moore for many years. It's been amazing to be able to observe her evolve as a person and as an artist. She has a uniqueness in her perception, and fearlessness in her expression of it. She notices the oddities of every day existence, the rare, and brings them about in her art. Where others may be hesitant and cautious of crossing the line, Mira pushes it. She's extremely creative, and unafraid of where her imagination might take her, and I've always known her to be that way.
Photography by Robin Stein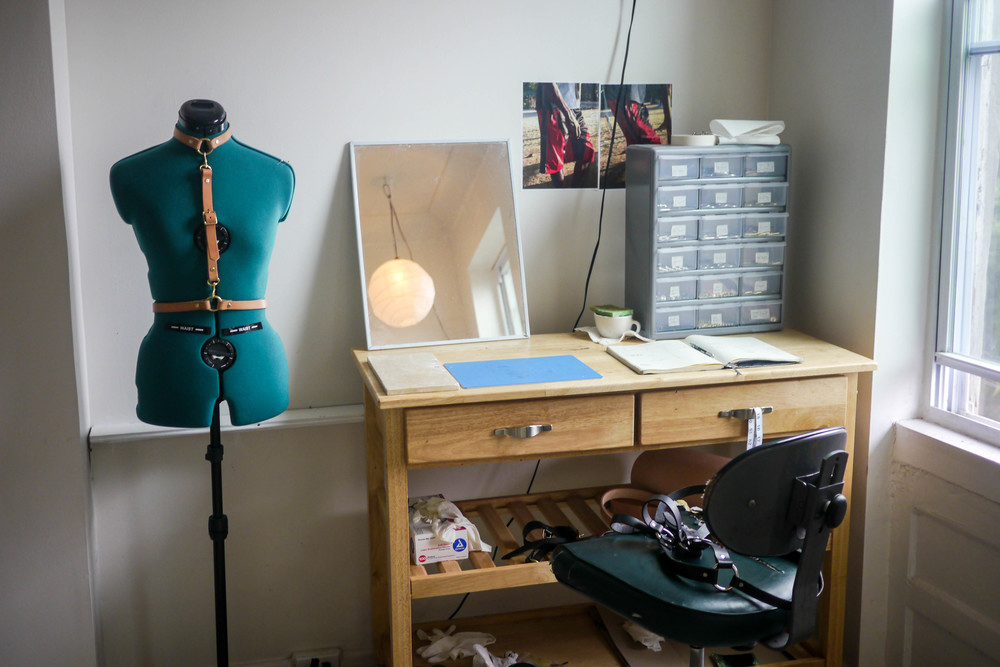 Photo Courtesy of Passerbuys
Photos courtesy of Designer
I'm grateful for the opportunity to interview Mira Moore about Sanguis Ornatus, her leatherwear accessories brand, and learn more about her creative process
Deena Danielle:  So let's start at the beginning. How was Sanguis Ornatus born?
Mira Moore: Sanguis Ornatus the brand started about 2 years ago, although I started working with leather about 6 or 7 years ago. I was seeing a lot of leather and harness-type garments coming out and was really interested in incorporating that into every day fashion and styling. They're also just beautiful objects.
My father worked with leather throughout the 70s in upstate New York and had all of his old leather working tools and hides down in our basement but hadn't touched them in years. I'll never forget the day I asked my dad if he would teach me how to make my own harness, haha. He was a bit weirded out at first, but I explained my interest in making one to him and he was totally on board.
We are super close, but I hadn't really worked with him in that way before and the ritual of him passing along his craft to me was really special. From there on, every time I would come home for a break during school I would have a few designs picked out to work on with him. I eventually became comfortable making things on my own and decided to launch my own practice in New York.
DD: What is the motivation behind your designs, is there any specific place you draw inspiration from? i.e. location, NYC, Iowa, specific people?
MM: I always start with maybe one design in my head, usually inspired by something I see, be it a painting, photograph, movie, archival fashion images, person, anything really. From there I'll expand upon that idea, definitely make a lot of moodboards and write down key words or vibes that I want to show in the collection.
DD: What is the meaning of Sanguis Ornatus? 
MM: Sanguis Ornatus is Latin, the direct translation being "blood adornments". I wanted to honor the animal from which the leather comes from, and also express the feeling I have about my designs being almost an armor or a protective shield. For me, whenever I wear one of my designs, I feel like I can face any challenge, whether it's physical, emotional, or spiritual. 
DD: Your logo is intriguing. What is it's significance in relation to your brand?
MM: The logo was developed by combining the alchemic symbols for nickel and brass, which are the two metals I use for the hardware in my designs. I added the horns from the Taurus zodiac symbol to represent the leather.
DD: I see you have four different collections out now: Intra, Cowgirl, Mother Tongue, and Blood. You know, I really love your look books. The way you see, and choose to communicate that through images, is very unconventional. I'm especially captivated by Cowgirl and Mother Tongue. How do you come up with the ideas and direction for these? 
MM: Thank you! I have been so incredibly lucky to work with one of my favorite photographers, Robin Stein, on both of those lookbooks, as well as Blood. Robin and I were introduced through my partner when he moved to New York and we really just hit it off in terms of inspiration and aesthetics and he offered to shoot my first lookbook for me, which was Mother Tongue.
I worked up a moodboard and we scouted this insane old Civil War-era fortress in Queens that had the exact vibe I was looking for. The collection was inspired by Roman and equestrian elements, and I just feel like everything came together and worked in our favor for that first lookbook, from my friend Matt Holmes styling to Elise Gallant modeling.
Cowgirl was actually developed around a crazy idea for a shoot that Robin and I had, inspired by Tammy Faye Baker. From there, I branched into a cowgirl-themed collection which was so much fun to design.
My friend Bunny Lampert styled for the lookbook and she completely brought the shoot to life. We pulled in professional hair and makeup to create an almost grotesque rodeo queen portrait vibe, and started developing these characters we wanted to portray in the shoot. It was by far the most extensive shoot I have ever done, and was once again brought together by the amazing team of people that worked on it with me.
DD: I see in the "Intra" lookbook both male and female models which is something new to Sanguis Ornatus. Can you talk a bit about your latest collection and your model choice?
MM: The collection is titled Intra to reference the flipped/inside-out styling and workmanship in all the pieces. At this point, I'm a little tired of the traditional BDSM-inspired leatherwear, partly because I don't consider myself part of that community and felt weird appropriating it. It's just everywhere, so it felt overplayed. I wanted to push the boundaries of traditional leather making techniques. From the flipped hardware attachments on all the pieces, to the way the pieces are dyed, to the types of objects I chose to adorn the pieces with.
Because I used more nature-inspired vintage and one-of-a-kind decorations throughout the collection, they have an ephemeral, unique feel to them. I also didn't want the pieces to feel gendered. So to answer your question about using both male and female models, that was why.
I shot this lookbook myself. It was also the first shot exclusively on film. The shoot had less of a formal approach. I worked off of one idea, which was I wanted a twin/sibling, push/pull, uniform, almost sci-fi interconnected vibe. I used two of my close friends for the shoot. It all felt very comfortable and intimate. It's definitely my favorite collection I have done because it feels the most me.
DD: I think it's really important for artists to be aware of the environmental implications of what they're creating. Are there any environmental approaches to your designs? For example where your materials come from, process, packaging etc.
MM: I order my leather from a vendor upstate to keep it somewhat local. I love working with my father's old hardware and leather as well. I usually have to bribe him to give me more than a few pieces at a time. So it's hard to use vintage hardware or leather in all the collections, especially for the sake of consistency. In the last collection I also used a lot of repurposed leather my friend found and gave me (thanks Patrick!). Aside from being a bit more environmentally responsible by using vintage or repurposed items, it's also a bit more wallet-friendly!
DD: What direction would you like to see Sanguis Ornatus take in the future?
MM: I want to keep pushing the traditional forms and designs that leather takes in fashion. Definitely thinking about leather as an extension of the person. I'm also looking forward to a few collaborations this year that are currently in the works! 
Thank you so much for your interview Mira! It's been a pleasure speaking with you and learning more about your brand, the process, and the inspiration behind it. We look forward to seeing the new designs that you come up with through Sanguis Ornatus!
You can shop Sanguis Ornatus through Cixious72 Mira and M. Elizabeth Scott's "curated boutique and collective providing a platform for creators to market and exhibit their work."
Mira is not only a designer but an art director, curator, and photographer. You can see more of her work here on her website.