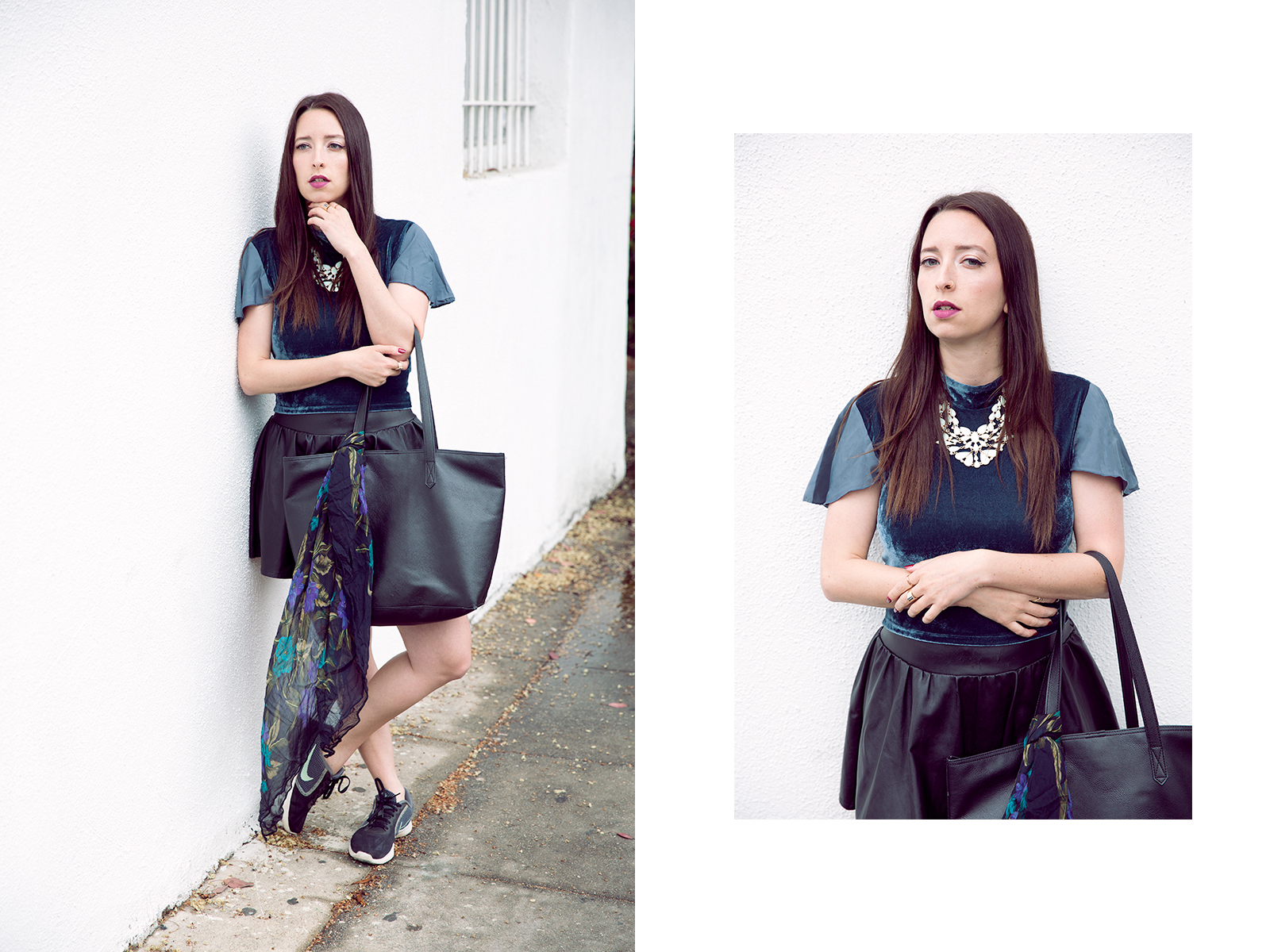 Memorial Day Weekend – Faux Leather Mini Skirt
I like how the flare on my sleeves mimics the shape of this faux leather mini skirt. Are you a fan of it too? My new favorite thing is pairing a dress or skirt with sneakers. I think it's a a very European trend. When I lived in Spain I saw people doing this all the time. It's funny how I noticed trends starting there, and then they would arrive in the United States a year or so later. An example was platform shoes! I think Europe went back to the 90's before the United States did. So there's a fashion tip for you. If you ever want to be ahead of the curve go to Europe!
I'm currently working on a rebrand for the blog. My blog has changed and evolved a lot since I started it almost 10 years ago! I'm a firm believer that it's never too late to reinvent yourself. No matter your age, career, family, background etc. It's never too late to start something new. I'm always learning and I hope you are too. So many industries intersect, so learning something in one creative industry can certainly help you in another. I.e. my photography and blogging. One of my best friends, whom I love dearly, is always learning something new. He's a great cook, dancer, has taken up acting, and pilates. If you're not reinventing you will remain in the same place. To grow and evolve you must try something different than what you've been doing all along, right?
It's Memorial Day weekend and I am so glad to have these 3 days to catch up on life; friendships, relationships, pool time, and the blog. We didn't go anywhere but I'm house sitting right now and taking care of a cute little pup so it almost feels like a vacation. It's also been a nice trial run to see if I can take care of animal because I've been desiring a pet myself. It's nice to be in a different environment in L.A. too. I'm writing you from Beverly Hills right now. What have you been up to this weekend? Are you a party goer or prefer a relaxed weekend hiking or at the beach?
Shop This Faux Leather Mini Skirt Look:


Photography by: Saad Hameed