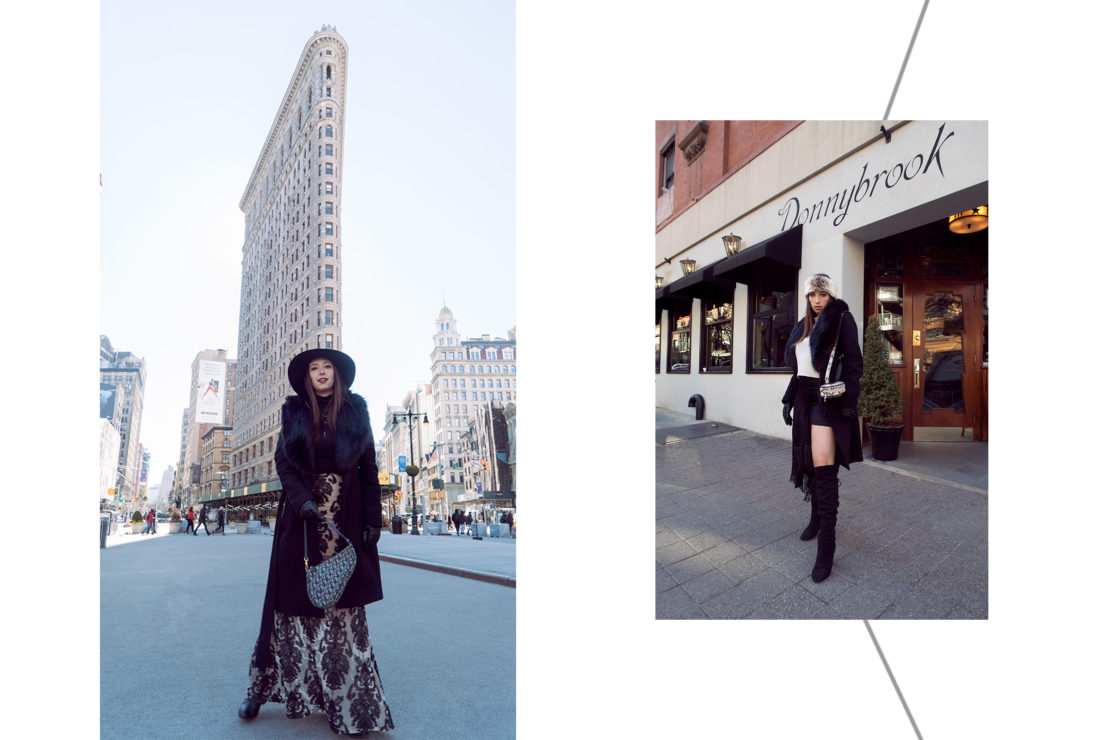 New York Fashion Week – AW19
New York Fashion Week was such a whirl wind this time around. It seems like each time that I return it's a little bit crazier than the last.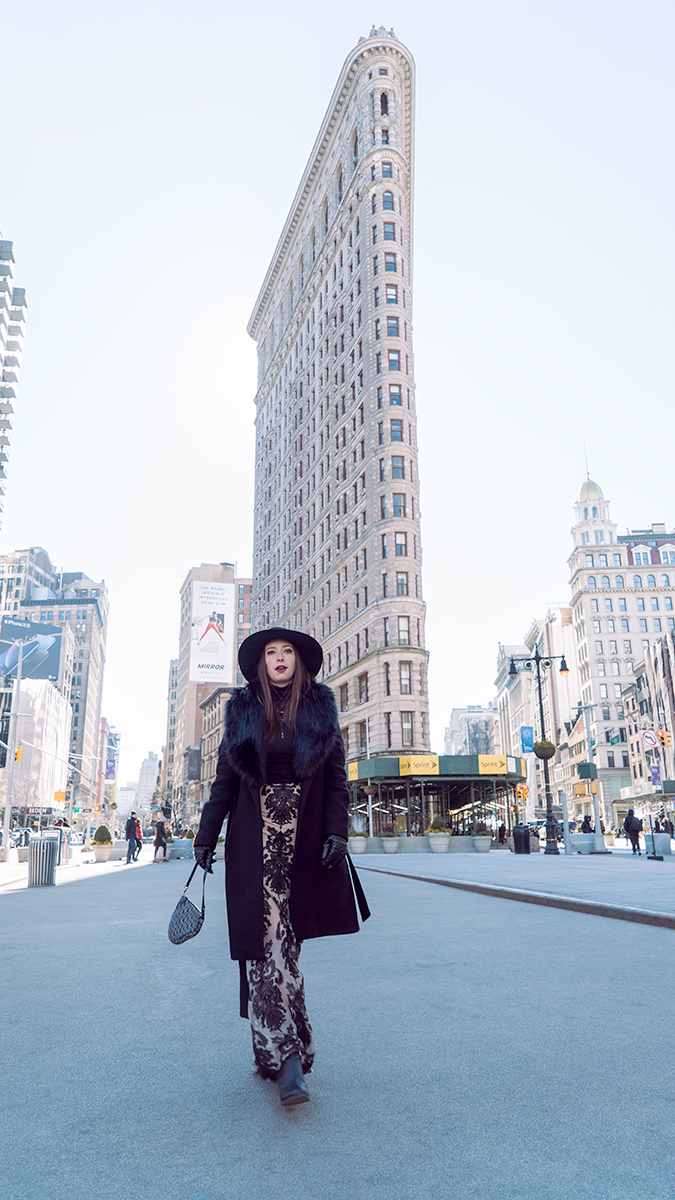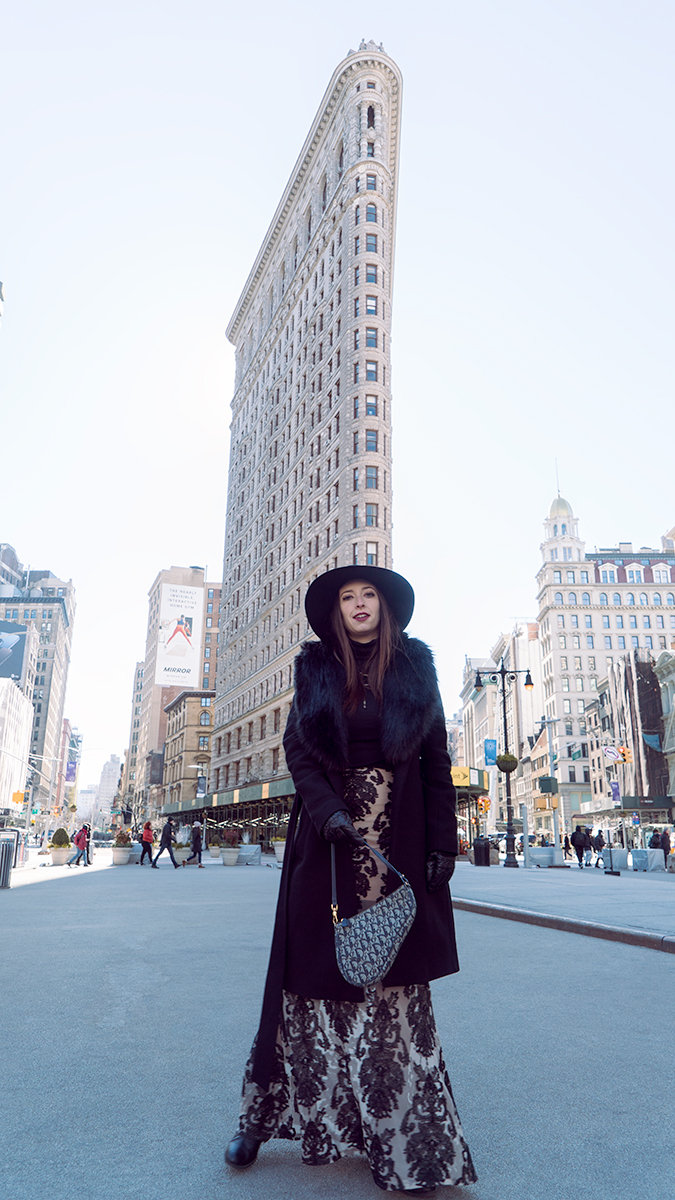 I was there from Thursday until Sunday so a short trip, and packed everything in, in just a few days. Including going to shows; Allessandro Trincone, Chromat, Yuna Yang, and Custo Barcelona, as well as going to visit my jewelry manufacturer, seeing my grandma, aunt, a friend, thrifting, and eating at some delicious restaurants.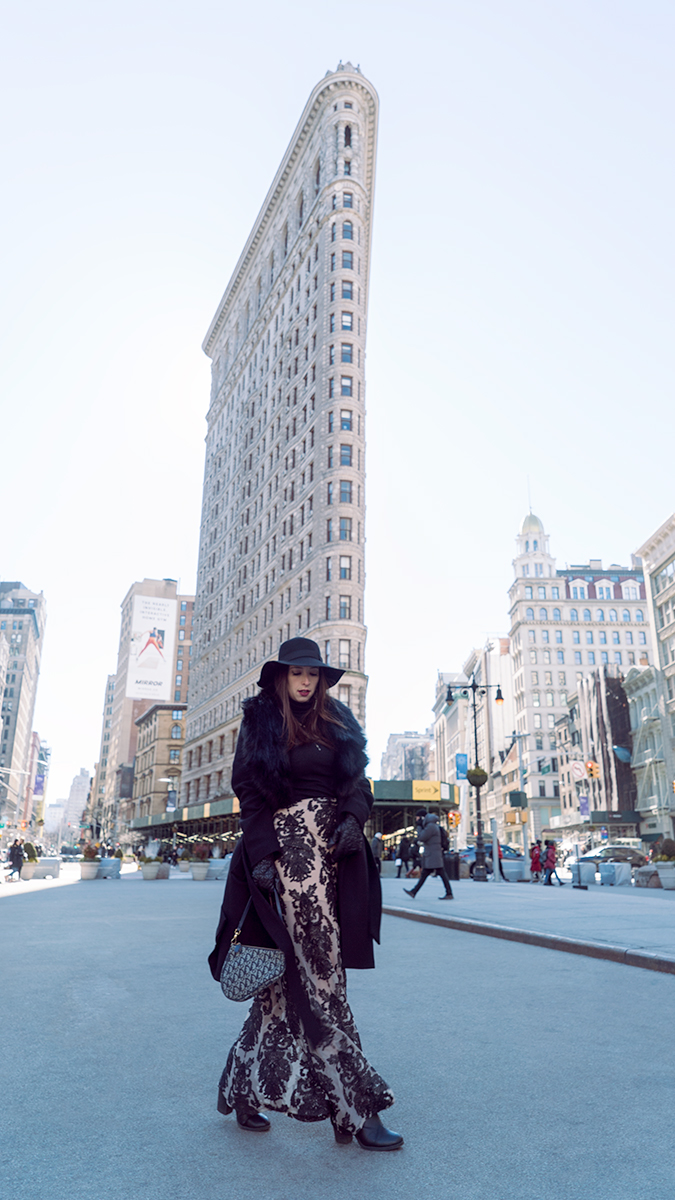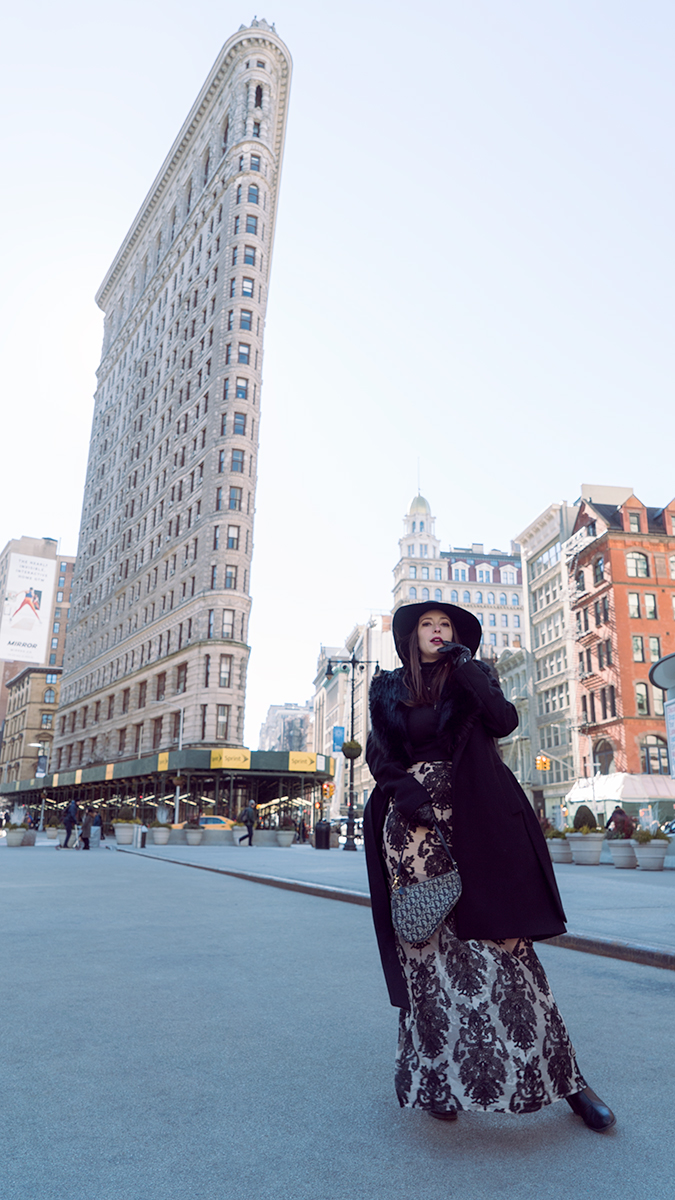 The Shows
Alessandro Trincone
Alessandro Trincone's AW19 show was like watching a performance art piece on a runway. The outfits were avant-garde. Hats were overflowing with feathers. The outfits were more theatrical than wearable. It was at the Industria in the Chelsea area of NYC on Thursday evening. I wore a set from Style Mafia that I've worn once before see here. Despite what fashion bloggers may think, It's okay to wear an outfit twice!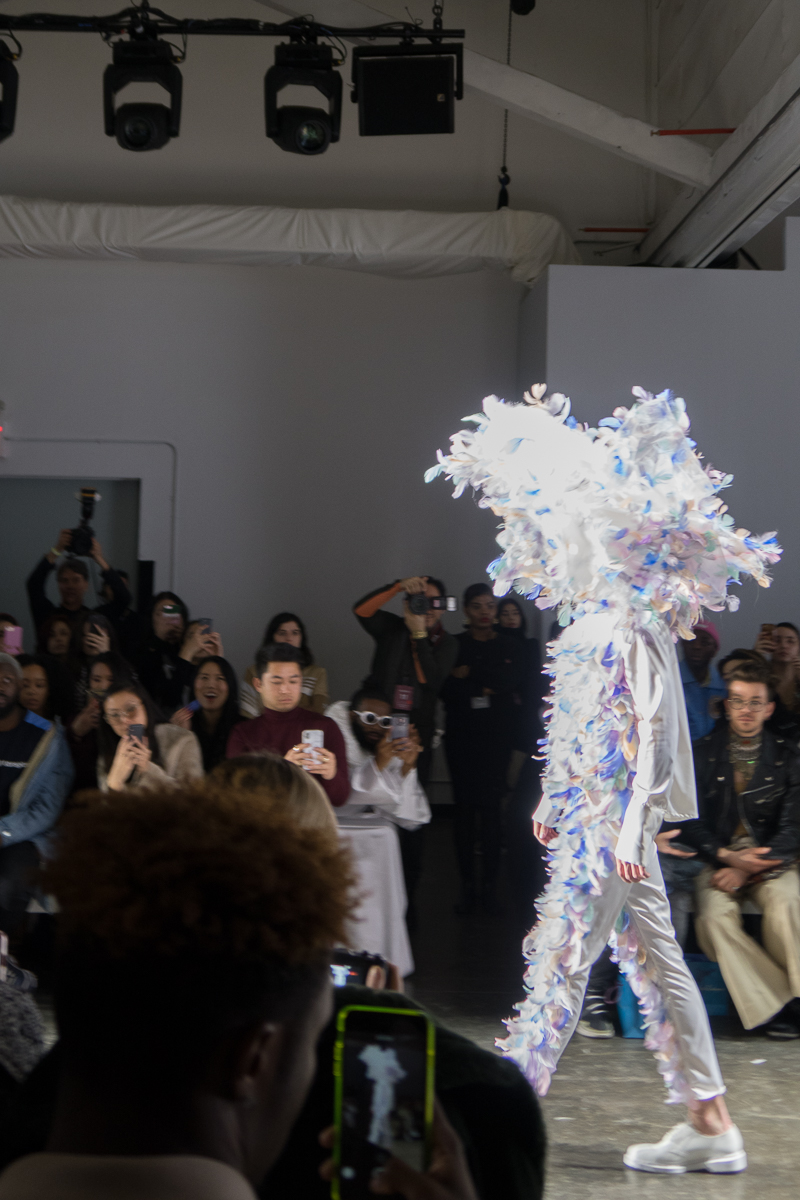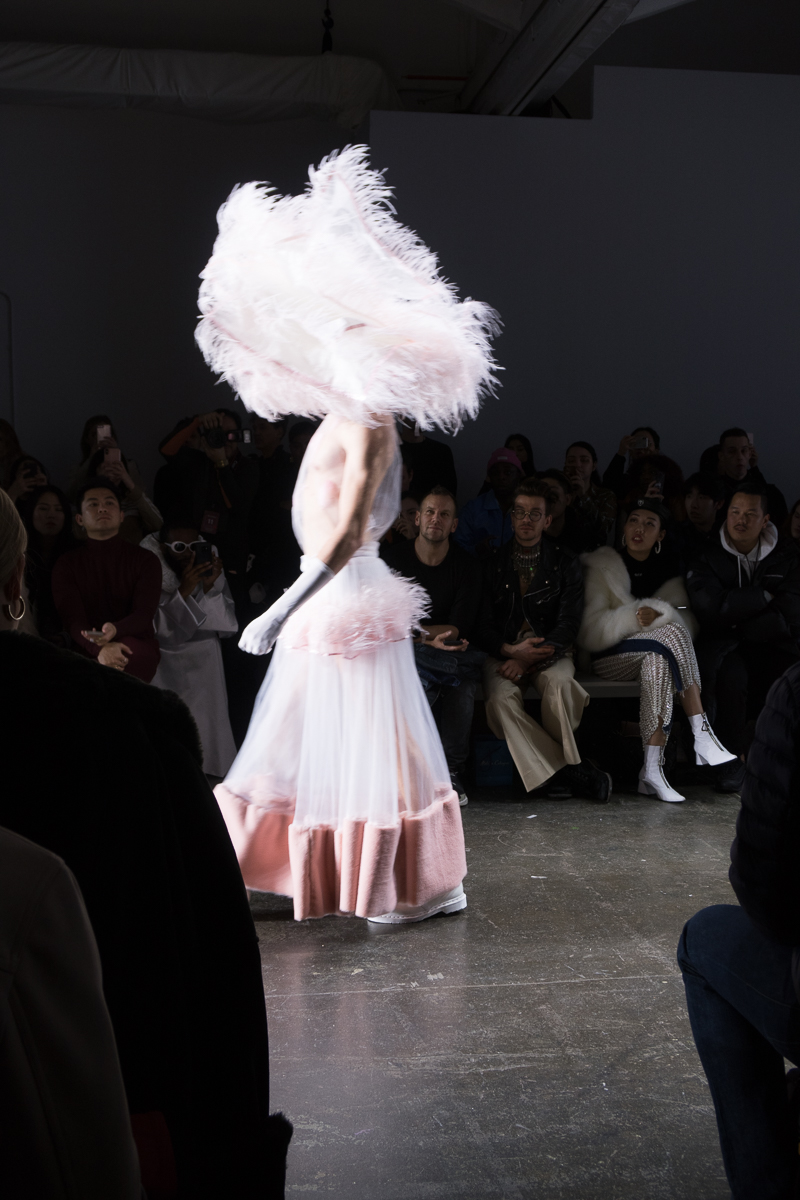 Chromat
Chromat was on Friday evening and in typical Chromat fashion, completely packed. As always, I loved their selection of models, and that they incorporate recycled fabrics to create their colorful body suits and swimwear. It was also held at the Industria. I wore a faux silk blue pajama set with a gold coin belt, high heeled boots, a black coat from Zara, and my dior mini saddle bag. My picture was taken, but I don't know where I might be able to find it. If you see it, let me know. Read more about Chromat from NYFW SS19 here.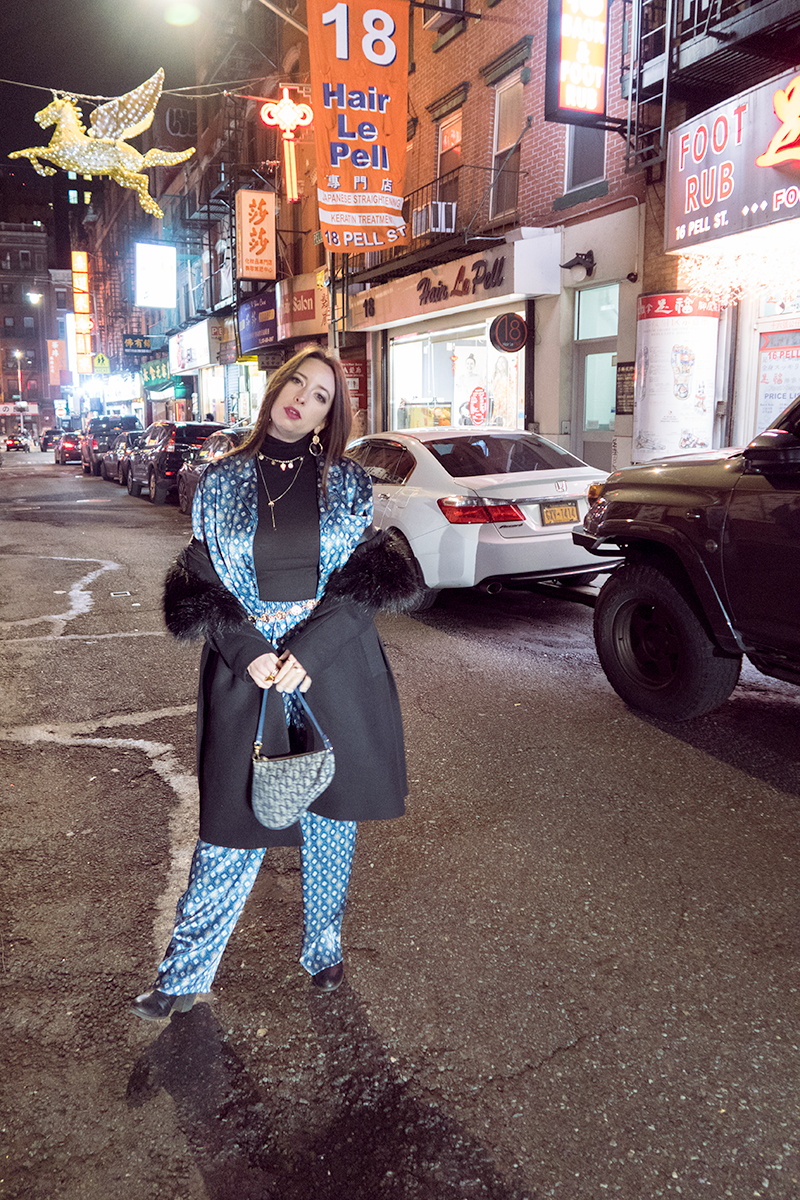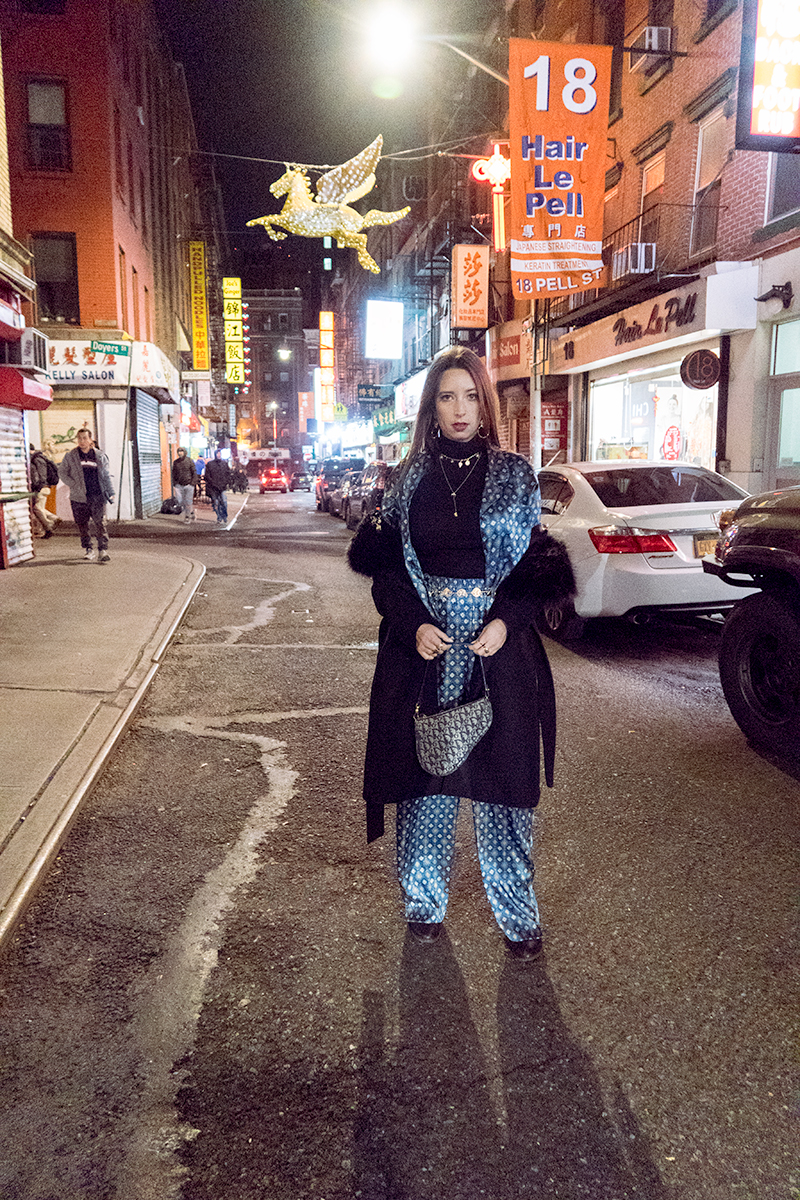 Custo Barcelona
Custo Barcelona was simply magnificent. The colors, the fabrics, and the silhouettes all made such an impression on me. This was an incredible show because it embodied a winter collection in terms of color and design, was wearable, and of course who doesn't love sparkle? The show was held at Pier 59.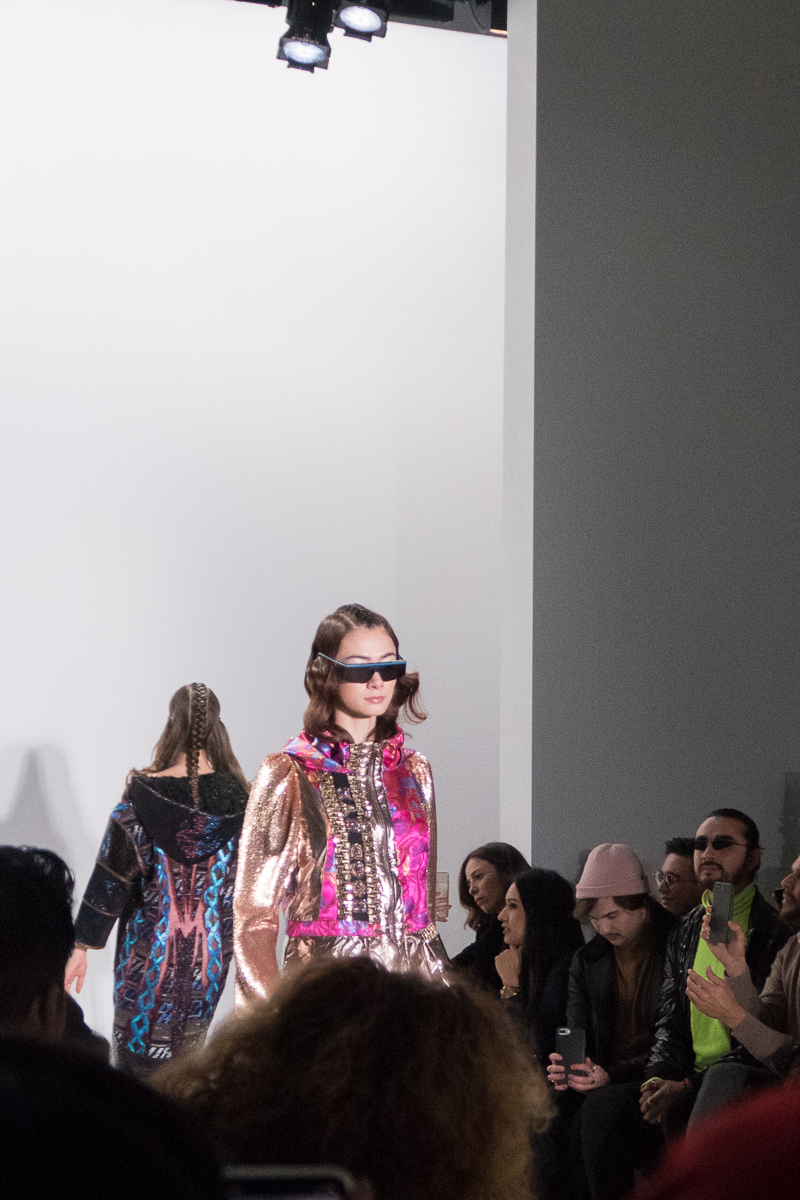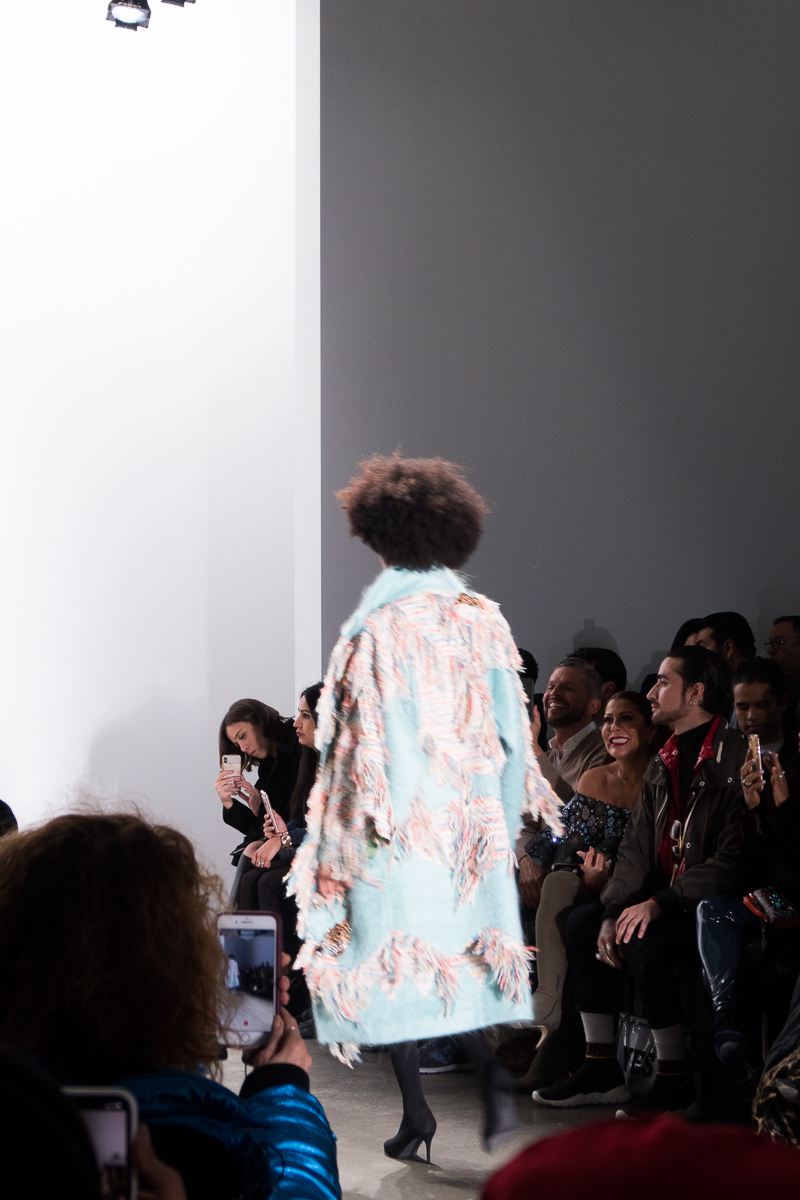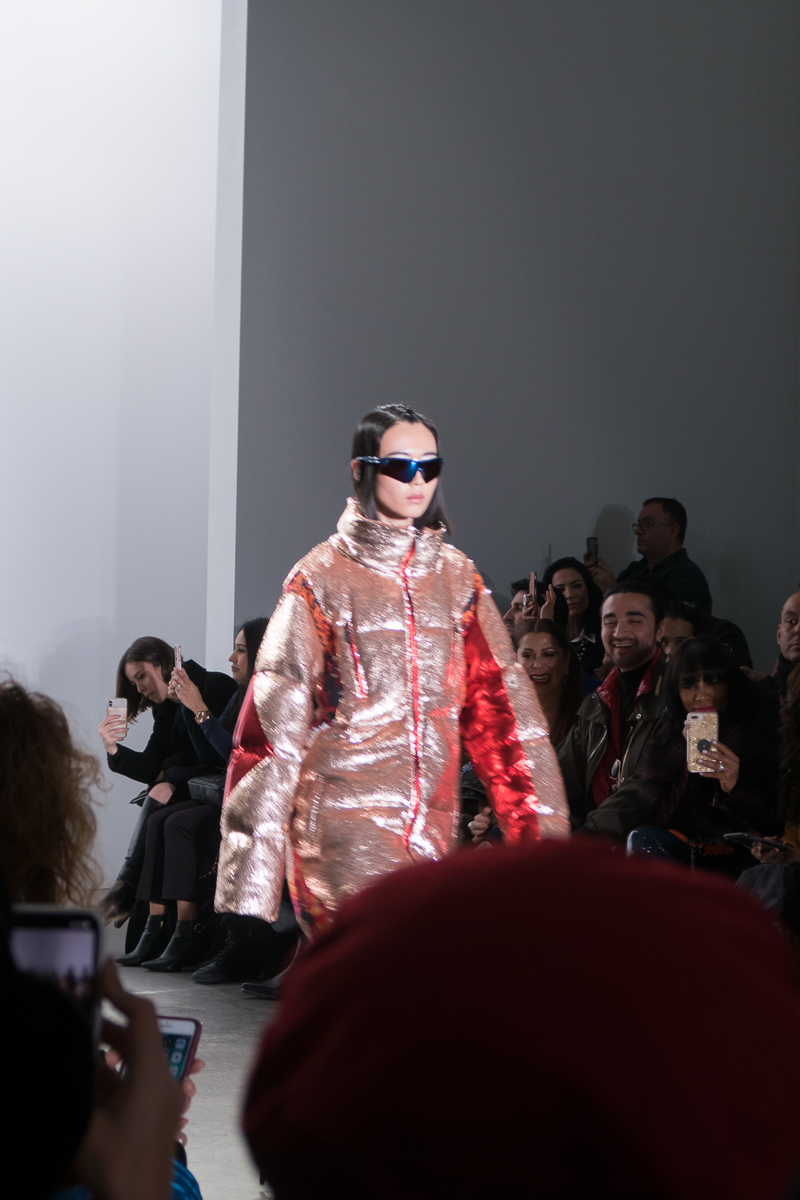 Yuna Yang
In my opinion Yuna Yang's pieces were expectedly feminine and beautiful as is her style. What was unexpected about the presentation was that it was in a bookstore. The location provided a beautiful and romantic setting for the models to whisk down a black and white tiled runway with shelving of books around them. I was front row and captured some great video that can be seen on my Instagram stories. I wore a long skirt from For Love and Lemons, black turtle neck, black coat, dior mini, and black hat.
Fashion Party
When in an über pool going from Custo Barcelona to Yuna Yang I made a friend along the way. She was kind enough to invite me to a fashion party at Pier 59 that night. I ended up at the Daily Front Row and MCM Wold Wide's fashion event and ran into another acquaintance and met some new faces as well. I wore almost an entire look from Zara.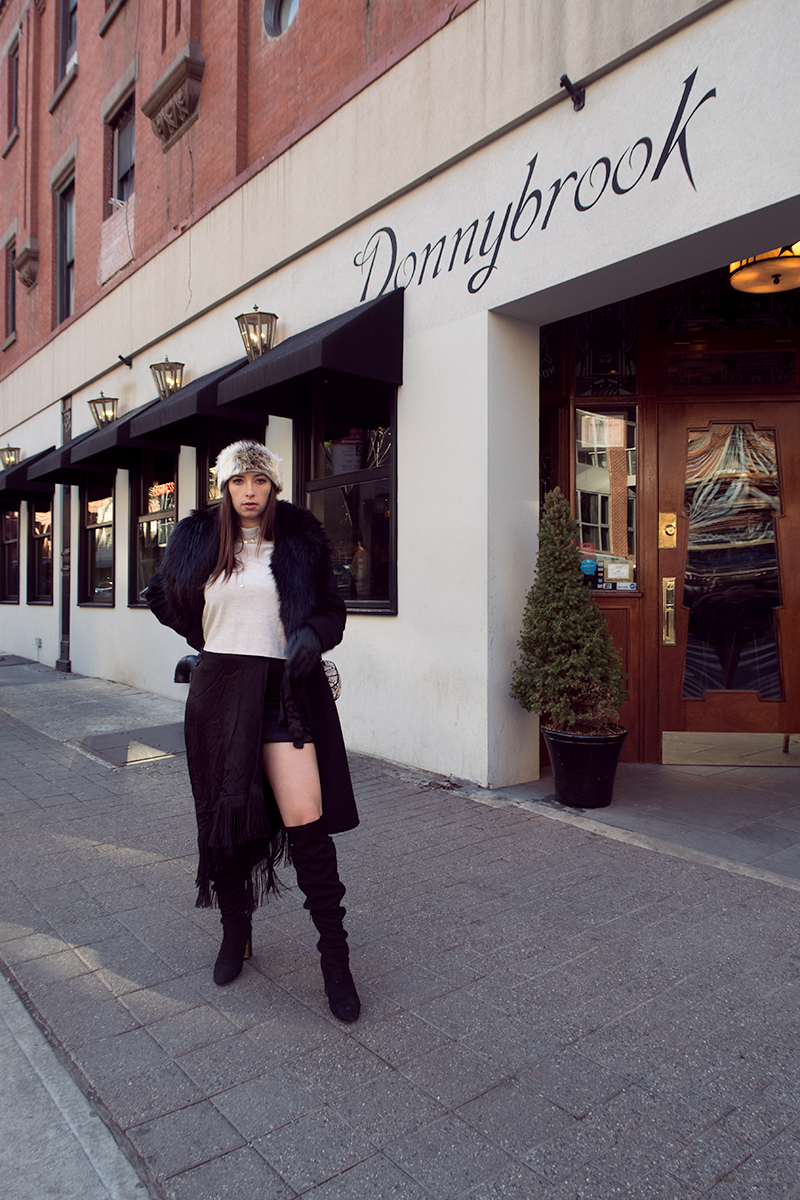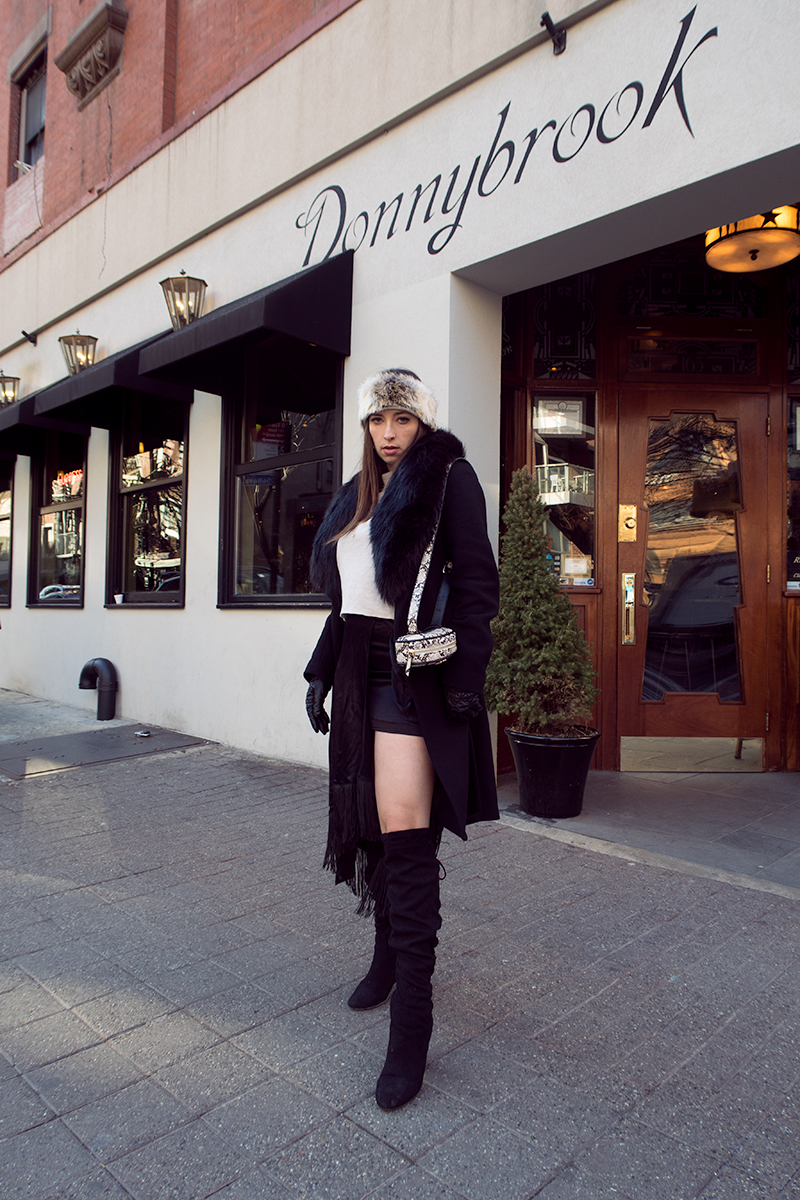 The Food
NYC boasts some of the best restaurants. The first being Joe's Shanghai. They have soup dumplings (all meat). I got the vegetables with bean curd (tofu). We also went to a delicious ramen spot called Shinka Ramen. They have a vegan miso ramen with tofu and vegan meat. The broth is creamy, and it's easily the best ramen I've had in my entire life. You know when I'm in NYC I always have to stop at Artichoke Pizza, so that was a must.
The Shopping
We did a little window thrift shopping. I was too cold to try anything on. The temperature was around 30 degrees, and walking around with many layers on I didn't feel like taking everything off to try on a dress. I know, imagine that! Although I didn't purchase anything a few of my favorite thrift stores are L Train Vintage, Buffalo Exchange, in East Village.
Where to Stay
If hotels are booked, or too expensive Airbnb's can be a great option! We stayed at one in the Lower East Side which proved to be very convenient for running around between shows.
I even created a YouTube video of the NYFW AW 19 trip!
If you want to know more about how to go to New York Fashion Week as a blogger. Check out THIS post.