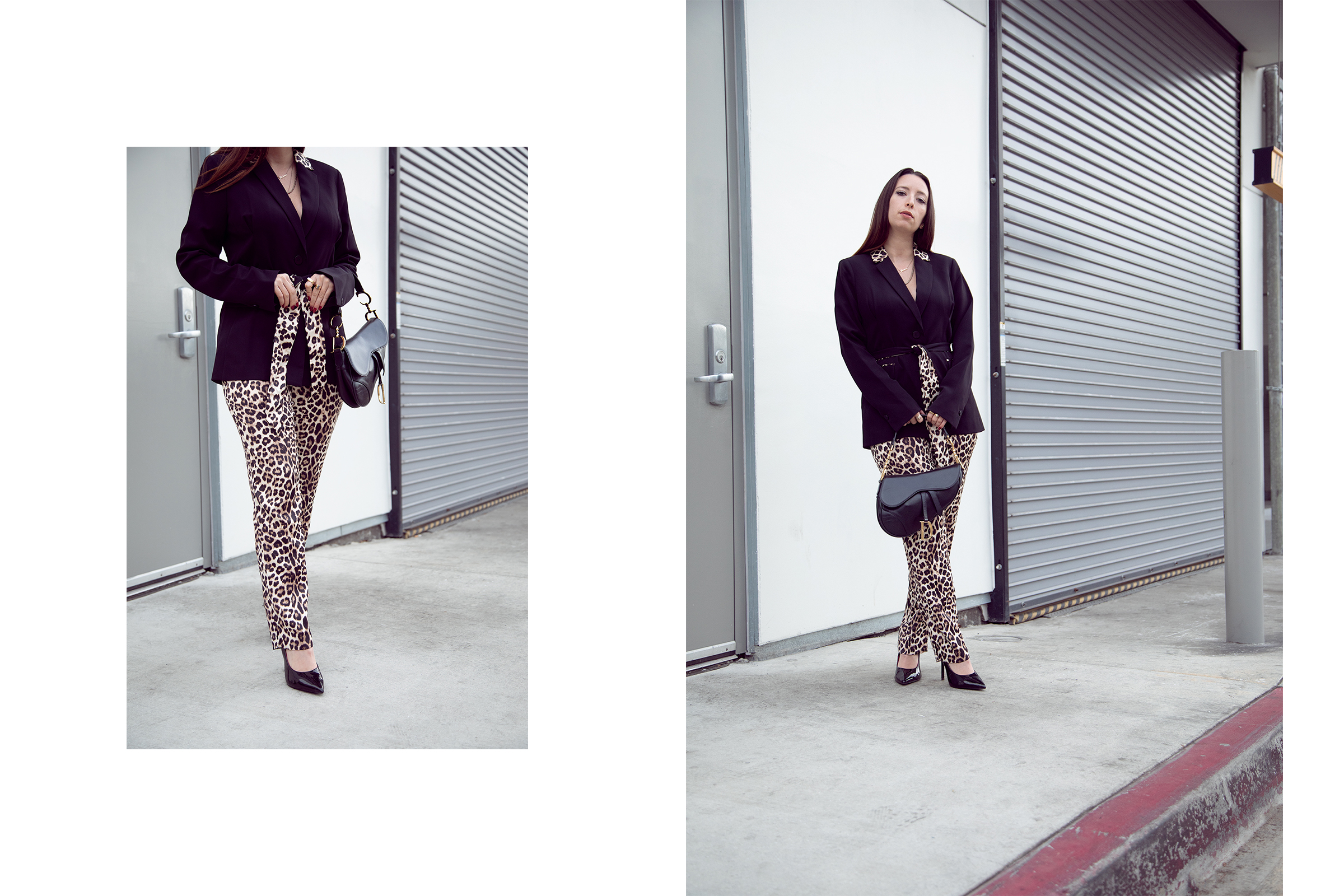 Why a Blazer is the Perfect Holiday Party Fit
Blazer Psychology
Personally I love wearing blazers. If it's a jacket or a blazer dress I always feel instantly more put together. It makes me feel more sophisticated and mature.
Blazers are also very versatile, which makes me appreciate them more. They're great for the day, for interviews or meetings. A blazer can be worn for a night out on the town when a light jacket is needed but you're not interested in a jean jacket or leather jacket (my two other go to's). They're the perfect day to night piece.
I feel like I can concur the world when wearing a blazer. Isn't that what fashion is all about too? How it makes you feel.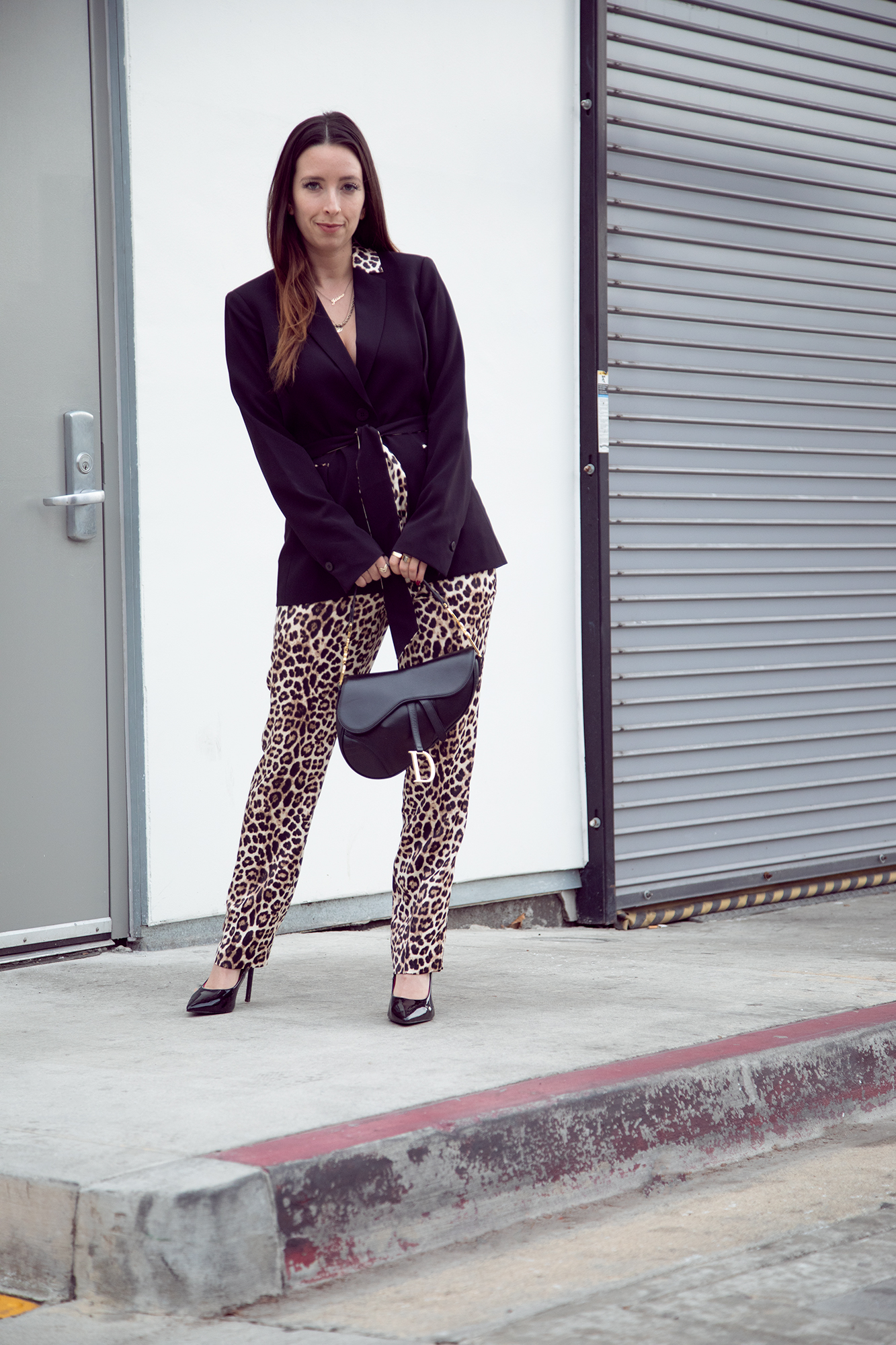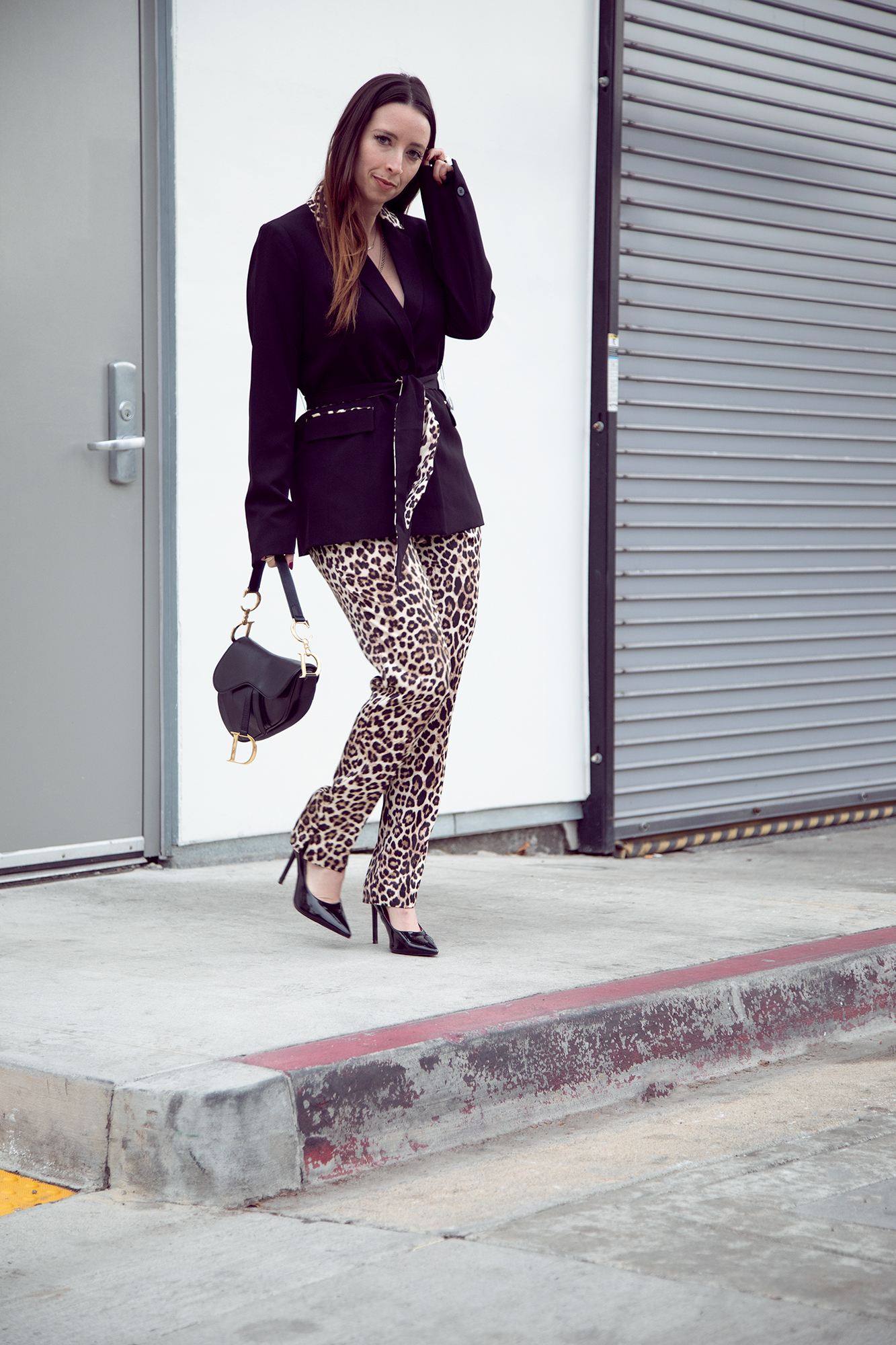 I've said this before and I'll say it again. For me, when I'm down in the dumps, dressing up always makes me feel a little bit better. Looking good on a day when I don't feel good really helps my mentality for the day.
That's probably part of the reason people say if you're working at home, you should still get dressed for the day. It sets your mood for success.
That alone proves that fashion really has an affect on your mood. The psychology behind it is so interesting. Color, silhouette, and style all have an affect on you, and the way others perceive you.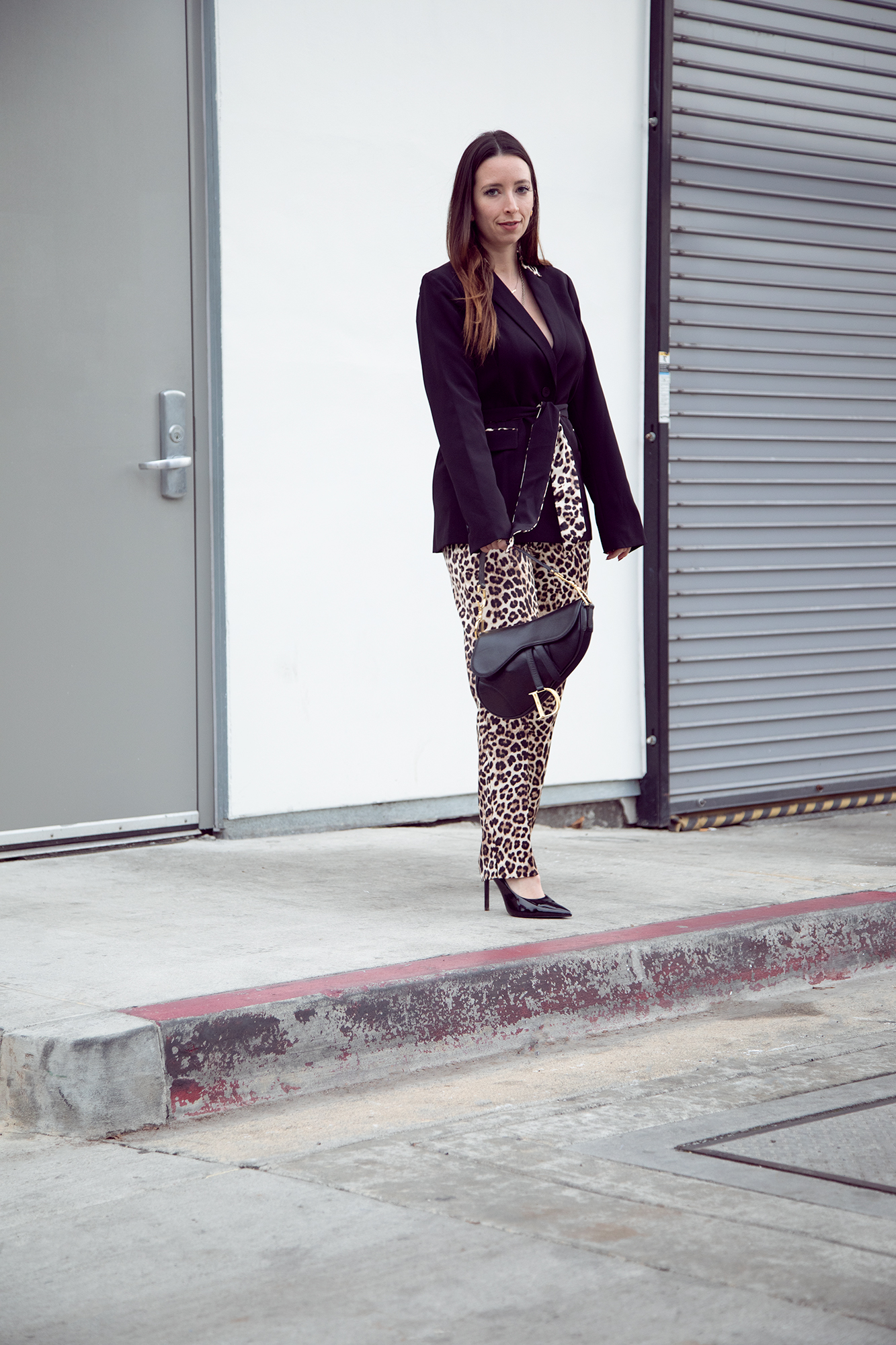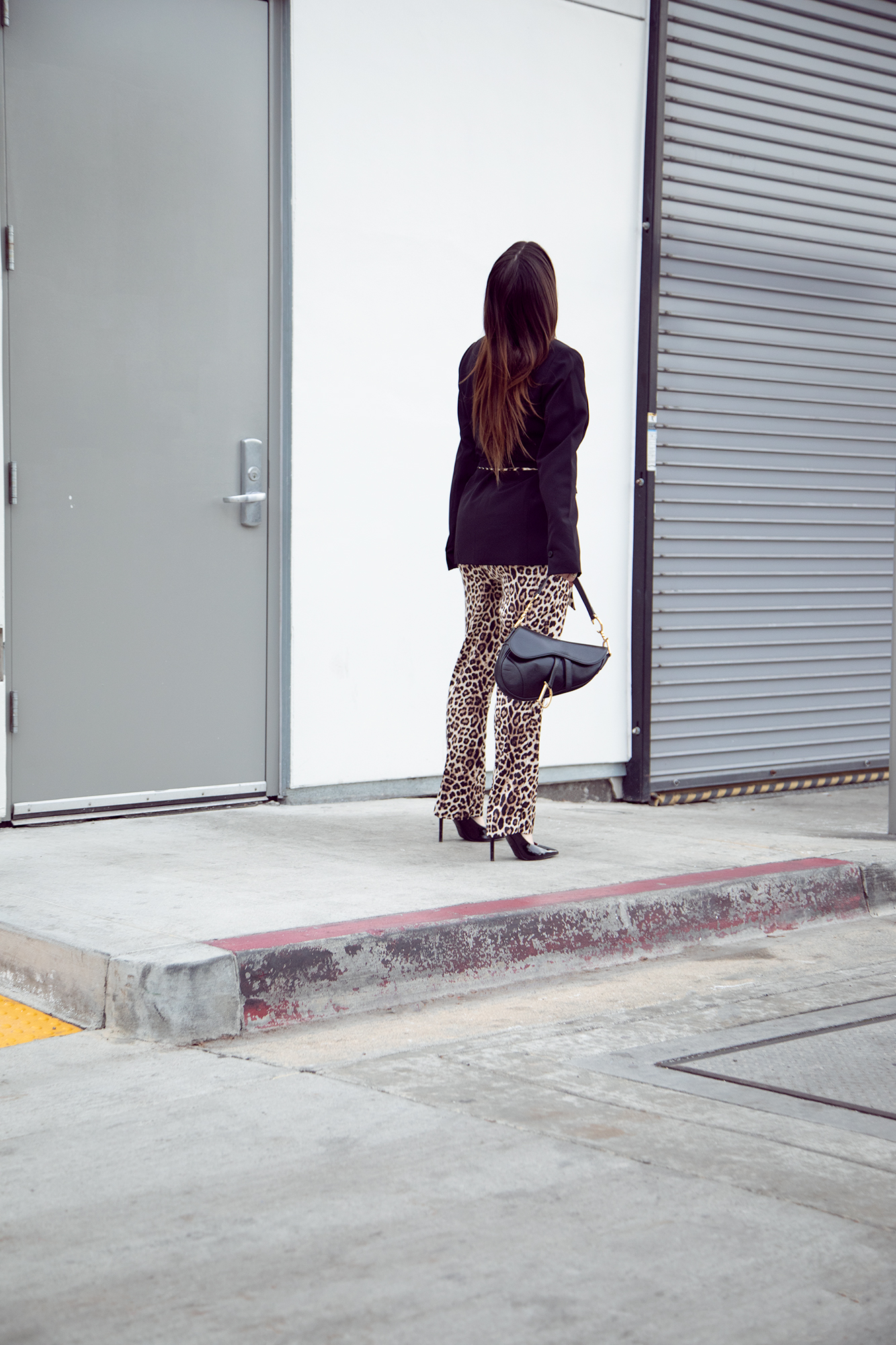 Accessorize
If you're unsure of what to wear to holiday parties this season or have to go from the family party to the friend party, then a blazer is the perfect choice! There is still plenty of time to get one.
If you're putting together a blazer look for a holiday party it could pair perfectly with some black jeans, low heels, and a nice bag. I usually wear a body suit (that tucks into my pants) or a tank top underneath.
Check out this body suit. It's a go to that I wear under a lot of other lacy items too. You could also do a simple jersey or knit dress with tights under the blazer if you're in the cold weather climate.
If you have a blazer dress it's an even easier look to put together. All you need are some cute ankle boots, a hand bag or cross body purse and maybe some statement earrings and a hair accessory like a jeweled headband or some rhinestone clips!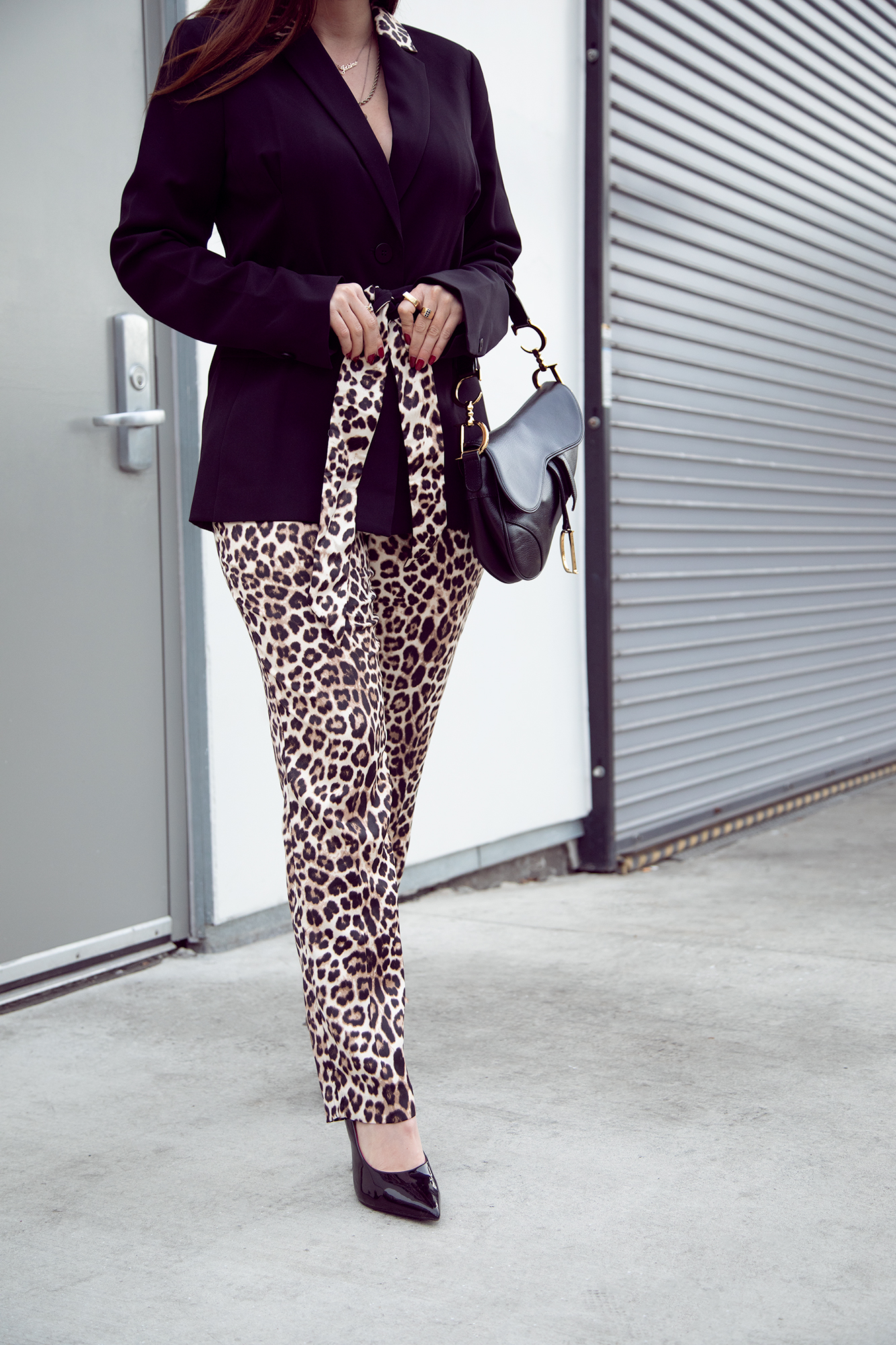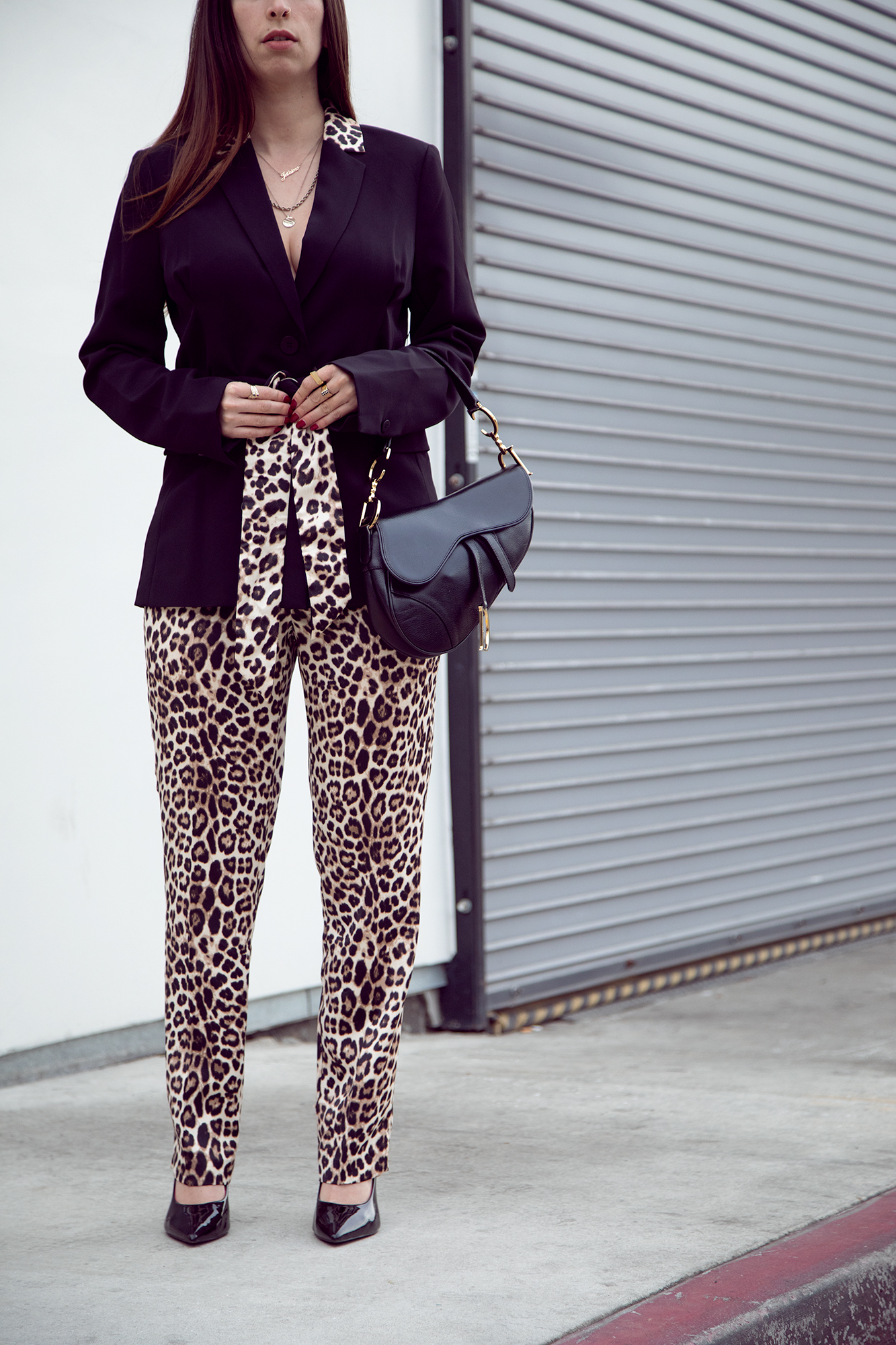 Makeup
The holidays are one of the perfect times of year to really glam up. I mean, I glam up on your regular Wednesday for a YouTube video lol, but I also don't always get to wear that out so I'm taking advantage of this glam opportunity, and you should too!
With a blazer fit you could add a red lip, like this one from Mac. (If you know my makeup routine, you know I'm obsessed with lip stains too). Additionally, some sparkly eye shadow or highlighter will pull the look all together.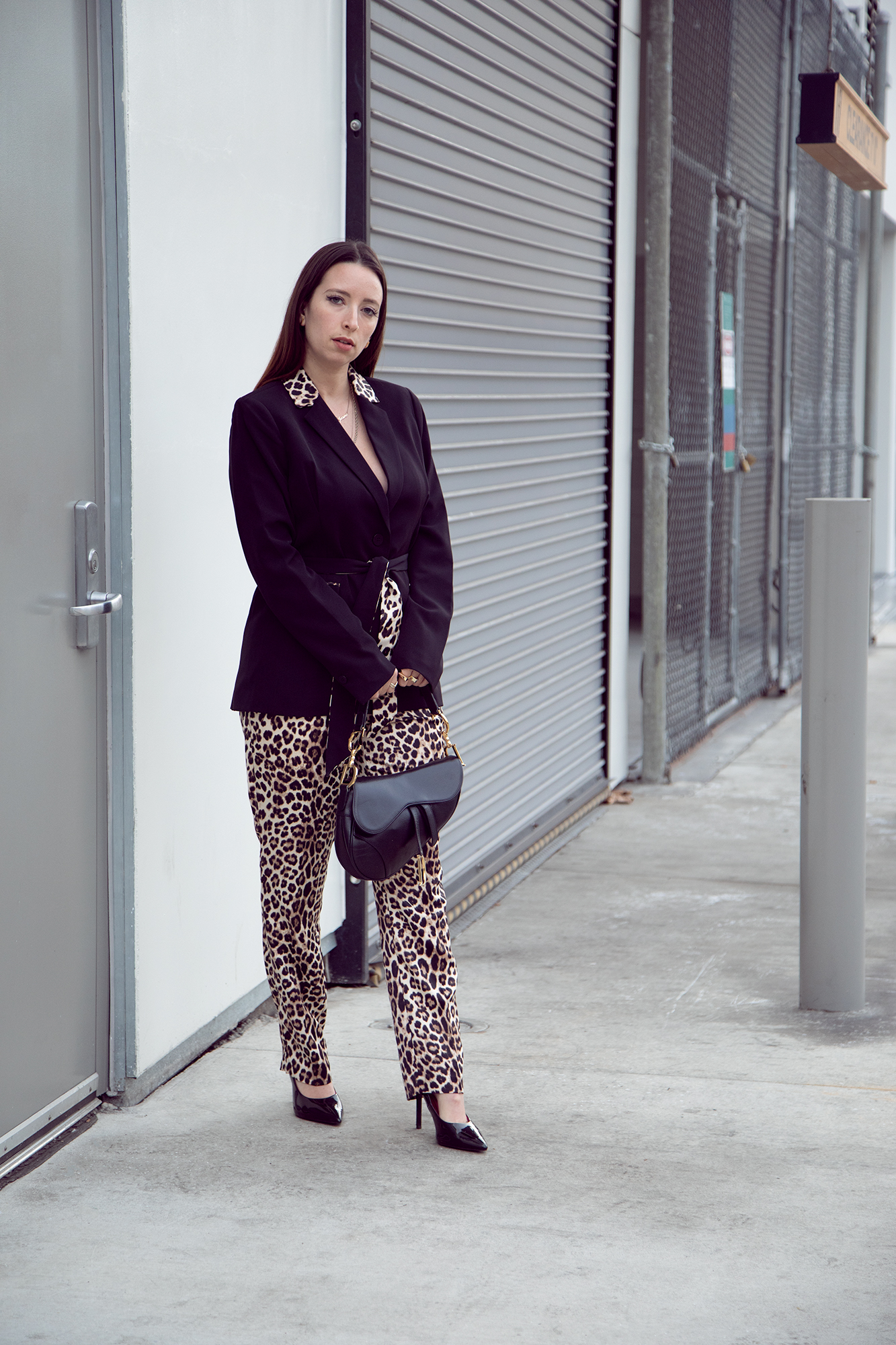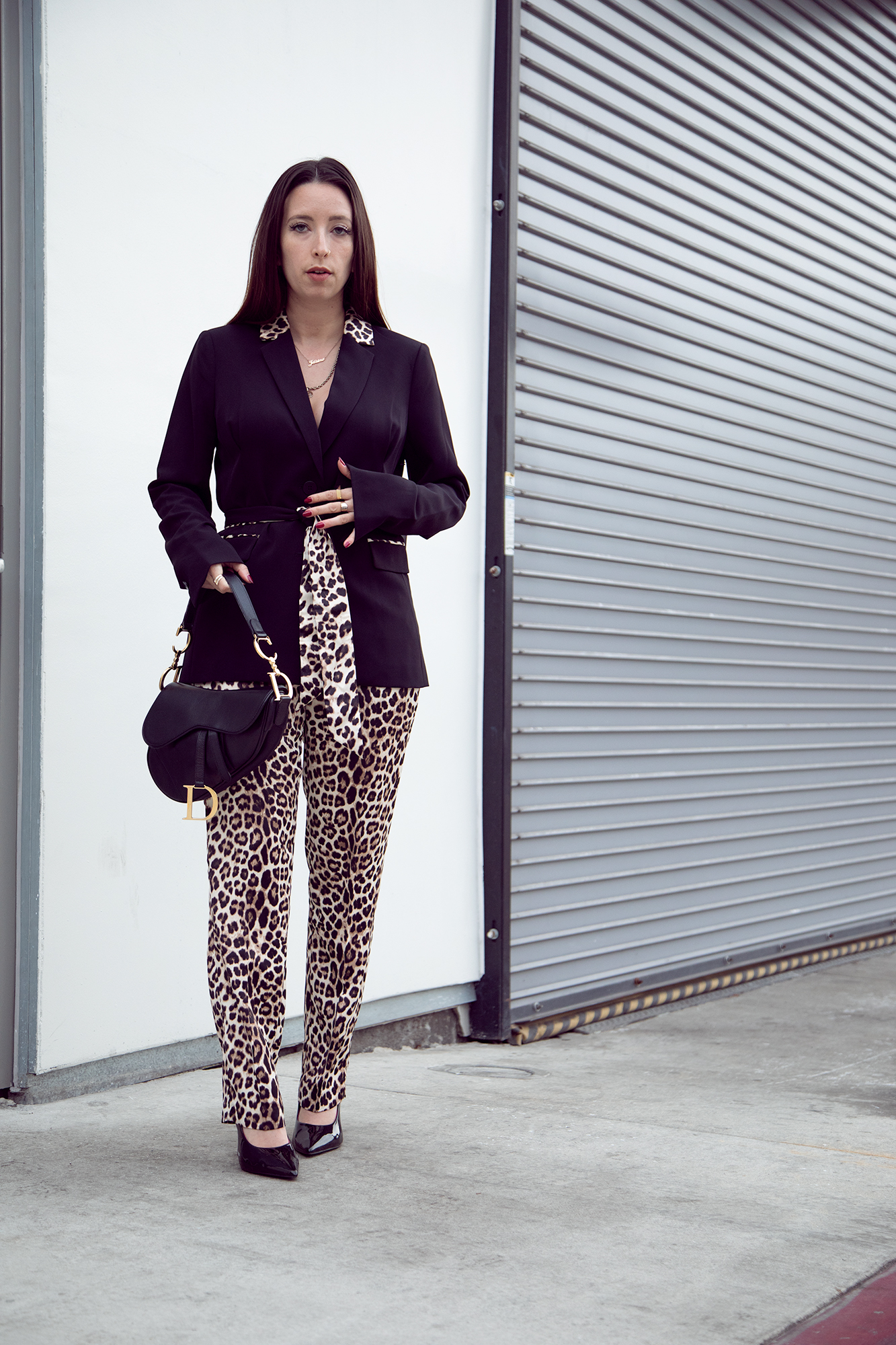 This Look
This holiday pantsuit (blazer and pants) that I'm wearing is the perfect combo of sophistication and fierceness that we've all been waiting for. I love that the leopard print is just accented on the collar and belt, and isn't too overpowering.
I got it at Nordstrom Rack. It's by Shelli Segal. It was on sale when I got it (and still is), so it's a great steal.
This is something that I would wear over and over again. Like I said before, the versatility is everything. For an everyday look the blazer could be worn open with a shirt under and some jeans.
It could also be paired with a simple black or white dress underneath. The pants could be worn with a more structured top for a day at the office (if I went to the office) haha. They could also be worn with a tank and a leather jacket to look really bad ass.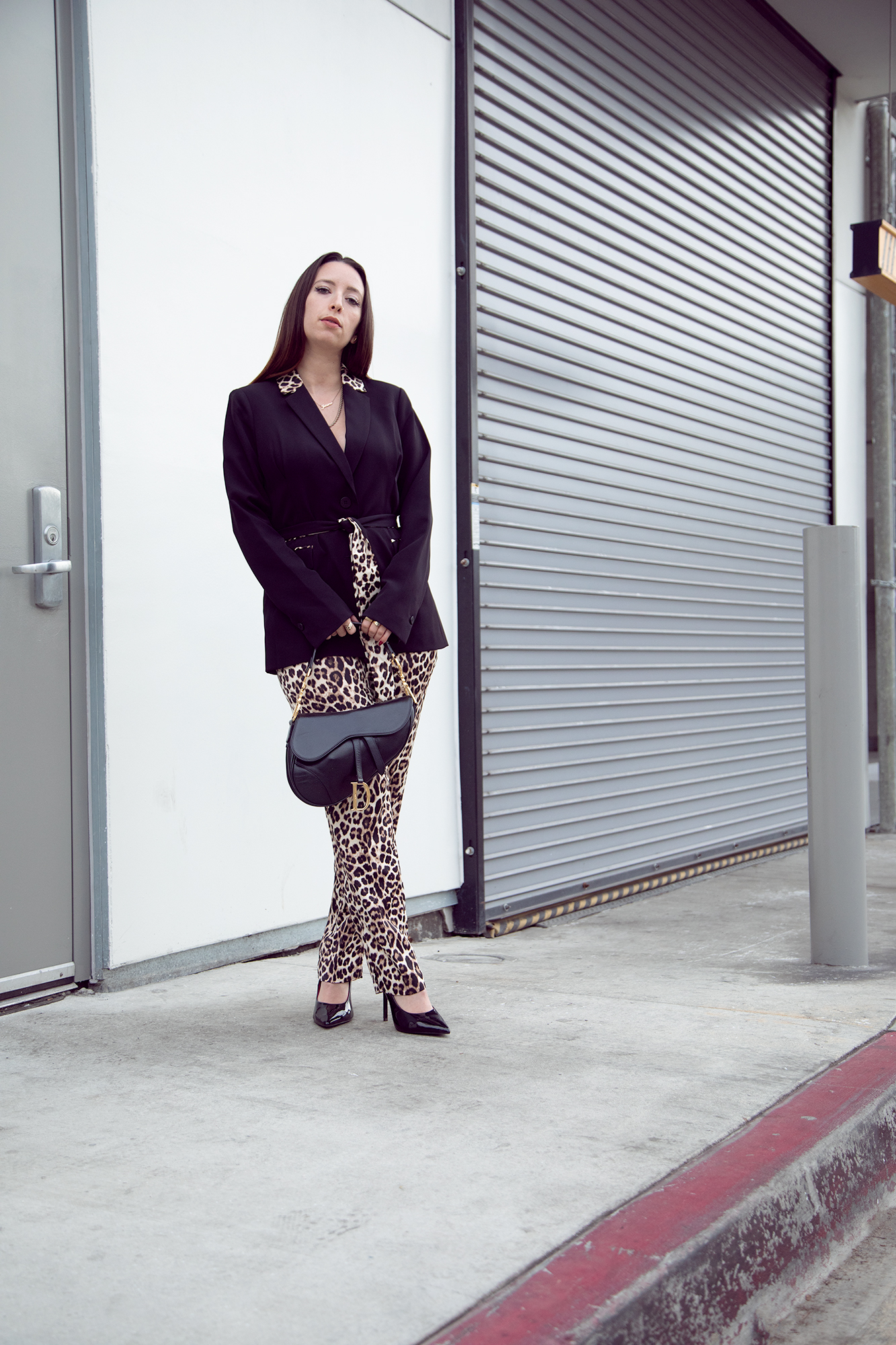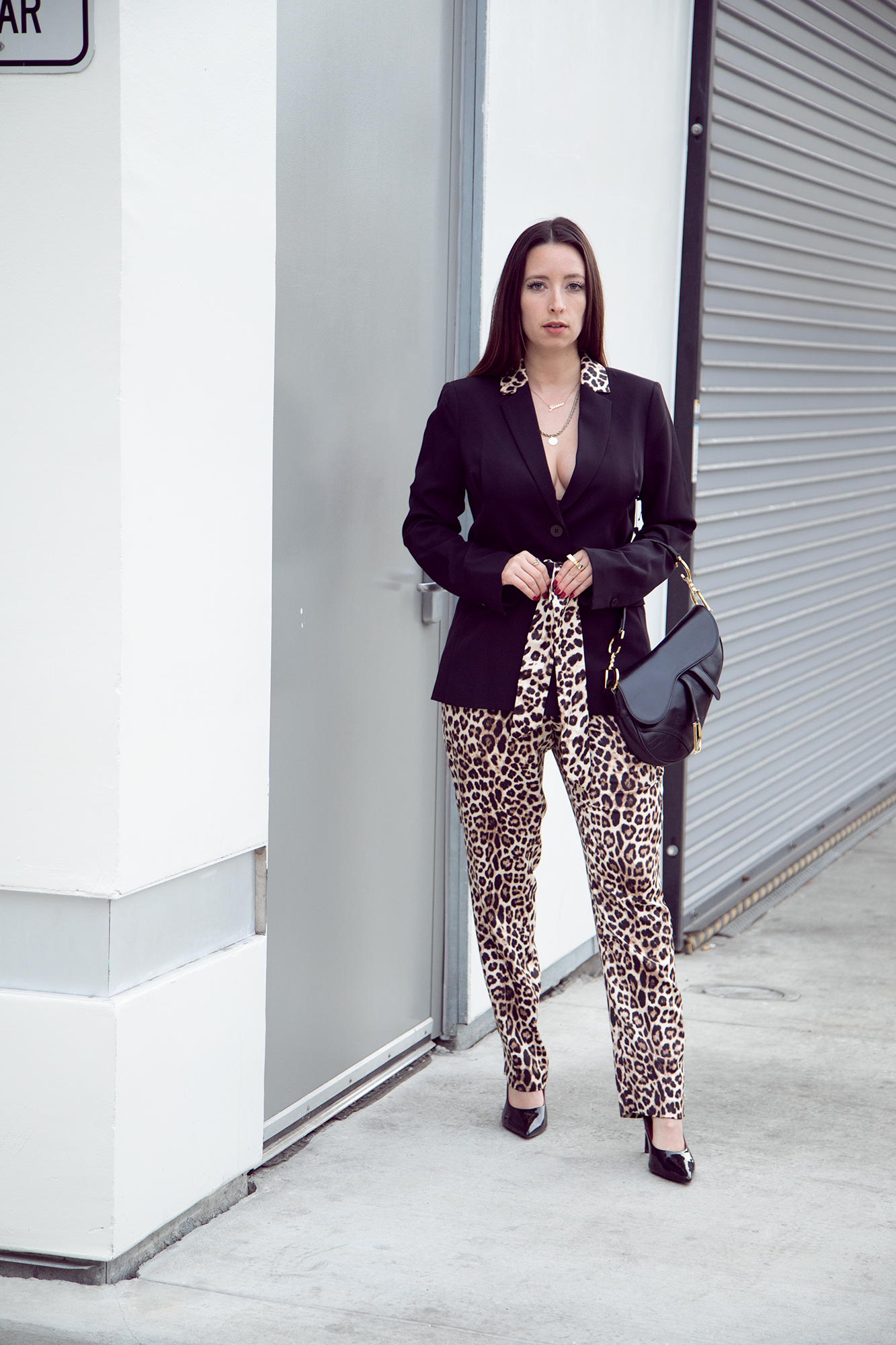 More Inspo
If you need some more blazer inspiration for the holidays be sure to check out these other posts where I recreated Ariana Grande's billboard blazer, and this blazer dress (I'd go for a darker or more neutral color for the holidays) but it's still a great fit and the accessories are on point.
I also wore a blazer from H & M last year to Jay's family's holiday party. I felt very comfortable and very appropriately dressed for a family get together! It was a simple look, but I added a little sparkle in the bodysuit underneath.
If you need more ideas be sure to check out my holiday fashion board on Pinterest! I'm on Pinterest almost everyday and I'm always adding more items to each seasonal board. I have winter, spring, summer and fall so be sure to also follow so you get inspo for the upcoming seasons!
I hope you liked this post, and feel ready to show off your holiday outfit and glam! Let me know what you plan to wear in the comments below!
Happy Holidays!
Shop This Look: